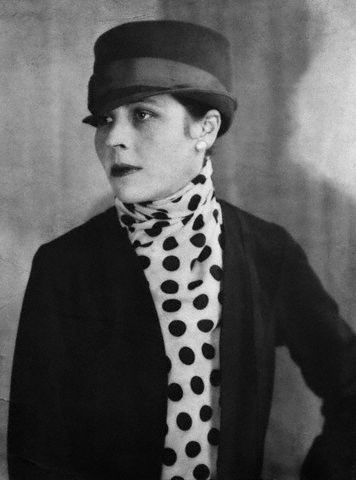 Djuna Barnes (June 12, 1892 – June 18, 1982) was an American writer who played an important part in the development of 20th century English language modernist writing and was one of the key figures in 1920s and 30s bohemian Paris after filling a similar role in the Greenwich Village of the teens. Her novel Nightwood became a cult work of modern fiction, helped by an introduction by T. S. Eliot. It stands out today for its portrayal of lesbian themes and its distinctive writing style. As a roman à clef, the novel features a thinly veiled portrait of Barnes in the character of Nora Flood, whereas Nora's lover Robin Vote is a composite of Thelma Wood and the Baroness Elsa von Freytag-Loringhoven. Since Barnes's death, interest in her work has grown and many of her books are back in print.
Barnes was born in a log cabin on Storm King Mountain, near Cornwall-on-Hudson, New York. Her paternal grandmother, Zadel Turner Barnes, was a writer, journalist, and Women's Suffrage activist who had once hosted an influential literary salon. Her father, Wald Barnes, was an unsuccessful composer, musician, and painter. An advocate of polygamy, he married Barnes's mother Elizabeth in 1889; his mistress Fanny Clark moved in with them in 1897, when Barnes was five. They had eight children, whom Wald made little effort to support financially. Zadel, who believed her son was a misunderstood artistic genius, struggled to provide for the entire family, supplementing her diminishing income by writing begging letters to friends and acquaintances.
(Picture: Thelma Wood)
Thelma Wood and Djuna Barnes

Thelma Ellen Wood was an American sculptor. Wood is little known for her work, and better known for her usually unstable lesbian relationships with other famous women of the time. She had relationships with B erenice Abbott, Edna St. Vincent Millay, Djuna Barnes (long one) and Henriette McCrea Metcalf. Wood became involved with Margaret Behrens, a wealthy realtor and antique dealer, and she moved into Behrens' home in Monroe, Connecticut. The relationship lasted until Wood's death 27 years later.
As the second oldest child, Barnes spent much of her childhood helping care for siblings and half-siblings. She received her early education at home, mostly from her father and grandmother, who taught her writing, art, and music but neglected subjects such as math and spelling. She claimed to have had no formal schooling at all; some evidence suggests that she was enrolled in public school for a time after age ten, though her attendance was inconsistent.
At the age of 16 she was raped, apparently by a neighbor with the knowledge and consent of her father, or possibly by her father himself. She referred to the rape obliquely in her first novel Ryder and more directly in her furious final play The Antiphon. Sexually explicit references in correspondence from her grandmother, with whom she shared a bed for years, suggest incest, but Zadel—dead for 40 years by the time The Antiphon was written—was left out of its indictments. Shortly before her 18th birthday she reluctantly "married" Fanny Clark's brother Percy Faulkner in a private ceremony without benefit of clergy. He was 52. The match had been strongly promoted by her father, grandmother, mother, and brother, but she stayed with him for no more than two months.
In 1912 Barnes's family, facing financial ruin, split up. Elizabeth moved to New York City with Barnes and three of her brothers, then filed for divorce, freeing Wald to marry Fanny Clark. The move gave Barnes an opportunity to study art formally for the first time; she attended the Pratt Institute for about six months, but the need to support herself and her family—a burden that fell largely on her—soon drove her to leave school and take a job as a reporter at the Brooklyn Daily Eagle. Over the next few years her work appeared in almost every newspaper in New York; she wrote interviews, features, theatre reviews, and a variety of news stories, often illustrating them with her own drawings. She also published short fiction in the New York Morning Telegraph's Sunday supplement and in the pulp magazine All-Story Cavalier Weekly.
Much of Barnes's journalism was subjective and experiential. Writing about a conversation with James Joyce, she admitted to missing part of what he said because her attention had wandered, though she revered Joyce's writing. Interviewing the successful playwright Donald Ogden Stewart, she shouted at him for "roll[ing] over and find[ing] yourself famous" while other writers continued to struggle, then said she wouldn't mind dying; as her biographer Phillip Herring points out, this is "a depressing and perhaps unprecedented note on which to end an interview." For a 1914 World Magazine article she submitted to force-feeding, a technique then being used on hunger-striking suffragists. Barnes wrote, "If I, play acting, felt my being burning with revolt at this brutal usurpation of my own functions, how they who actually suffered the ordeal in its acutest horror must have flamed at the violation of the sanctuaries of their spirits." She concluded, "I had shared the greatest experience of the bravest of my sex." While she mocked conservative suffrage activist Carrie Chapman Catt when Catt admonished would-be suffrage orators never to "hold a militant pose," or wear "a dress that shows your feet in front," Barnes was supportive of progressive suffragists. Barnes suggested that Catt's conservatism was an obstacle to the suffrage movement when Catt tried to ostracize fellow suffragists Alice Paul and Lucy Burns, who sought the vote for women through media attention directed at their strikes and non-violent protesting. It was their mistreatment which motivated Barnes to experience for herself the torture of being force-fed.
In 1915 Barnes moved out of her family's flat to an apartment in Greenwich Village, where she entered a thriving Bohemian community of artists and writers. Among her social circle were Edmund Wilson, Berenice Abbott, and the Dadaist artist and poet Elsa von Freytag-Loringhoven, whose biography Barnes tried to write but never finished. She also came into contact with Guido Bruno, an entrepreneur and promoter who published magazines and chapbooks out of his garret on Washington Square. Bruno had a reputation for unscrupulousness, and was often accused of exploiting Greenwich Village residents for profit—he used to charge tourists admission to watch Bohemians paint—but he was a strong opponent of censorship and was willing to risk prosecution by publishing Barnes's 1915 collection of "rhythms and drawings," The Book of Repulsive Women. Remarkably, despite a description of sex between women in the first poem, the book was never legally challenged; the passage seems explicit now, but at a time when lesbianism was virtually invisible in American culture, the New York Society for the Suppression of Vice may not have understood its imagery. Others were not as naïve, and Bruno was able to cash in on the book's reputation by raising the price from fifteen to fifty cents and pocketing the difference. Twenty years later she used him as one of the models for Felix Volkbein in Nightwood, caricaturing his pretensions to nobility and his habit of bowing down before anyone titled or important.
Barnes was a member of the Provincetown Players, an amateur theatrical collective whose emphasis on artistic rather than commercial success meshed well with her own values. The Players' Greenwich Village theater was a converted stable with bench seating and a tiny stage; according to Barnes it was "always just about to be given back to the horses." Yet it played a significant role in the development of American drama, featuring works by Susan Glaspell, Edna St. Vincent Millay, Wallace Stevens, and Theodore Dreiser, as well as launching the career of Eugene O'Neill. Three one-act plays by Barnes were produced there in 1919 and 1920; a fourth, The Dove, premiered at Smith College in 1925, and a series of short closet dramas were published in magazines, some under Barnes's pseudonym Lydia Steptoe. These plays show the strong influence of the Irish playwright J. M. Synge; she was drawn to both the poetic quality of Synge's language and the pessimism of his vision. Critics have found them derivative, particularly those in which she tried to imitate Synge's Irish dialect, and Barnes may have agreed, since in later years she dismissed them as mere juvenilia. Yet in their content, these stylized and enigmatic early plays are more experimental than those of her fellow playwrights at Provincetown. A New York Times review by Alexander Woollcott of her play Three From the Earth called it a demonstration of "how absorbing and essentially dramatic a play can be without the audience ever knowing what, if anything, the author is driving at.... The spectators sit with bated breath listening to each word of a playlet of which the darkly suggested clues leave the mystery unsolved."
Greenwich Village in the 1910s was known for its atmosphere of sexual as well as intellectual freedom. Barnes was unusual among Villagers in having been raised with a philosophy of free love, espoused both by her grandmother and her father. Her father's idiosyncratic vision had included a commitment to unlimited procreation, which she strongly rejected; criticism of childbearing would become a major theme in her work. She did, however, retain sexual freedom as a value. In the 1930s she told Antonia White that "she had no feeling of guilt whatever about sex, about going to bed with any man or woman she wanted"; correspondence indicates that by the time she was 21 her family was well aware of her bisexuality, and she had a number of affairs with both men and women during her Greenwich Village years.
Of these, the most important was probably her engagement to Ernst Hanfstaengl, a Harvard graduate who ran the American branch of his family's art publishing house. Hanfstaengl had once given a piano concert at the White House and was a friend of then-New York State Senator Franklin Delano Roosevelt, but he became increasingly angered by anti-German sentiment in the United States during World War I. In 1916 he told Barnes he wanted a German wife; the painful breakup became the basis of a deleted scene in Nightwood. He later returned to Germany and became a close associate of Adolf Hitler. Starting in 1916 or 1917, she lived with a socialist philosopher and critic named Courtenay Lemon, whom she referred to as her common-law husband, but this too ended, for reasons that are unclear. She also had a passionate romantic relationship with Mary Pyne, a reporter for the New York Press and fellow member of the Provincetown Players. Pyne died of tuberculosis in 1919, attended by Barnes until the end.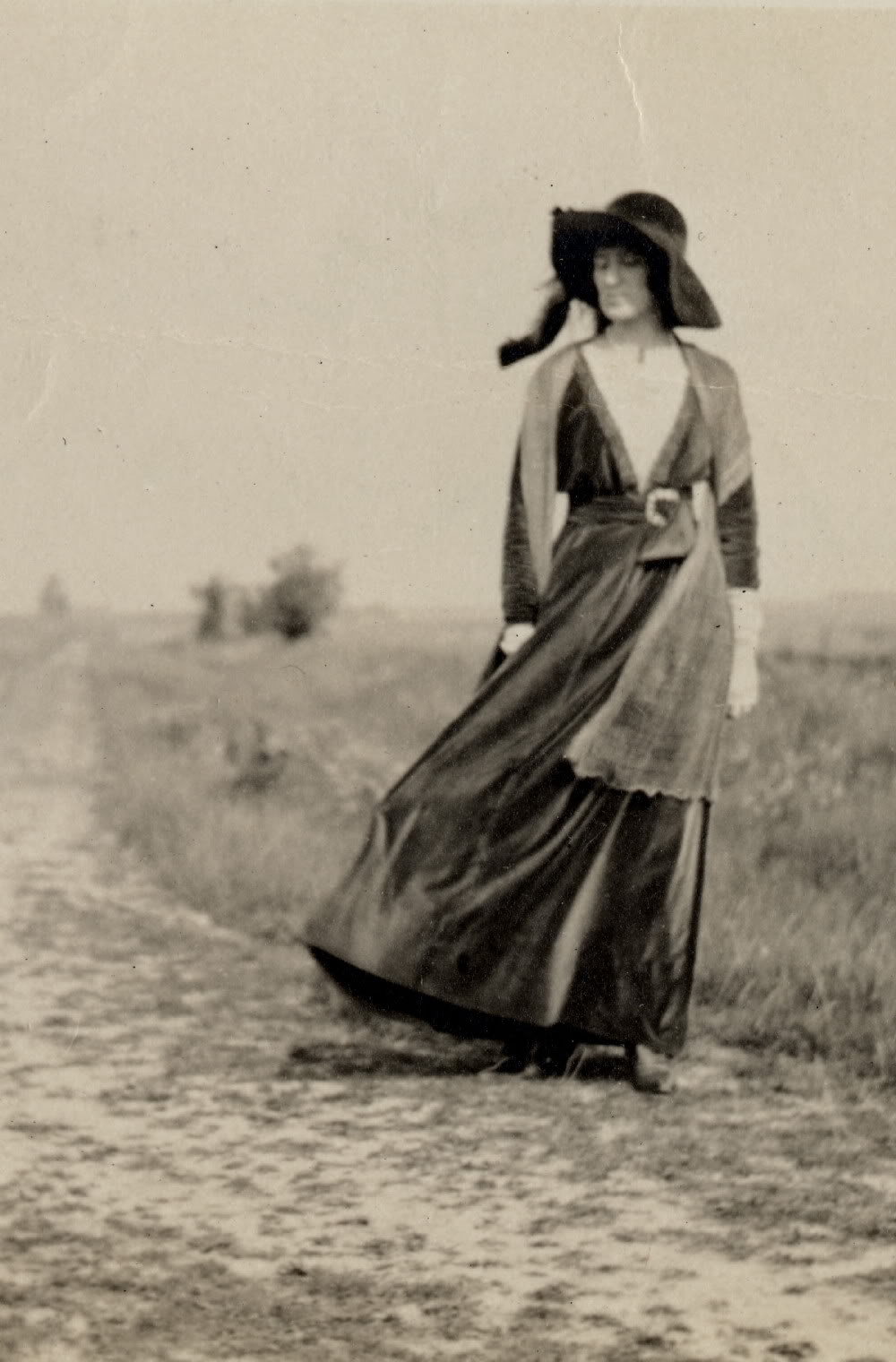 In the 1920s, Paris was the center of modernism in art and literature; as Gertrude Stein remarked, "Paris was where the twentieth century was." Barnes first traveled there in 1921 on an assignment for McCall's Magazine. She interviewed her fellow expatriate writers and artists for U.S. periodicals and soon became a well-known figure on the local scene; her black cloak and her acerbic wit are remembered in many memoirs of the time. Even before her first novel was published, her literary reputation was already high, largely on the strength of her story "A Night Among the Horses," which was published in The Little Review and reprinted in her 1923 collection A Book. She was part of the inner circle of the influential salon hostess Natalie Barney, who would become a lifelong friend and patron, as well as the central figure in Barnes's satiric chronicle of Paris lesbian life, Ladies Almanack. They probably also had a brief affair, but the most important relationship of Barnes's Paris years was with the artist Thelma Wood. Wood was a Kansas native who had come to Paris to become a sculptor, but at Barnes's suggestion took up silverpoint instead, producing drawings of animals and plants that one critic compared to Henri Rousseau. By the winter of 1922 they had set up housekeeping together in a flat on the Boulevard Saint-Germain. Another close friendship that developed during this time was with the Dada artist Baroness Elsa von Freytag-Loringhoven, with whom Barnes began an intensive correspondence in 1923. "Where Wood gave Barnes a doll as a gift to represent their symbolic love child, the Baroness proposed an erotic marriage whose love-child would be their book." From Paris, Barnes supported the Baroness in Berlin with money, clothing, and magazines. She also collected the Baroness's poems and letters.
(Picture: Baroness Elsa von Freytag-Loringhoven)
Barnes arrived in Paris with a letter of introduction to James Joyce, whom she interviewed for Vanity Fair and who became a friend. The headline of her Vanity Fair interview billed him as "the man who is, at present, one of the more significant figures in literature," but her personal reaction to Ulysses was less guarded: "I shall never write another line.... Who has the nerve to after that?" It may have been reading Joyce that led Barnes to turn away from the late 19th century Decadent and Aesthetic influences of The Book of Repulsive Women toward the modernist experimentation of her later work. They differed, however, on the proper subject of literature; Joyce thought writers should focus on commonplace subjects and make them extraordinary, while Barnes was always drawn to the unusual, even the grotesque. Then, too, her own life was an extraordinary subject. Her autobiographical first novel Ryder would not only present readers with the difficulty of deciphering its shifting literary styles—a technique inspired by Ulysses—but also with the challenge of piecing together the history of an unconventional polygamous household, far removed from most readers' expectations and experience.
Despite the difficulties of the text, Ryder's bawdiness drew attention, and it briefly became a New York Times bestseller. Its popularity caught the publisher unprepared; a first edition of 3,000 sold out quickly, but by the time more copies made it into bookstores, public interest in the book had died down. Still, the advance allowed Barnes to buy a new apartment on Rue Saint-Romain, where she lived with Thelma Wood starting in September 1927. The move made them neighbors of Mina Loy, a friend of Barnes's since Greenwich Village days, who appeared in Ladies Almanack as Patience Scalpel, the sole heterosexual character, who "could not understand Women and their Ways."
Due to its subject matter, Ladies Almanack was published in a small, privately printed edition under the pseudonym "A Lady of Fashion." Copies were sold on the streets of Paris by Barnes and her friends, and Barnes managed to smuggle a few into the United States to sell. A bookseller, Edward Titus, offered to carry Ladies Almanack in his store in exchange for being mentioned on the title page, but when he demanded a share of the royalties on the entire print run, Barnes was furious. She later gave the name Titus to the abusive father in The Antiphon.
Barnes dedicated Ryder and Ladies Almanack to Thelma Wood, but the year both books were published—1928—was also the year that she and Wood separated. Barnes had wanted their relationship to be monogamous, but had discovered that Wood wanted her "along with the rest of the world." Wood had a worsening dependency on alcohol, and she spent her nights drinking and seeking out casual sex partners; Barnes would search the cafés for her, often winding up equally drunk. Barnes broke up with Wood over her involvement with heiress Henriette McCrea Metcalf (1888–1981), who would be scathingly portrayed in Nightwood as Jenny Petherbridge.
Much of Nightwood was written during the summers of 1932 and 1933, while Barnes was staying at Hayford Hall, a country manor in Devonshire rented by the art patron Peggy Guggenheim. Fellow guests included Antonia White, John Ferrar Holms, and the novelist and poet Emily Coleman. Evenings at the manor—nicknamed "Hangover Hall" by its residents—often featured a party game called Truth that encouraged brutal frankness, creating a tense emotional atmosphere. Barnes was afraid to leave her work in progress unattended because the volatile Coleman, having told Barnes one of her secrets, had threatened to burn the manuscript if Barnes revealed it. But once she had read the book, Coleman became its champion. Her critiques of successive drafts led Barnes to make major structural changes, and when publisher after publisher rejected the manuscript, it was Coleman who pressed T. S. Eliot, then an editor at Faber and Faber, to read it.
Faber published the book in 1936. Though reviews treated it as a major work of art, the book did not sell well. Barnes received no advance from Faber and the first royalty statement was for only £43; the U.S. edition published by Harcourt, Brace the following year fared no better. Barnes had published little journalism in the 30s and was largely dependent on Peggy Guggenheim's financial support. She was constantly ill and drank more and more heavily—according to Guggenheim, she accounted for a bottle of whiskey a day. In February 1939 she checked into a hotel in London and attempted suicide. Guggenheim funded hospital visits and doctors, but finally lost patience and sent her back to New York. There she shared a single room with her mother, who coughed all night and who kept reading her passages from Mary Baker Eddy, having converted to Christian Science. In March 1940 her family sent her to a sanatorium in upstate New York to dry out. Furious, Barnes began to plan a biography of her family, writing to Emily Coleman that "there is no reason any longer why I should feel for them in any way but hate." This idea would eventually come to fruition in her play The Antiphon. After she returned to New York City, she quarreled bitterly with her mother and was thrown out on the street.
Left with nowhere else to go, Barnes stayed at Thelma Wood's apartment while Wood was out of town, then spent two months on a working ranch in Arizona with Emily Coleman and Coleman's lover Jake Scarborough. She returned to New York and, in September, moved into the small apartment at 5 Patchin Place in Greenwich Village where she would spend the last 42 years of her life. Throughout the 40s she continued to drink and wrote virtually nothing. Guggenheim, despite misgivings, provided her with a small stipend, and Coleman, who could ill afford it, sent US$20 a month (about $310 in 2011). In 1946 she worked for Henry Holt as a manuscript reader, but her reports were invariably caustic and she was soon fired.
In 1950, realizing that alcoholism had made it impossible for her to function as an artist, Barnes stopped drinking in order to begin work on her verse play The Antiphon. The play drew heavily on her own family history, and the writing was fueled by anger; she said, "I wrote The Antiphon with clenched teeth, and I noted that my handwriting was as savage as a dagger." When he read the play, her brother Thurn accused her of wanting "revenge for something long dead and to be forgotten," but Barnes, in the margin of his letter, described her motive instead as "justice," and next to the word dead he wrote, "not dead."
After The Antiphon Barnes returned to writing poetry, which she worked and reworked, producing as many as 500 drafts. She wrote eight hours a day despite a growing list of health problems, including arthritis so severe that she had difficulty even sitting at her typewriter or turning on her desk lamp. Many of these poems were never finalized and only a few were published in her lifetime.
During her Patchin Place years, Barnes became a notorious recluse, intensely suspicious of anyone she did not know well. E. E. Cummings, who lived across the street, would check on her periodically by shouting out his window, "Are you still alive, Djuna?" Bertha Harris put roses in her mailbox, but never succeeded in meeting her; Carson McCullers camped on her doorstep, but Barnes only called down, "Whoever is ringing this bell, please go the hell away." Anaïs Nin was an ardent fan of her work, especially Nightwood. She wrote to Barnes several times inviting her to participate in a journal on women's writing, but received no reply. She remained contemptuous of Anaïs and would cross the street to avoid her. Barnes was angry that Nin had named a character Djuna, and when the feminist bookstore Djuna Books opened in Greenwich Village, Barnes called to demand that the name be changed. Barnes had a lifelong affection for poet Marianne Moore since she and Moore were young in the 1920s. Barnes was bitter at the end, but underneath her sometimes formidable facade she was warm and always amusing, with an almost Shakespearean vocabulary (despite having not had much formal education).
Although Barnes had other female lovers, in her later years she was known to claim, "I am not a lesbian; I just loved Thelma."
Barnes was elected to the National Institute of Arts and Letters in 1961. She was the last surviving member of the first generation of English-language modernists when she died in New York in 1982.
Burial: Cremated, Ashes scattered. Specifically: Greenwich Village, New York
Source:
http://en.wikipedia.org/wiki/Djuna_Barnes
Thelma Ellen Wood was an American sculptor (July 3, 1901 – December 10, 1970). She was born in Kansas and raised in St. Louis, Missouri. She was the second of four children.
Although very little of her work survives, Wood's drawings were exhibited at least once, at Milch Galleries in New York City in 1931, where they were favorably reviewed. Wood's sketchbook from a trip to Berlin is in the Barnes papers at the University of Maryland, College Park. Always considering herself a sculptor, Wood is little known for her work, and better known for her usually unstable lesbian relationships with other famous women of the time.
Around 1921, she moved from St. Louis to Paris in order to study sculpture, and visited Berlin, a party city at the time for those with foreign money. Wood seemed drawn to a partying lifestyle, and was said to have enjoyed excessive alcohol consumption, and being involved in casual sexual relationships. Accounts from the time, and from those who knew her, have described her as "boyish-looking", standing almost 6 feet tall, and "sexually magnetic".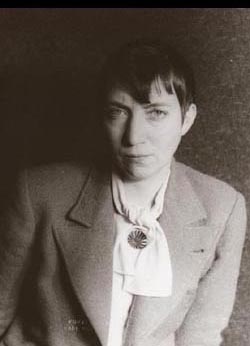 In the fall of 1921, photographer Berenice Abbott met Wood and became her lover for a brief time. Abbott remained a close friend to Wood for life. She later introduced Wood to poet Djuna Barnes, and made photographic portraits of both of them. Wood also had a brief relationship with the poet Edna St. Vincent Millay during the early 1920s. (
Picture: Berenice Abbott by Carl Van Vechten
)
Margaret Behrens & Thelma Wood are buried together at Park Cemetery, Bridgeport, Connecticut.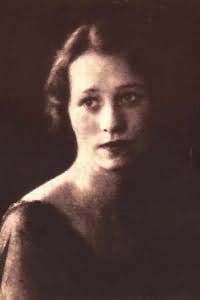 Barnes and Wood began a relationship that lasted from 1921 to 1929. Barnes encouraged Wood to take up silverpoint, in which fine line images are created on paper from the residue of silver from a stylus. Wood crafted erotically charged drawings of animals, exotic plants, and fetishistic objects such as shoes. (
Picture: Edna St. Vincent Millay
)
Barnes was known for her jealousy with her lesbian lovers; Wood was known to be promiscuous with many women. The combination was an explosive one. Fueled by sex, alcohol, and marred at times by infidelities, jealousy, and violence, the relationship was called the "great love" of each of their lives. Although Barnes wanted their relationship to be monogamous, Wood regularly sought out casual sexual partners of both genders. Barnes, also, was never faithful.
Wood soon became involved in an affair with a wealthy woman named Henriette McCrea Metcalf (1888 – 1981), which effectively caused Barnes to end her relationship with Wood. When Wood moved to Greenwich Village in New York City in 1928, Metcalf followed. Wood continued to write and visit Barnes, to whom Wood still professed her love, and the two did occasionally have sexual encounters during that time, but Barnes refused to become involved with Wood on a regular basis. By 1932, Wood was more of an unofficial courtesan to Metcalf, and Metcalf supported Wood's art studies in Florence. In 1934, they moved to Sandy Hook, Connecticut. In Westport, Connecticut, Wood tried (with Metcalf's financial assistance) to run a gourmet catering business that failed. Her relationship with Metcalf was complicated by Wood continuing to seek out drinking and sexual companions of both sexes, and Wood became increasingly unfaithful.
When Nightwood, Barnes' best-known novel, was published in 1936, Wood, called "Robin Vote" in the book, was outraged and stopped speaking to Barnes completely. Wood is said to have felt misrepresented, and claimed that the publication of the book ruined her life. Barnes reportedly did not object to their no longer speaking to one another, and never made any apologies.
Around 1942 or 1943, her relationship with Metcalf had deteriorated to a breaking point due to Wood's unfaithful sexual activities and lack of any gainful employment, and Metcalf offered Wood money to move out of their shared house and effectively ended their sixteen-year relationship. Once the separation was complete, Metcalf reportedly never spoke to Wood again, even when Wood, dying, is said to have requested to see her.
One factor bringing on the break with Metcalf, Wood became involved with Margaret Behrens (1908–1986), a fairly wealthy realtor and antique dealer, and she moved into Behrens' home in Monroe, Connecticut. She did odd jobs for Behrens in a relationship that lasted until Wood's death twenty-seven years later.
In the late 1960s, Wood developed breast cancer, which spread to her spine and lungs. She died in Danbury Hospital, aged 69. Her ashes were interred in the Behrens family plot in Bridgeport, Connecticut.
Source:
http://en.wikipedia.org/wiki/Thelma_Wood
Days of Love: Celebrating LGBT History One Story at a Time by Elisa Rolle
Paperback: 760 pages
Publisher: CreateSpace Independent Publishing Platform; 1 edition (July 1, 2014)
Language: English
ISBN-10: 1500563323
ISBN-13: 978-1500563325
Amazon:
Days of Love: Celebrating LGBT History One Story at a Time
Days of Love chronicles more than 700 LGBT couples throughout history, spanning 2000 years from Alexander the Great to the most recent winner of a Lambda Literary Award. Many of the contemporary couples share their stories on how they met and fell in love, as well as photos from when they married or of their families. Included are professional portraits by Robert Giard and Stathis Orphanos, paintings by John Singer Sargent and Giovanni Boldini, and photographs by Frances Benjamin Johnson, Arnold Genthe, and Carl Van Vechten among others. "It's wonderful. Laying it out chronologically is inspired, offering a solid GLBT history. I kept learning things. I love the decision to include couples broken by death. It makes clear how important love is, as well as showing what people have been through. The layout and photos look terrific." Christopher Bram "I couldn't resist clicking through every page. I never realized the scope of the book would cover centuries! I know that it will be hugely validating to young, newly-emerging LGBT kids and be reassured that they really can have a secure, respected place in the world as their futures unfold." Howard Cruse "This international history-and-photo book, featuring 100s of detailed bios of some of the most forward-moving gay persons in history, is sure to be one of those bestsellers that gay folk will enjoy for years to come as reference and research that is filled with facts and fun." Jack Fritscher
This journal is friends only. This entry was originally posted at http://reviews-and-ramblings.dreamwidth.org/3385163.html. If you are not friends on this journal, Please comment there using OpenID.