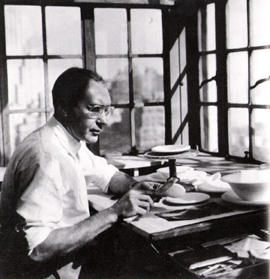 Russell Wright was every American housewife's favorite designer in the 1930s, '40s, and '50s. Today his American Modern dinnerware is highly collectible.
After Wright's wife Mary died in 1952, he took up with designer Joseph Chapman. The two men were lovers for over twelve years.
Russel Wright (April 3, 1904 – December 21, 1976) was an American Industrial designer during the 20th century. Beginning in the late 1920s through the 1960s, Russel Wright created a succession of artistically distinctive and commercially successful items that helped bring modern design to the general public.
Russel Wright's method of design came from the belief that the table was the center of the home. Designing in layers from there outwards, he designed tableware to larger furniture, architecture to landscaping, all according to his concept of easy, informal living. It was through his immensely popular and widely distributed housewares and furnishings that he revolutionized the way Americans lived and organized their homes in the mid 20th century.
Wright's legacy continues today as his company Russel Wright Studios remains an active industrial design licensing firm. With offices in Garrison, New York and Burbank, California, Russel Wright Studios continues to work with corporate and public clients in the licensing and manufacturing of his designs and products.
Wright is best known for his colorful American Modern, the most widely sold American ceramic dinnerware in history, manufactured between 1939 and 1959 by Steubenville Pottery in Steubenville, Ohio. He also designed top selling wooden furniture, spun aluminum dining accessories and textiles. His simple, practical style was influential in persuading ordinary Americans to embrace Modernism in the 1930s, 1940s and 1950s. Wright's trademarked signature was the first to be identified with lifestyle-marketed products, paving the way for personality-driven lifestyle empires such as Martha Stewart, Ralph Lauren and others.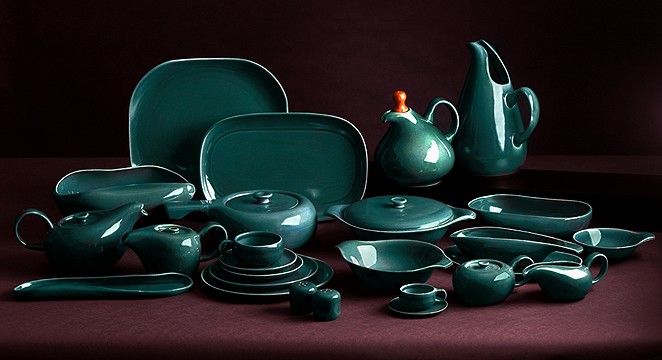 American Modern Dinnerware, 1939-1959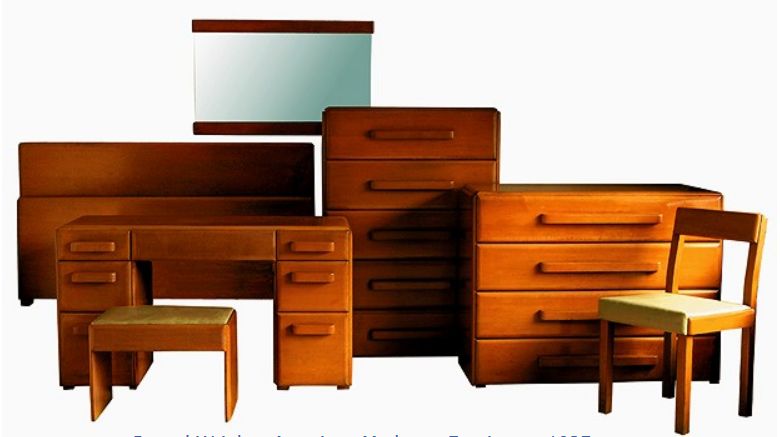 American Modern Furniture, 1935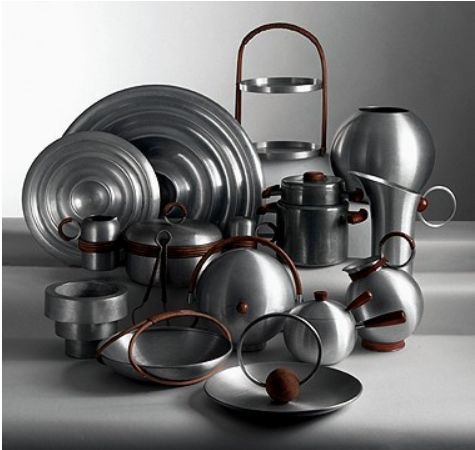 Spun Aluminum Group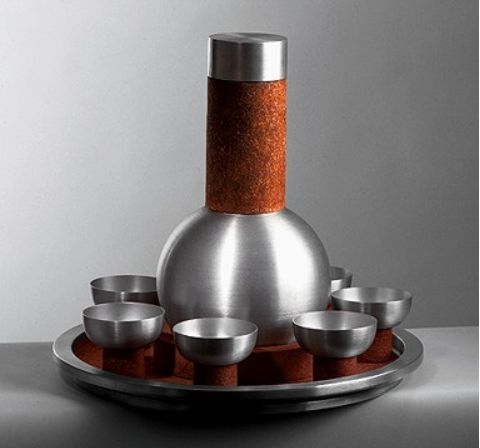 Spun Aluminum Cocktail Set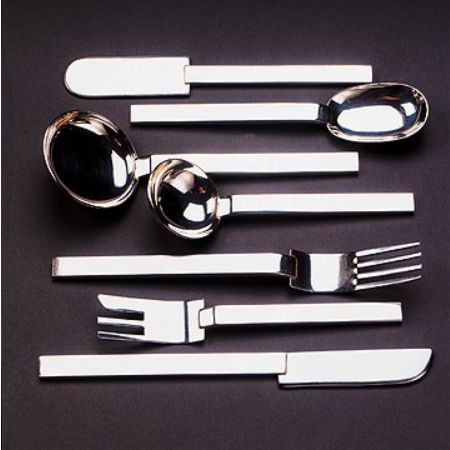 Silver Flatware, 1933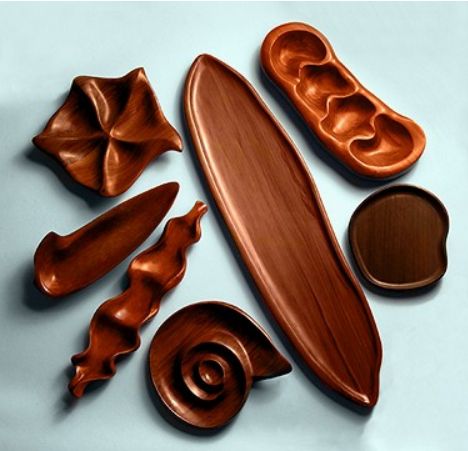 Oceana Wood Line, 1935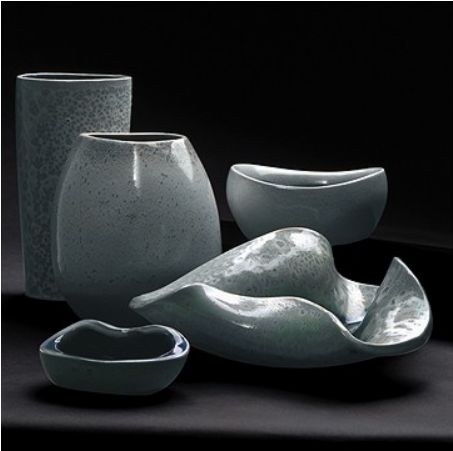 Bauer Art Pottery, 1946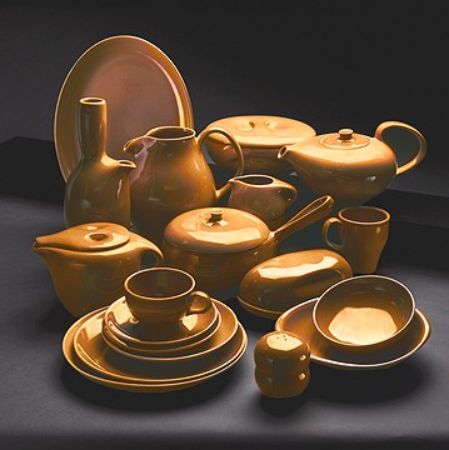 Iroquois Casual Dinnerware, 1946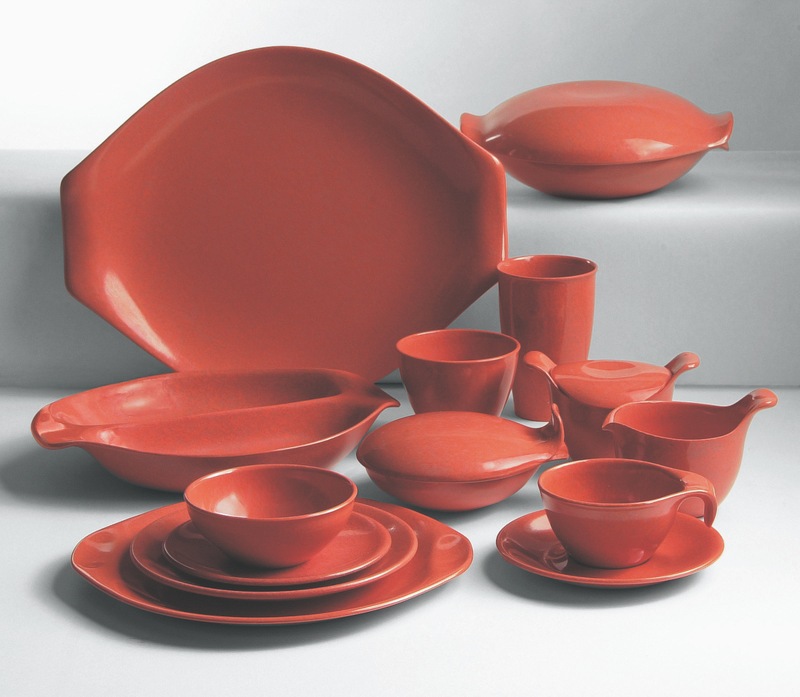 Residential Melamine Dinnerware, 1953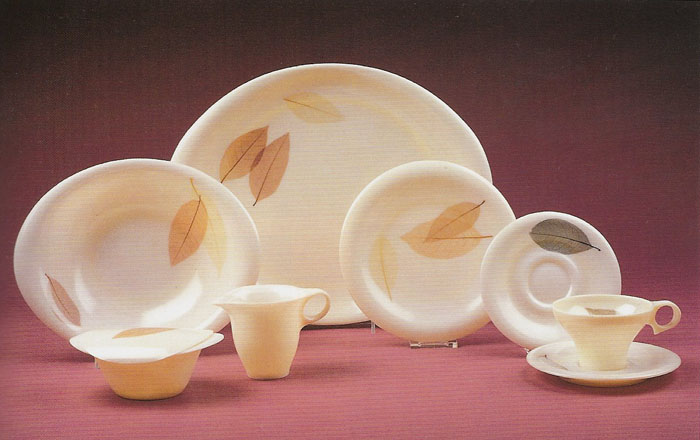 Flair Ming Plastic Dinnerware, 1959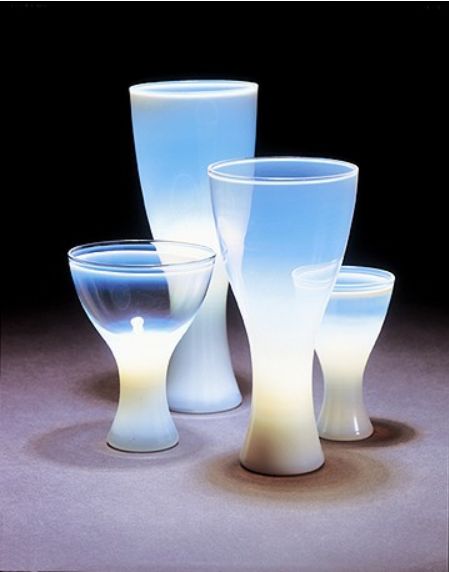 Theme Formal Glassware, 1965
Wright designed several popular lines of Melmac melamine resin plastic dinnerware for the home and did early research on plastic Melmac dinnerware for restaurant use. Wright's first Melmac line of plastic dinnerware for the home, called "Residential" was manufactured by Northern Plastic Company of Boston, MA beginning in 1953. "Residential" received the Museum of Modern Art Good Design Award in 1953. Also "Residential" was one of the most popular Melmac lines with gross sales of over $4 million in 1957. The line remained popular for many years continuing in production by Home Decorators, Inc. of Newark, NY. Wright introduced his Melmac dinnerware line called "Flair" in 1959. One of the patterns of "Flair", called "Ming Lace" has the actual leaves of the Chinese jade orchid tree tinted and embedded inside the translucent plastic. As with his ceramic dinnerware, Wright began designing his Melmac only in solid colors, but by the end of the 1950s created several patterns ornamented with decoration, usually depicting plant forms.
Wright designed a succession of popular furniture lines for many furniture companies beginning in the early 1930s through the 1950s. His most popular line of essentially Art Deco American Modern "blonde" wooden furniture was produced by the Conant-Ball company of Gardner, Massachusetts between 1935 and 1939, and bore the branded mark "American Modern Built by Conant-Ball Co. Designed by Russel Wright".
Russel's early art training was under Frank Duveneck at the Art Academy of Cincinnati while still in high school. While following his family's tradition of studying for a legal career at Princeton University, he was a member of the Princeton Triangle Club and won several Tiffany & Co. prizes for outstanding World War I memorial sculptures. This, along with the urging of his academic adviser at Princeton, confirmed his conviction gained in the year before college while a student at the Art Students League of New York under Kenneth Hayes Miller and Boardman Robinson, that his future was in the field of art.
Wright left Princeton for the New York City theater world and quickly became a set designer for Norman Bel Geddes. This early association with the theater lead to further work with George Cukor, Lee Simonson, Robert Edmond Jones, and Rouben Mamoulian. His theater career came to an end when George Cukor closed his Rochester, New York stock company at the end of 1927. Upon returning to New York City, he started his own design firm making theatrical props and small decorative cast metal objects.
Although firmly rooted in the Midwest, he spent the entirety of his professional artistic career in New York, employing such early instrumental modern design practitioners and artists as Petra Cabot, Henry P. Glass and Hector Leonardi in his growing industrial design firm.
Russel Wright was born into an historic old American family, Wright's mother had direct lineage with two signers of the Declaration of Independence, and his father and grandfather were local judges.
Wright married Mary Small Einstein, a designer, sculptor and businesswoman, in 1927, after a short yet care free summer together in Woodstock, New York, where Russel was involved in the New York artist's Maverick Festival and artist colony. Mary studied sculpture under Alexander Archipenko. Together Mary and Russel went on to form Wright Accessories, a home accessories design business and began creating small objects for the home consisting of cast metal animals and informal serving accessories of spun aluminum and other materials. The couple also wrote the best-selling Guide to Easier Living in 1950 that described how to reduce housework and increase leisure time through efficient design and management.
Wright's only child, Annie, was only two years old when Mary died in 1952, necessitating Wright's raising their adopted daughter as a single parent. Annie Wright continues to manage her father's designs and products through Russel Wright Studios.
After his wife's death, Russel Wright retired to his 75-acre (300,000 m2) estate, Manitoga in Garrison, New York, building an eco-sensitive Modernist home and studio called Dragon Rock surrounded by extensive woodland gardens. It is on the National Register of Historic Places and a U.S. Department of Interior designated National Historic Landmark. Manitoga is open to the public, operated by the non-profit Russel Wright Design Center, with tours and hiking trails.
Source:
http://en.wikipedia.org/wiki/Russel_Wright
Further Readings:
Russel Wright: Good Design Is For Everyone
Paperback: 132 pages
Publisher: Universe; 2nd edition edition (October 5, 2001)
Language: English
ISBN-10: 0789306549
ISBN-13: 978-0789306548
Amazon:
Russel Wright: Good Design Is For Everyone
Russel Wright (1904-76) was arguably the most influential U.S. designer of the early twentieth century. A visionary artist who pioneered the fusion of modern design and domestic practicality in his household wares, Wright brought his innovative design to the general U.S. public and changed the face of the American household.
Russel Wright: Good Design Is for Everyone focuses on the most influential and enduring aspects of Wright's art, which called for more informal and easier living through his houseware design and ecologically sensitive landscape design. Good Design collects many of Wright's essays and extensive illustrations, offering significant insight into Wright's philosophies about domestic design and its relationship to the modern American home. This book is both a thorough introduction to Russel Wright's work and a superb study of his creative process.
This journal is friends only. This entry was originally posted at http://reviews-and-ramblings.dreamwidth.org/3399304.html. If you are not friends on this journal, Please comment there using OpenID.
elisa_rolle
Appointments
2013 LGBT Rainbow Awards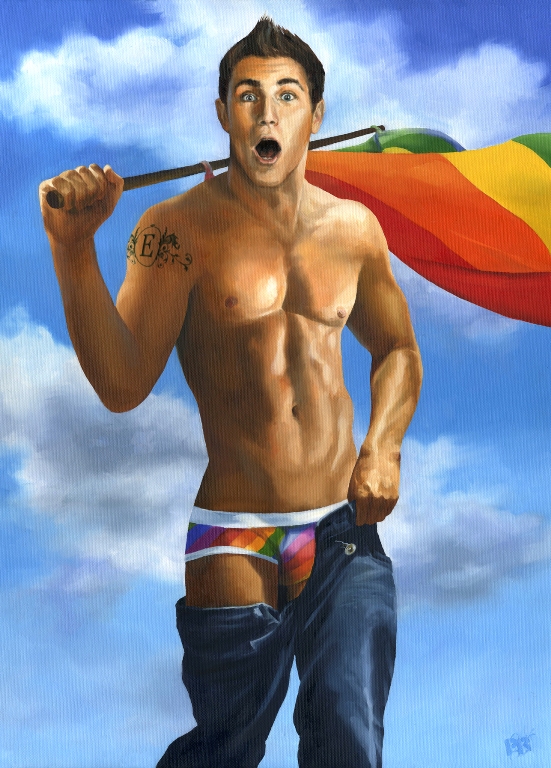 2013 Guidelines
In the Spotlight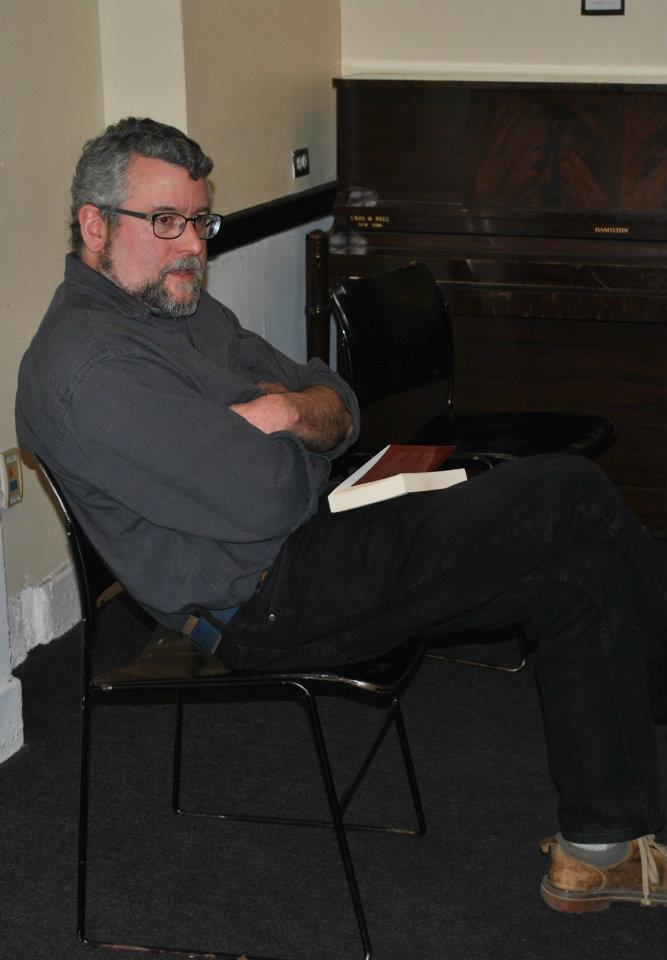 Top 100 Gay Novels List - Simple

Top 100 Gay Novels List - Wanted
Art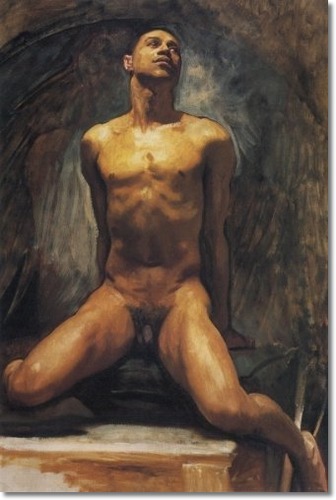 Previous Appointments Visual Summary
Gay Themed Movie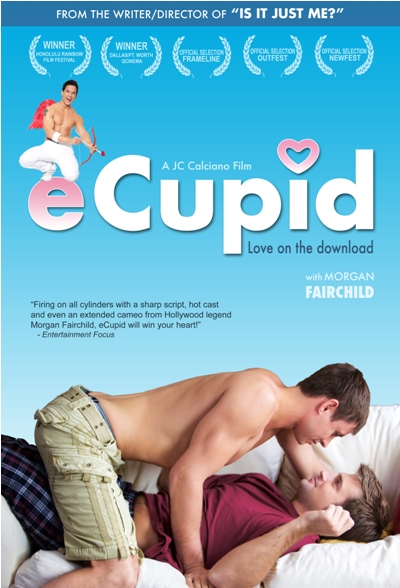 Previous Appointments Visual Summary
The Inside Reader


Previous Appointments Visual Summary

Top 100 Inside Readers Novels
LGBT Fashion Designers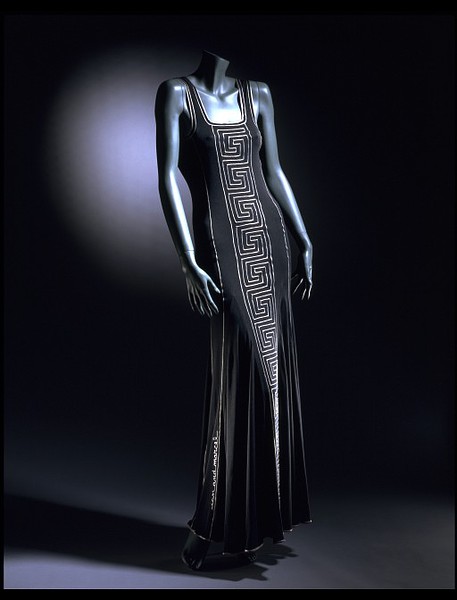 Previous Appointments Visual Summary
Gay Romance Challenge

Gay Commercial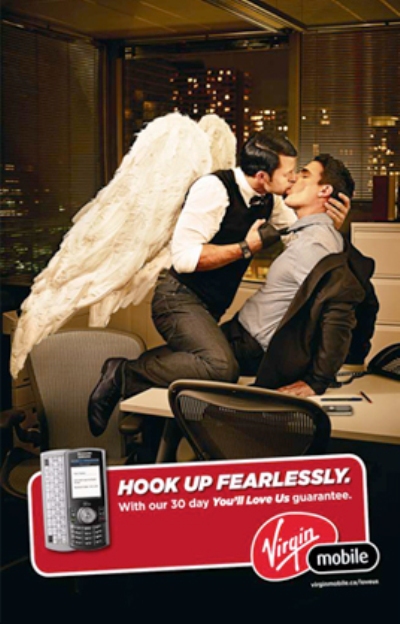 Around the World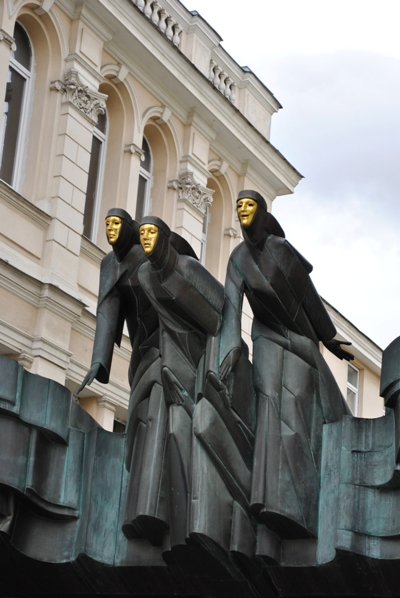 visited 20 states (8.88%)
Create your own visited map of The World
visited 15 states (30%)
Create your own visited map of The United States
Gay Classics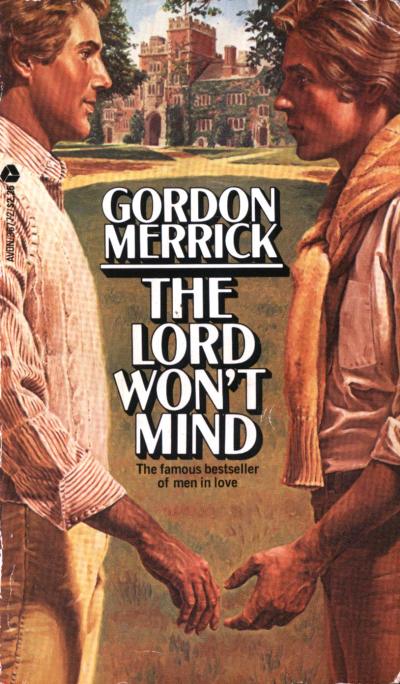 Previous Appointments Visual Summary
Romance History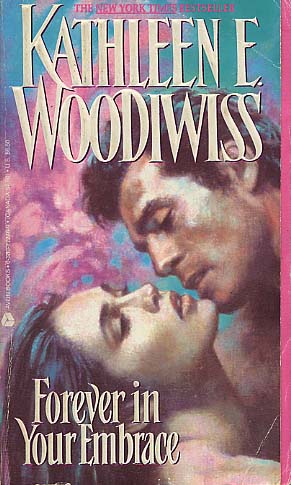 Previous Appointments Visual Summary
Main Tags
Characters:
Alpha Males
,
Cinderfellas (from rags to riches...)
,
Friends (with benefits)
,
Multicultural Lovers
,
Pretty... Men! (hustlers)
&
Virgins (at least in one way)
Dream Lovers:
Cowboys
,
Pirates
&
Sheikhs
Erotica (M/F)
Genres:
Contemporary
,
Fantasy
,
Futuristic
,
Historical
&
Paranormal
Length:
Short Story
,
Novella
&
Novel
Men in Uniform:
Cops / Detectives / PIs
,
Firefighters
&
Military
Non Conventional Lovers:
Elves, Gods, Deity & Witches
,
Furry Lovers
,
Shapeshifters
&
Vampires
Otherwordly Lovers:
Angels
,
Demons
&
Ghosts
Possible Futures:
Apocalypse Now
&
Back to the Future
Relationships:
Bondage / Submission
,
Breeches Rippers
,
Coming of Age
,
Disability
,
Gay for You
,
Male Pregnancy
,
May / December
,
Ménage a trois (or more...)
,
Silver Romance
&
Twincest
Settings:
Art World
,
College
,
Medical Romance
,
Office Affairs
,
Seasonal Romance
,
Show Business
&
Sports
Yaoi (manga)
From Movie to Novel (and viceversa)
Top 100 Gay Novels List
Secondary Tags
ActivistActorArtist
: illustrator, painter, photographer, sculptor
Author
: novelist, playwright, poet, screenwriter, writer
Dancer
: dance, choreographer
Designer
: architect, costumer, fashion designer, graphic designer, hairstylist, makeup artist, set designer, tailor
Director
: director, stage director
Eccentric
: aristocrat, art collector, drag queen, explorer, female impersonator, heir/heiress, hostess, lover, muse, prostitute, socialite, spy, survivor
Essayist
: anthropologist, archivist, biologist, columnist, critic, editor, educator, historian, journalist, lecturer, librarian, linguistic, philosopher, professor, psychoanalyst, psychologist, psychotherapist, publisher, reporter, researcher, scholar, sexologist, sociologist, teacher, theorist
Leader
: commander, emperor, judge, monarch, officer, politician, senator, statistician, warrior
ModelMusician
: arranger, composer, conductor, lyricist, pianist, singer, songwriter, violinist
Producer
: producer, manager, entrepreneur
Sport
Preditors & Editors Poll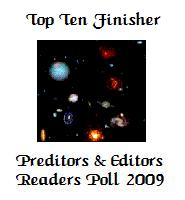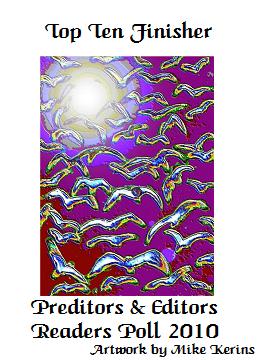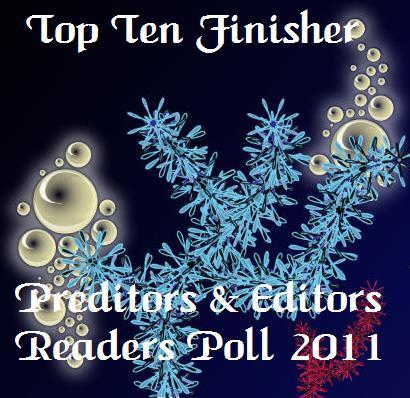 Amazon Profile
My Associate Amazon Store
Goodreads Profile
Top reviewer
Best reviewer
Top user
Top librarian
Most followed
Library Thing Helper Badgers
(Gold Medal) Helper for contributions to any area of LibraryThing
(Gold Medal) Common Knowledge for contributions to Common Knowledge
(Gold Medal) Work Combination for help maintaining LibraryThing's work system
(Silver Medal) Author Combination for help combining author names together
(Bronze Medal) Distinct authors for splitting homonymous authors into distinct authors
Publishers
List of LGBT publishers (for reviews look the Tags section)

Detailed List
Ego Surfing

Who links me
Statistics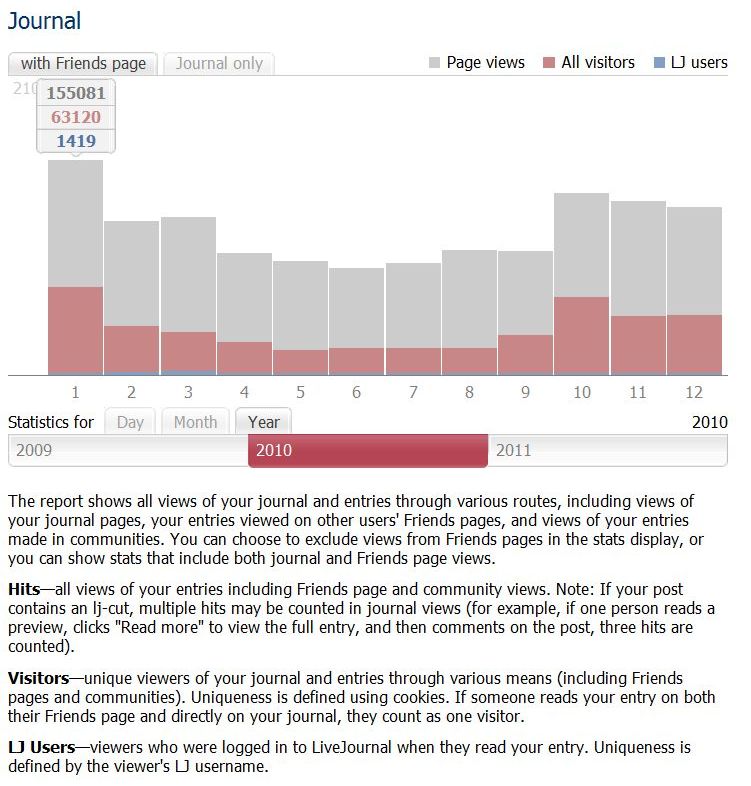 ClustrMaps

Site Meter

Disclaimer
All cover art, photo and graphic design contained in this site are copyrighted by the respective publishers and authors. These pages are for entertainment purposes only and no copyright infringement is intended. Should anyone object to our use of these items please contact by email the LJ's owner.
This is an amateur blog, where I discuss my reading, what I like and sometimes my personal life. I do not endorse anyone or charge fees of any kind for the books I review. I do not accept money as a result of this blog.
I'm associated with Amazon/USA Affiliates Programs.
Books reviewed on this site were usually provided at no cost by the publisher or author. However, some books were purchased by the reviewer and not provided for free. For information on how a particular title was obtained, please contact by email the LJ's owner.