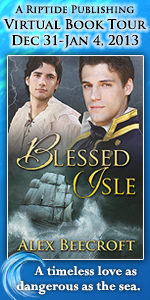 Welcome back, my friends to the show that never ends... (and big prog-rock kudos to you if you recognise that lyric ;) ) I'm here today to talk about my novella,
Blessed Isle
, which came out from Riptide on the 31st of December. I'm Alex Beecroft, and I'm taking the stage from Elisa Rolle today, with her blessing. I hope I don't give her cause to regret it ;)
As a giveaway on this tour I'm offering either the two books of the
Under the Hill series
, or any other two ebooks in my back catalogue.
Today, it seems to me that I've made you work hard enough, so lets have a day off and have no question. You can catch up on the previous questions, and the rules of the game, on the previous posts, which you can find here:
http://www.riptidepublishing.com/events/tours/blessed-isle-virtual-book-tour-alex-beecroft
Convicts and Castaways
I've been a published writer now since 2007, and a large proportion of those novels and novellas have been set during the Age of Sail. It wasn't a conscious decision to concentrate on 18th Century gentlemen on fighting ships, it was just an enthusiasm for the era, the clothes, the manners and the adventure.
But one thing I hadn't anticipated, when my first book, Captain's Surrender, came out, was that I might run into the problem of repeating plot elements. Captain's Surrender largely had a backdrop of dashing young Englishmen on Royal Navy ships fighting the French navy and – on being washed up in America - learning important life lessons from the Ojibwe people. The next book, False Colors, had my naval heroes fighting piracy, in that well known nest of pirates, the Caribbean. But they also went map making, and had some chilly escapades in the Arctic.
His Heart's Obsession combined the French and the Caribbean, and By Honor Betrayed was set among the equally cut throat but less glamorous world of the Cornish pirate.
So for Blessed Isle I wanted to do an Age of Sail story that had nothing to do with either the French or any form of piracy whatsoever. As my dad always said, whenever something went wrong, "worse things happen at sea." I thought it was about time I tackled one (or knowing my stories, two or three of those worse things at once.) But what was left?
Well, I could look at an entirely different part of the globe. I'd just bought
Captain Cook's journal
and was captivated by his adventures around the Pacific, so that seemed a good part of the world to visit. Then in my researches I stumbled across the story of the
First Fleet
. Ooh, I thought, there's a conflict in the making – how can I put my naval heroes in a position where they have to rely on a bunch of disaffected and maltreated prisoners for their lives? Would the convicts set them adrift in the middle of an unmapped ocean? Might they end up in a situation a bit like that of the mutineers from the Bounty? And it all cascaded from there.
Don't ask me why I didn't just go straight from Cook's diaries to the potential Polynesian culture clash story. Maybe that's something I'll have to try later.

Blurb for Blessed Isle
Publisher: Riptide Publishing (December 29, 2012)
Amazon Kindle:
Blessed Isle
For Captain Harry Thompson, the command of the prison transport ship HMS Banshee is his opportunity to prove his worth, working-class origins be damned. But his criminal attraction to his upper-crust First Lieutenant, Garnet Littleton, threatens to overturn all he's ever worked for.
Lust quickly proves to be the least of his problems, however. The deadly combination of typhus, rioting convicts, and a monstrous storm destroys his prospects . . . and shipwrecks him and Garnet on their own private island. After months of solitary paradise, the journey back to civilization—surviving mutineers, exposure, and desertion—is the ultimate test of their feelings for each other.
These two very different men each record their story for an unfathomable future in which the tale of their love—a love punishable by death in their own time—can finally be told. Today, dear reader, it is at last safe for you to hear it all.
You can read an excerpt and buy Blessed Isle
here at Riptide
.
Author Bio
Alex Beecroft was born in Northern Ireland during the Troubles and grew up in the wild countryside of the English Peak District. She studied English and Philosophy before accepting employment with the Crown Court where she worked for a number of years. Now a stay-at-home mum and full time author, Alex lives with her husband and two daughters in a little village near Cambridge and tries to avoid being mistaken for a tourist.
Alex is only intermittently present in the real world. She has lead a Saxon shield wall into battle, toiled as a Georgian kitchen maid, and recently taken up an 800 year old form of English folk dance, but she still hasn't learned to operate a mobile phone.
You can find Alex on
her website
,
Facebook
,
Twitter
or her
Goodreads page
This journal is friends only. This entry was originally posted at http://reviews-and-ramblings.dreamwidth.org/3415887.html. If you are not friends on this journal, Please comment there using OpenID.
Tags:
elisa_rolle
Appointments
2016 LGBT Rainbow Awards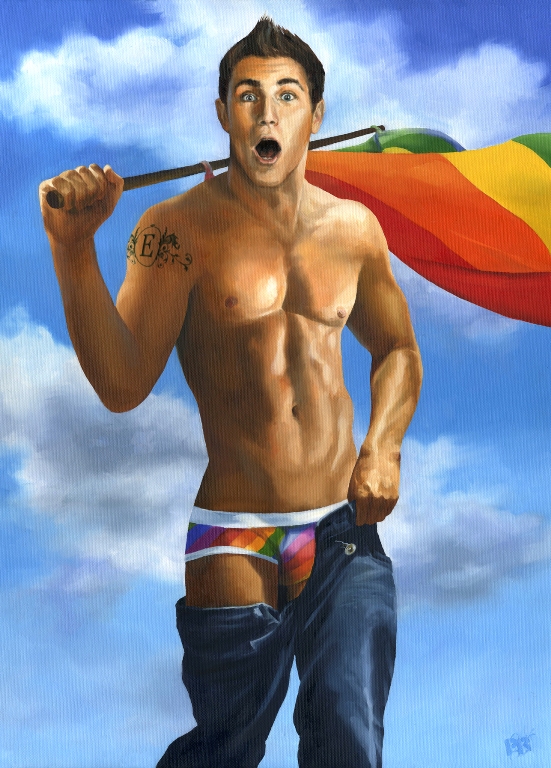 2016 Guidelines
2015 Winners
In the Spotlight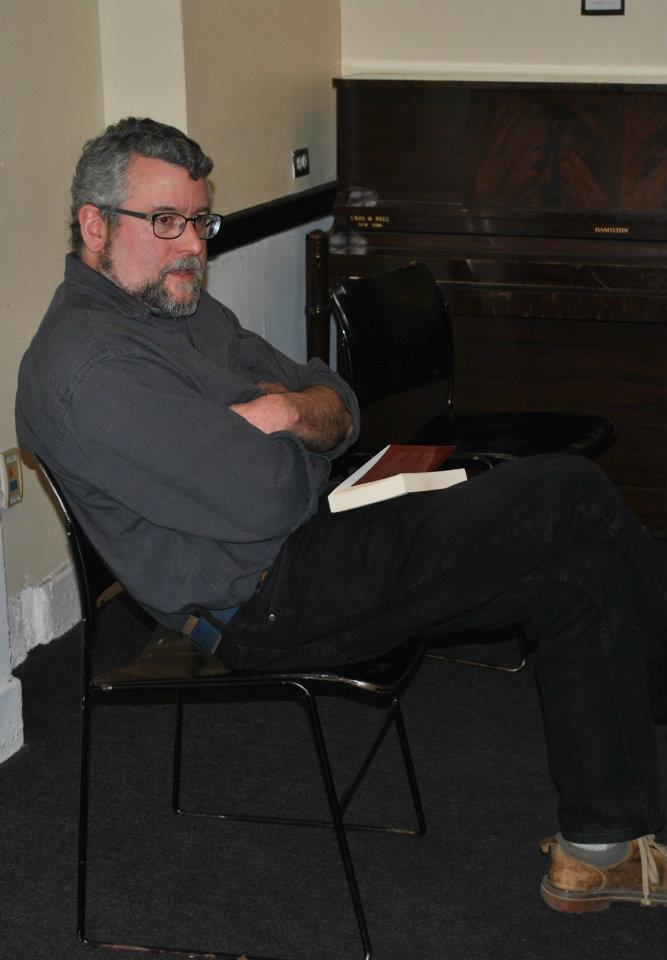 Top 100 Gay Novels List - Simple

Top 100 Gay Novels List - Wanted
Art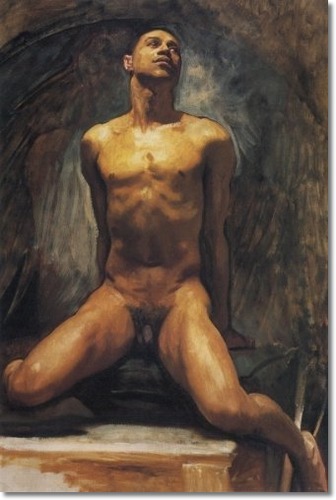 Previous Appointments Visual Summary
Gay Themed Movie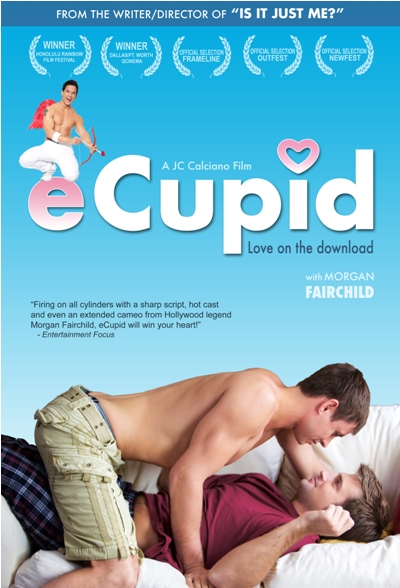 Previous Appointments Visual Summary
The Inside Reader


Previous Appointments Visual Summary

Top 100 Inside Readers Novels
LGBT Fashion Designers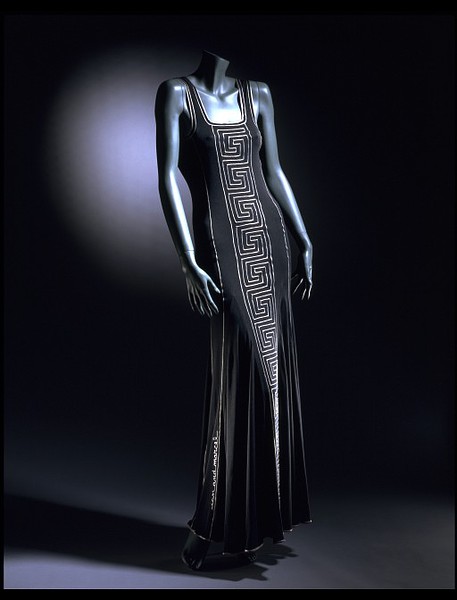 Previous Appointments Visual Summary
Gay Romance Challenge

Gay Commercial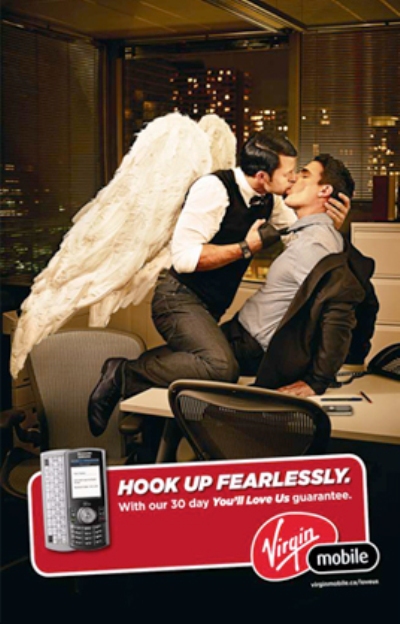 Around the World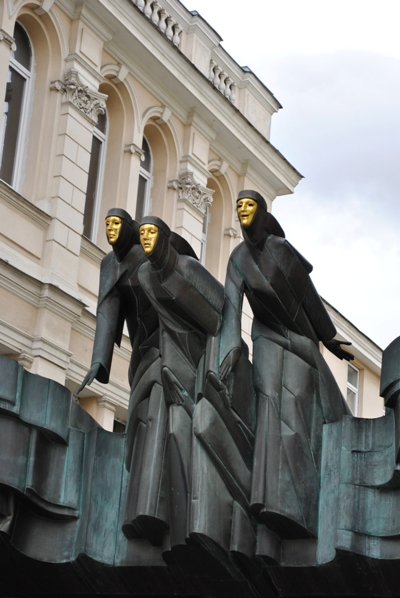 visited 20 states (8.88%)
Create your own visited map of The World
visited 15 states (30%)
Create your own visited map of The United States
Gay Classics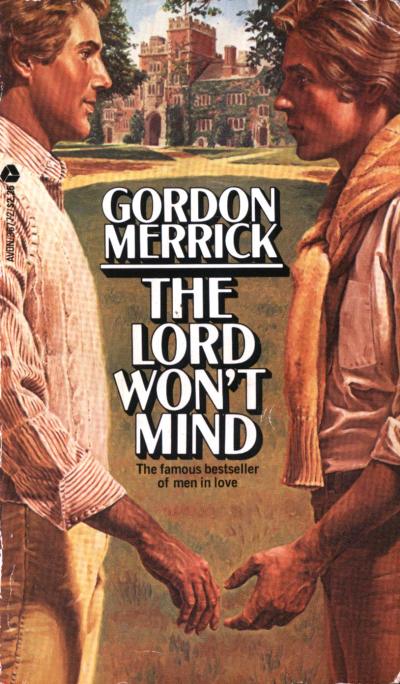 Previous Appointments Visual Summary
Romance History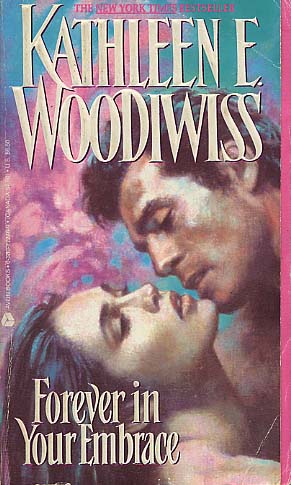 Previous Appointments Visual Summary
Main Tags
Characters:
Alpha Males
,
Cinderfellas (from rags to riches...)
,
Friends (with benefits)
,
Multicultural Lovers
,
Pretty... Men! (hustlers)
&
Virgins (at least in one way)
Dream Lovers:
Cowboys
,
Pirates
&
Sheikhs
Erotica (M/F)
Genres:
Contemporary
,
Fantasy
,
Futuristic
,
Historical
&
Paranormal
Length:
Short Story
,
Novella
&
Novel
Men in Uniform:
Cops / Detectives / PIs
,
Firefighters
&
Military
Non Conventional Lovers:
Elves, Gods, Deity & Witches
,
Furry Lovers
,
Shapeshifters
&
Vampires
Otherwordly Lovers:
Angels
,
Demons
&
Ghosts
Possible Futures:
Apocalypse Now
&
Back to the Future
Relationships:
Bondage / Submission
,
Breeches Rippers
,
Coming of Age
,
Disability
,
Gay for You
,
Male Pregnancy
,
May / December
,
Ménage a trois (or more...)
,
Silver Romance
&
Twincest
Settings:
Art World
,
College
,
Medical Romance
,
Office Affairs
,
Seasonal Romance
,
Show Business
&
Sports
Yaoi (manga)
From Movie to Novel (and viceversa)
Top 100 Gay Novels List
Secondary Tags
ActivistActorArtist
: illustrator, painter, photographer, sculptor
Author
: novelist, playwright, poet, screenwriter, writer
Dancer
: dance, choreographer
Designer
: architect, costumer, fashion designer, graphic designer, hairstylist, makeup artist, set designer, tailor
Director
: director, stage director
Eccentric
: aristocrat, art collector, drag queen, explorer, female impersonator, heir/heiress, hostess, lover, muse, prostitute, socialite, spy, survivor
Essayist
: anthropologist, archivist, biologist, columnist, critic, editor, educator, historian, journalist, lecturer, librarian, linguistic, philosopher, professor, psychoanalyst, psychologist, psychotherapist, publisher, reporter, researcher, scholar, sexologist, sociologist, teacher, theorist
Leader
: commander, emperor, judge, monarch, officer, politician, senator, statistician, warrior
ModelMusician
: arranger, composer, conductor, lyricist, pianist, singer, songwriter, violinist
Producer
: producer, manager, entrepreneur
Sport
Preditors & Editors Poll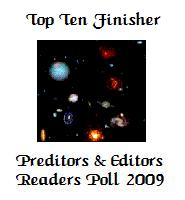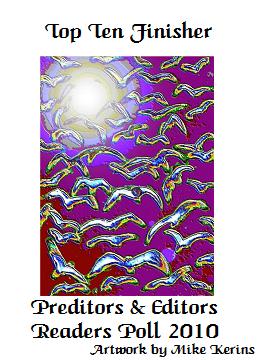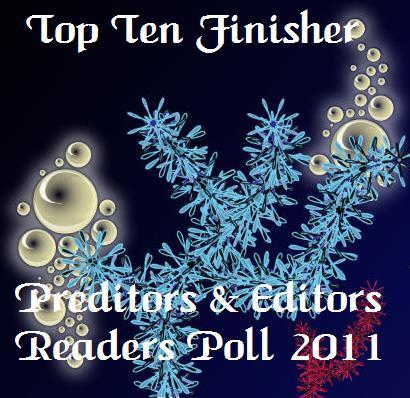 Amazon Profile
My Associate Amazon Store
Goodreads Profile
Top reviewer
Best reviewer
Top user
Top librarian
Most followed
Library Thing Helper Badgers
(Gold Medal) Helper for contributions to any area of LibraryThing
(Gold Medal) Common Knowledge for contributions to Common Knowledge
(Gold Medal) Work Combination for help maintaining LibraryThing's work system
(Silver Medal) Author Combination for help combining author names together
(Bronze Medal) Distinct authors for splitting homonymous authors into distinct authors
Publishers
List of LGBT publishers (for reviews look the Tags section)

Detailed List
Ego Surfing

Who links me
Statistics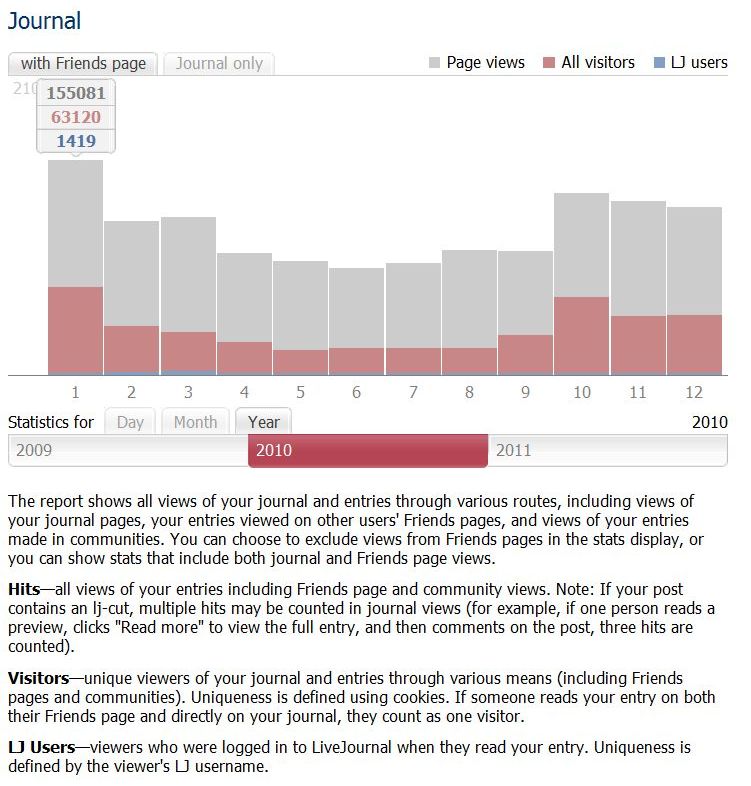 ClustrMaps

Site Meter

Disclaimer
All cover art, photo and graphic design contained in this site are copyrighted by the respective publishers and authors. These pages are for entertainment purposes only and no copyright infringement is intended. Should anyone object to our use of these items please contact by email the LJ's owner.
This is an amateur blog, where I discuss my reading, what I like and sometimes my personal life. I do not endorse anyone or charge fees of any kind for the books I review. I do not accept money as a result of this blog.
I'm associated with Amazon/USA Affiliates Programs.
Books reviewed on this site were usually provided at no cost by the publisher or author. However, some books were purchased by the reviewer and not provided for free. For information on how a particular title was obtained, please contact by email the LJ's owner.