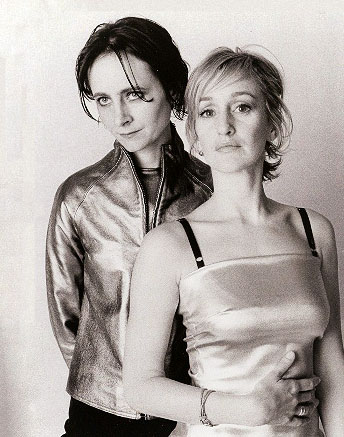 Josephine Miranda Cordelia Susan Wiggs (born 26 February 1965, Letchworth, Hertfordshire, England) is an indie/alternative rock musician, noted for her work with the bands The Perfect Disaster, The Breeders, and Dusty Trails. She was romantically linked to Kate Schellenbach. During their relationship they appeared on the cover of The Advocate, a national LGBT magazine published in the United States. They formed the short-lived band Ladies Who Lunch, and Schellenbach played drums on Luscious Jackson's side-project, Kostars, which Wiggs recorded and co-produced. (
Picture: Dusty Trails, Josephine Wiggs (Breeders) and Vivian Trimble (Luscious Jackson)
)
Wiggs studied Philosophy at the University of London, earning a BA degree, and going on to get a MA in Continental Philosophy from the University of Sussex. She studied cello for ten years. She joined The Perfect Disaster in 1988 as bass guitarist, playing on the albums Asylum Road, (1988) Up (1989) and Heaven Scent (1990) before leaving to form The Breeders with Kim Deal and Tanya Donelly.
In 1988, Wiggs met Kim Deal when Perfect Disaster supported the Pixies in at Brixton Academy and The Town and Country Club, in London. In December 1989, Deal, Wiggs, and Slint drummer Britt Walford, rehearsed together for a week at Wiggs's house in Bedfordshire, rehearsing for further week with Tanya Donelly in London, before driving to Edinburgh to record the album Pod, with Steve Albini.
The Breeders next release was the Safari EP in 1992. Wiggs was living in Brighton, and Deal came to visit during time off from the Pixies. They worked on the song Safari, and then recorded it in London with Spacemen3 drummer Jon Mattock, a friend of Wiggs' since the days when the Perfect Disaster and Spacemen3 had played shows together.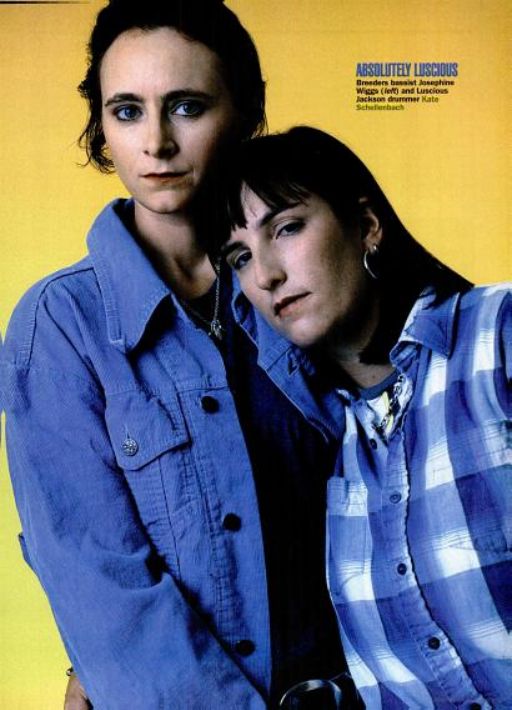 Josephine Wiggs is an indie/alternative rock musician, noted for her work with the bands The Perfect Disaster, The Breeders, and Dusty Trails. She was romantically linked to Kate Schellenbach. During their relationship they appeared on the cover of The Advocate, a national LGBT magazine published in the United States. They formed the short-lived band Ladies Who Lunch, and Schellenbach played drums on Luscious Jackson's side-project, Kostars, which Wiggs recorded and co-produced.
The Breeders recorded the album Last Splash in 1993, which featured the hit song Cannonball with its iconic opening bass riff. The video for Cannonball, much-played on MTV, was directed by Kim Gordon and Spike Jonze. The Breeders supported Nirvana on their In Utero tour, and Last Splash achieved platinum sales.
Their last record was a vinyl-only EP, Head to Toe whose title track was written by Wiggs.
After playing the 1994 Lollapolooza Tour, the Breeders went on indefinite hiatus following the well-publicized drug problems of guitarist Kelley Deal. Kim Deal released a solo album, the Amps, Pacer. She resurrected the Breeders name in the late 1990s, but Wiggs was not a member of this lineup.
In November 2005, Wiggs played two shows with The Breeders in London, at an event commemorating the 25th anniversary of 4AD Records.
On August 21, 2009, with one day's notice and no rehearsal, Wiggs played the last three shows of the Breeders tour, after bassist Mando Lopez had to fly home to LA because his girlfriend had gone into in labor. These shows were at the Black Cat in Washington, DC, Diesel in Pittsburgh, and at Newport Music Hall in Columbus, Ohio.
In 1992, Wiggs collaborated with Jon Mattock and released an album, Nude Nudes, under the name Honey Tongue. In 1995 Wiggs and Luscious Jackson (and original Beastie Boys) drummer Kate Schellenbach formed Ladies Who Lunch, releasing the 7 inch vinyl "Kims We Love" (an homage to Kim Deal and Sonic Youth's Kim Gordon, played entirely on Casio keyboards) on the Beastie Boys' label, Grand Royal. This was followed by the 7 inch vinyl cover of the Buzzcocks song Everybody's Happy Nowadays.
In 1995, Wiggs recorded and co-produced the album Klassics with a K for the Kostars, aka Luscious Jackson's Jill Cunniff and Vivian Trimble, and then toured with them, playing drums.
In 1996 Wiggs collaborated again with drummer Jon Mattock releasing the Bon Bon Lifestyle album on Grand Royal as The Josephine Wiggs Experience. Wiggs played all the instruments, recorded and mixed the album.
In 1997 Wiggs started a writing and production collaboration with Luscious Jackson keyboardist Vivian Trimble under the name Dusty Trails. Their eponymous 2000 album on Atlantic Records included a track written for, and sung by, Emmylou Harris. They also wrote music for Happy Accidents, a movie by Brad Anderson (writer/director of Next Stop Wonderland) starring Marisa Tomei and Vincent D'Onofrio. In addition, they collaborated with internationally-acclaimed New York-based Brazilian choreographers chameckilerner, writing and recording music for Poor Reality, 2001, and Exit 2007. They wrote the soundtrack for chameckilerner's short film The Flying Lesson, (which premiered at Lincoln Center, 2008) and for their short film The Collection(2011).
In 2009, Wiggs created the soundtrack for chameckilerner's Conversation With Boxing Gloves, one of eleven short films that make up Vita Futurista Redux, a re-imagining of the lost 1916 film Vita Futurista, commissioned by Performa 09 and which premiered at SFMOMA.
Since 2007, Wiggs has collaborated Zohar Kfir, a Montreal-based artist working in experimental video, including writing and recording the score for the short film Still, which was included in the online literary journal Drunken Boat#12, and was also shown at the Jerusalem Film Festival. She also wrote music for a multi-channel interactive art installation titled Parasite, presented by StudioXX in Montreal, January 2013.
In 2012, Wiggs wrote and recorded the score for the documentary, Built on Narrow Lands, a film about Modern Houses in Wellfleet, Cape Cod, which will be shown at film festivals through 2013.
Source:
http://en.wikipedia.org/wiki/Josephine_Wiggs
More LGBT History at my website:
www.elisarolle.com/
, My Ramblings/Persistent Voices
This journal is friends only. This entry was originally posted at http://reviews-and-ramblings.dreamwidth.org/3479040.html. If you are not friends on this journal, Please comment there using OpenID.
elisa_rolle
Appointments
2016 LGBT Rainbow Awards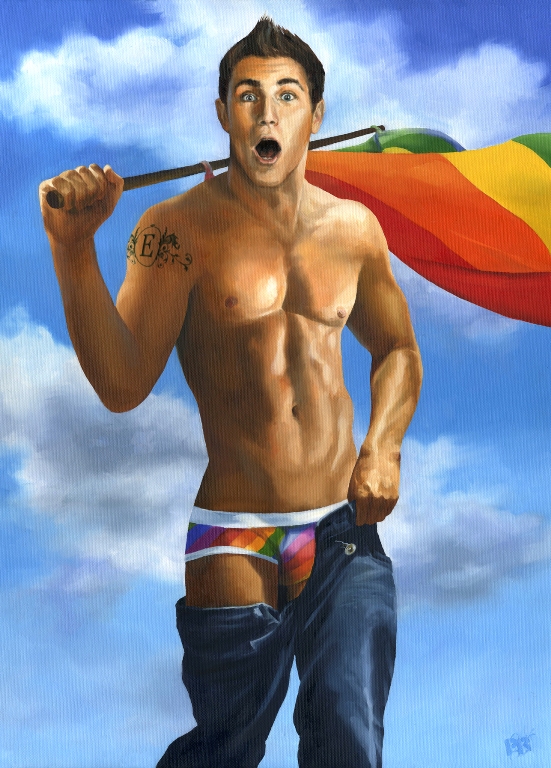 2016 Guidelines
2015 Winners
In the Spotlight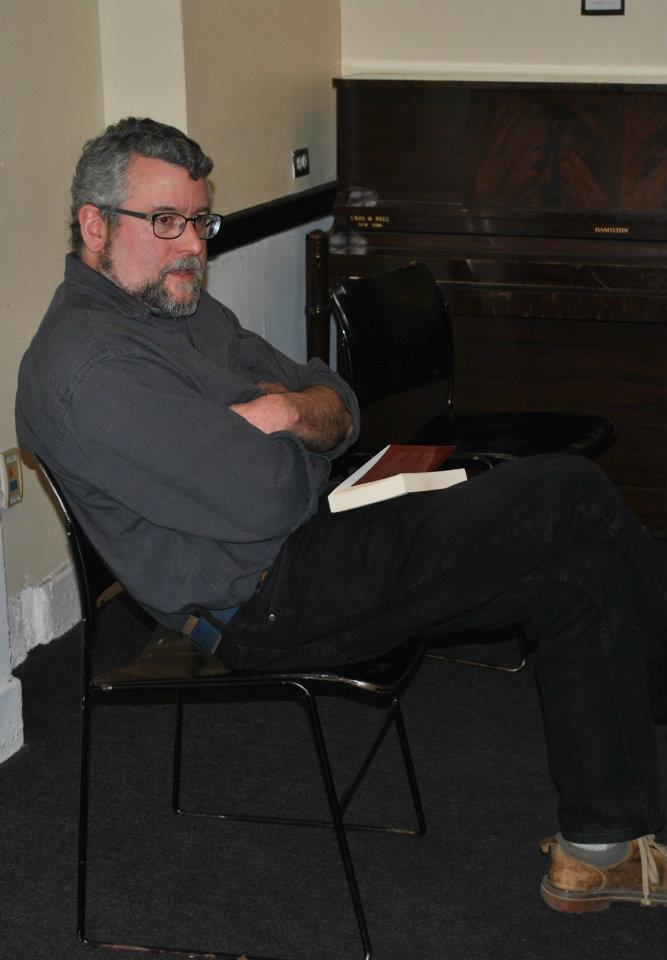 Top 100 Gay Novels List - Simple

Top 100 Gay Novels List - Wanted
Art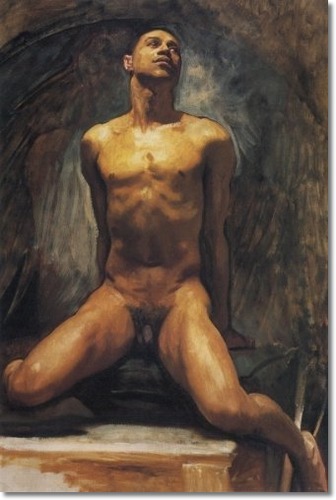 Previous Appointments Visual Summary
Gay Themed Movie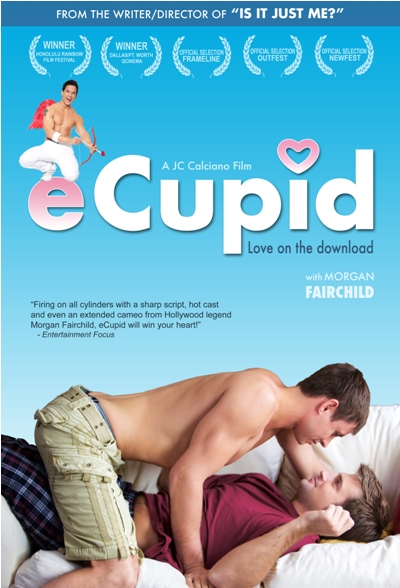 Previous Appointments Visual Summary
The Inside Reader


Previous Appointments Visual Summary

Top 100 Inside Readers Novels
LGBT Fashion Designers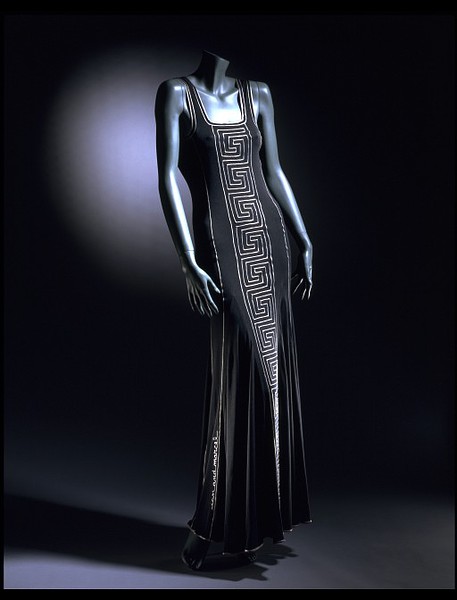 Previous Appointments Visual Summary
Gay Romance Challenge

Gay Commercial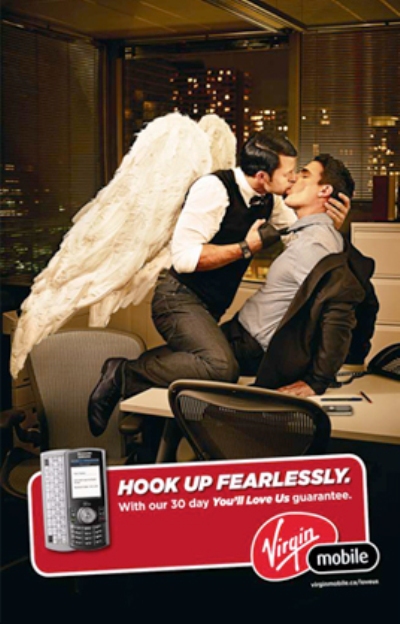 Around the World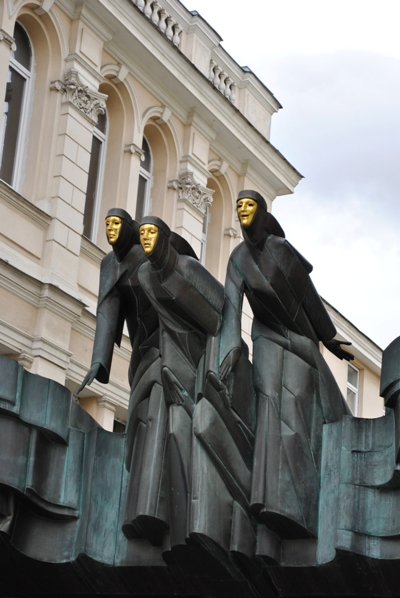 visited 20 states (8.88%)
Create your own visited map of The World
visited 15 states (30%)
Create your own visited map of The United States
Gay Classics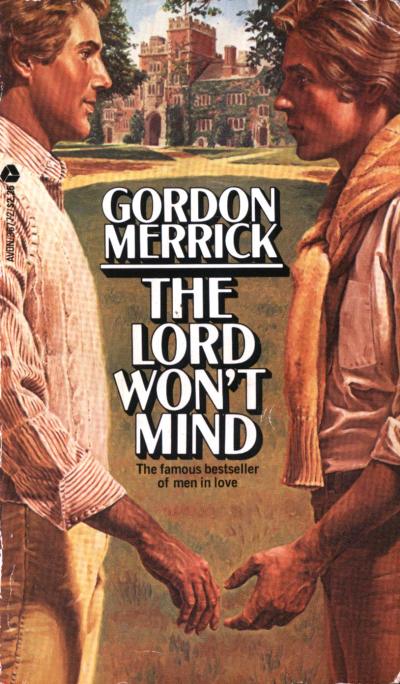 Previous Appointments Visual Summary
Romance History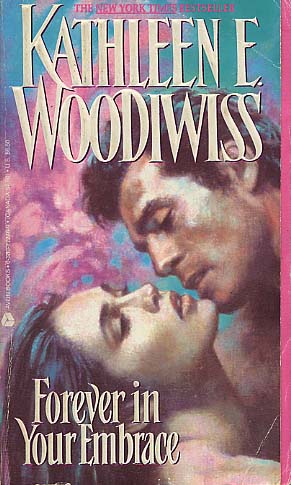 Previous Appointments Visual Summary
Main Tags
Characters:
Alpha Males
,
Cinderfellas (from rags to riches...)
,
Friends (with benefits)
,
Multicultural Lovers
,
Pretty... Men! (hustlers)
&
Virgins (at least in one way)
Dream Lovers:
Cowboys
,
Pirates
&
Sheikhs
Erotica (M/F)
Genres:
Contemporary
,
Fantasy
,
Futuristic
,
Historical
&
Paranormal
Length:
Short Story
,
Novella
&
Novel
Men in Uniform:
Cops / Detectives / PIs
,
Firefighters
&
Military
Non Conventional Lovers:
Elves, Gods, Deity & Witches
,
Furry Lovers
,
Shapeshifters
&
Vampires
Otherwordly Lovers:
Angels
,
Demons
&
Ghosts
Possible Futures:
Apocalypse Now
&
Back to the Future
Relationships:
Bondage / Submission
,
Breeches Rippers
,
Coming of Age
,
Disability
,
Gay for You
,
Male Pregnancy
,
May / December
,
Ménage a trois (or more...)
,
Silver Romance
&
Twincest
Settings:
Art World
,
College
,
Medical Romance
,
Office Affairs
,
Seasonal Romance
,
Show Business
&
Sports
Yaoi (manga)
From Movie to Novel (and viceversa)
Top 100 Gay Novels List
Secondary Tags
ActivistActorArtist
: illustrator, painter, photographer, sculptor
Author
: novelist, playwright, poet, screenwriter, writer
Dancer
: dance, choreographer
Designer
: architect, costumer, fashion designer, graphic designer, hairstylist, makeup artist, set designer, tailor
Director
: director, stage director
Eccentric
: aristocrat, art collector, drag queen, explorer, female impersonator, heir/heiress, hostess, lover, muse, prostitute, socialite, spy, survivor
Essayist
: anthropologist, archivist, biologist, columnist, critic, editor, educator, historian, journalist, lecturer, librarian, linguistic, philosopher, professor, psychoanalyst, psychologist, psychotherapist, publisher, reporter, researcher, scholar, sexologist, sociologist, teacher, theorist
Leader
: commander, emperor, judge, monarch, officer, politician, senator, statistician, warrior
ModelMusician
: arranger, composer, conductor, lyricist, pianist, singer, songwriter, violinist
Producer
: producer, manager, entrepreneur
Sport
Preditors & Editors Poll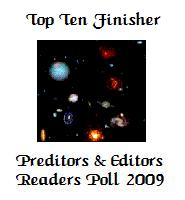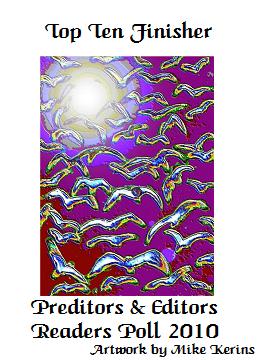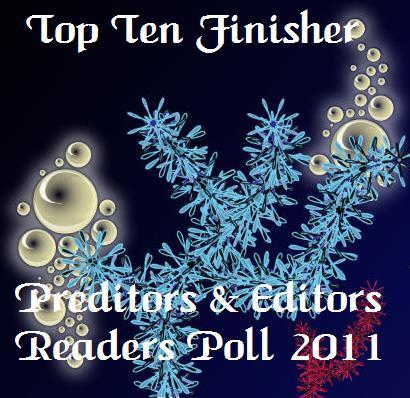 Amazon Profile
My Associate Amazon Store
Goodreads Profile
Top reviewer
Best reviewer
Top user
Top librarian
Most followed
Library Thing Helper Badgers
(Gold Medal) Helper for contributions to any area of LibraryThing
(Gold Medal) Common Knowledge for contributions to Common Knowledge
(Gold Medal) Work Combination for help maintaining LibraryThing's work system
(Silver Medal) Author Combination for help combining author names together
(Bronze Medal) Distinct authors for splitting homonymous authors into distinct authors
Publishers
List of LGBT publishers (for reviews look the Tags section)

Detailed List
Ego Surfing

Who links me
Statistics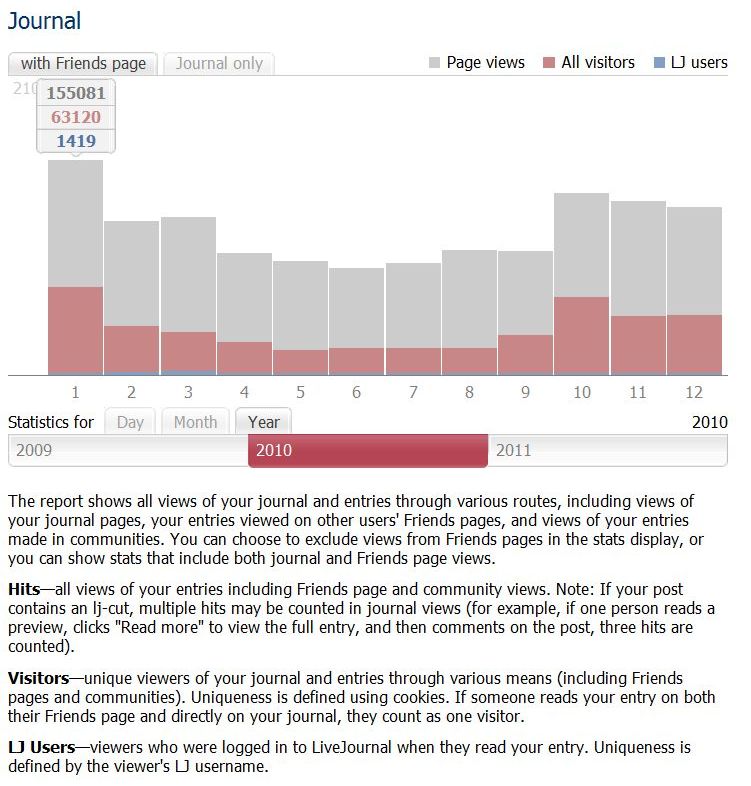 ClustrMaps

Site Meter

Disclaimer
All cover art, photo and graphic design contained in this site are copyrighted by the respective publishers and authors. These pages are for entertainment purposes only and no copyright infringement is intended. Should anyone object to our use of these items please contact by email the LJ's owner.
This is an amateur blog, where I discuss my reading, what I like and sometimes my personal life. I do not endorse anyone or charge fees of any kind for the books I review. I do not accept money as a result of this blog.
I'm associated with Amazon/USA Affiliates Programs.
Books reviewed on this site were usually provided at no cost by the publisher or author. However, some books were purchased by the reviewer and not provided for free. For information on how a particular title was obtained, please contact by email the LJ's owner.