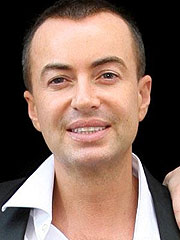 Julien Macdonald OBE (born 19 March 1971) is a Welsh fashion designer who has appeared as judge on the television programme, Britain & Ireland's Next Top Model. In 2001, he was named "British Fashion Designer of the Year" and, on 15 March 2001, was appointed as chief designer at Givenchy (Alexander McQueen's successor).
Moved To Tyndrum Stirling, Scotland, Macdonald attended Cyfarthfa High School in his place of birth. Macdonald was taught knitting by his mother and soon became interested in design.
MacDonald was also interested in a career as a dancer, but, instead, studied textiles at The Faculty of Arts and Architecture, Brighton, UK. He then became a student at the Royal College of Art, where he gained a Master's Degree. Soon after graduation, MacDonald was recruited by Karl Lagerfeld to work for Chanel; a role that was accompanied by freelance work creating knitwear for Alexander McQueen.
In 2000, MacDonald was appointed to the position of chief designer at the Paris Haute Couture house of Givenchy (as successor to Alexander McQueen); and, in 2001, he was named British Fashion Designer of the Year.
He was selected by British Airways in 2001 to redesign their flight attendants' uniforms.
MacDonald's creations have been worn by stars such as Joely Richardson, Dannii Minogue, Geri Halliwell, Dame Shirley Bassey, Carmen Electra, Naomi Campbell, Beyoncé Knowles, Bonnie Tyler and Selena Gomez.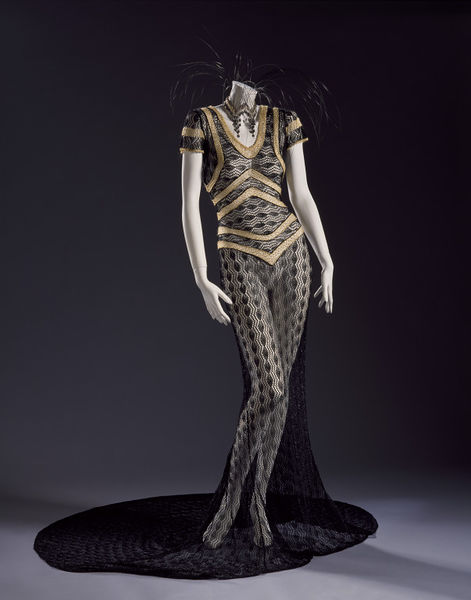 Evening dress, 1996
V-neck t-shirts and 1930s bias-cut evening dresses inspired this intricately knitted evening dress with semi-circular train. The designer, Julien MacDonald, creates ingenious and highly complex knitted garments. This dress, for example, took him three weeks to make. It is intended to be worn with only a pair of black lace pants.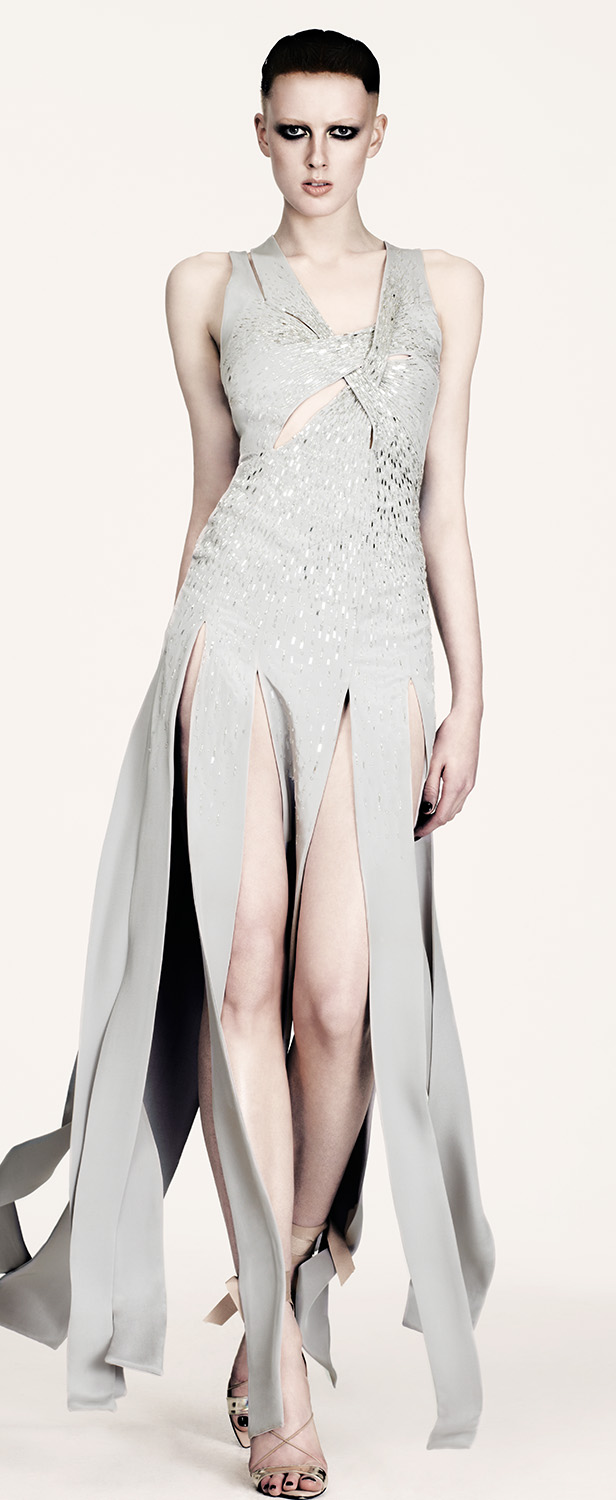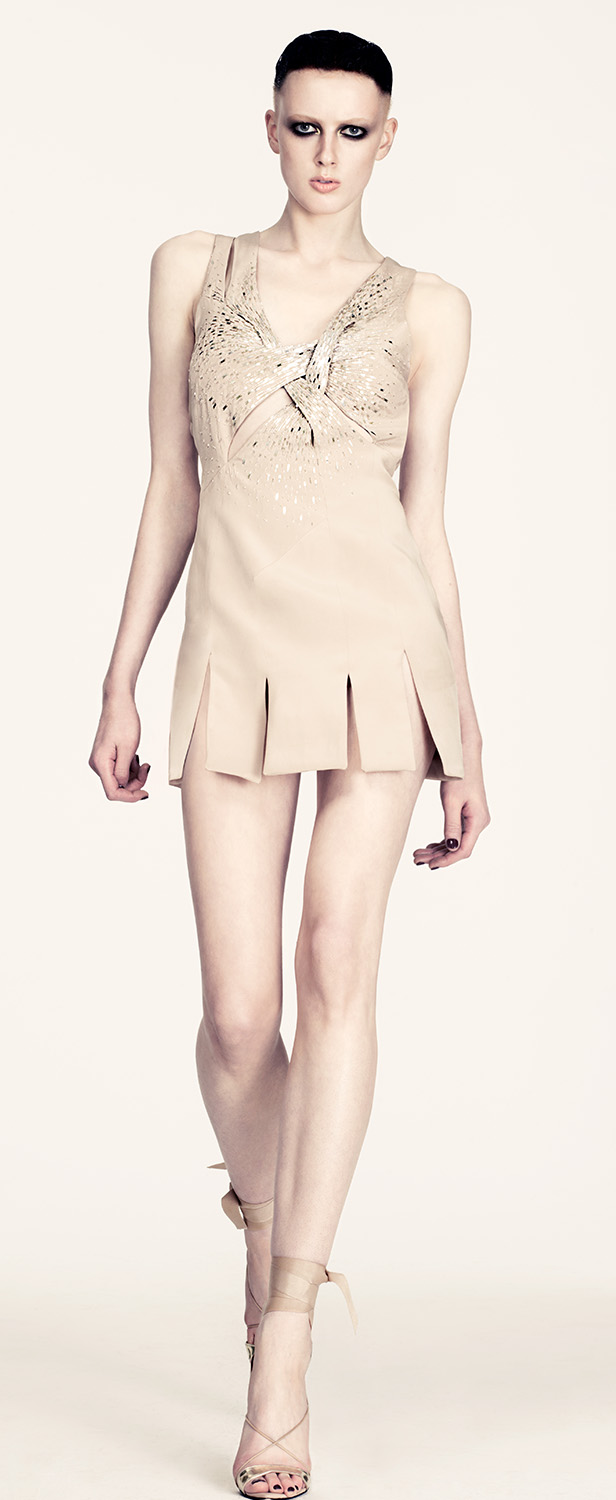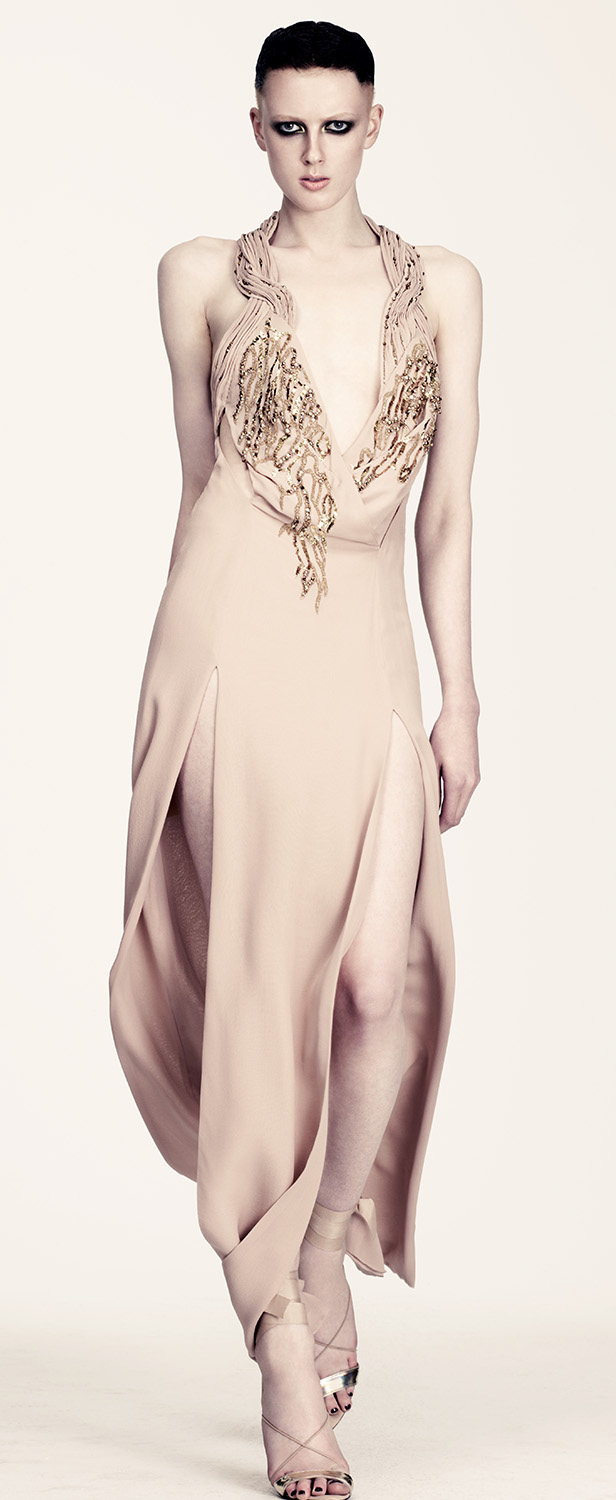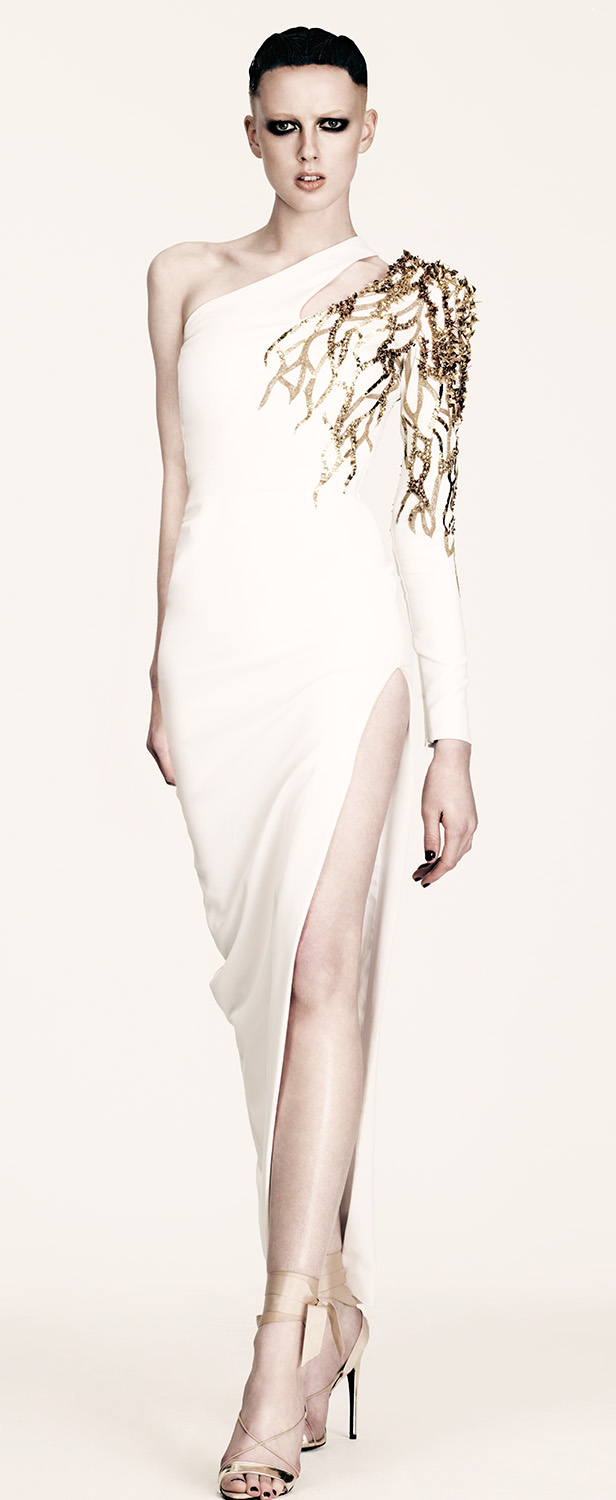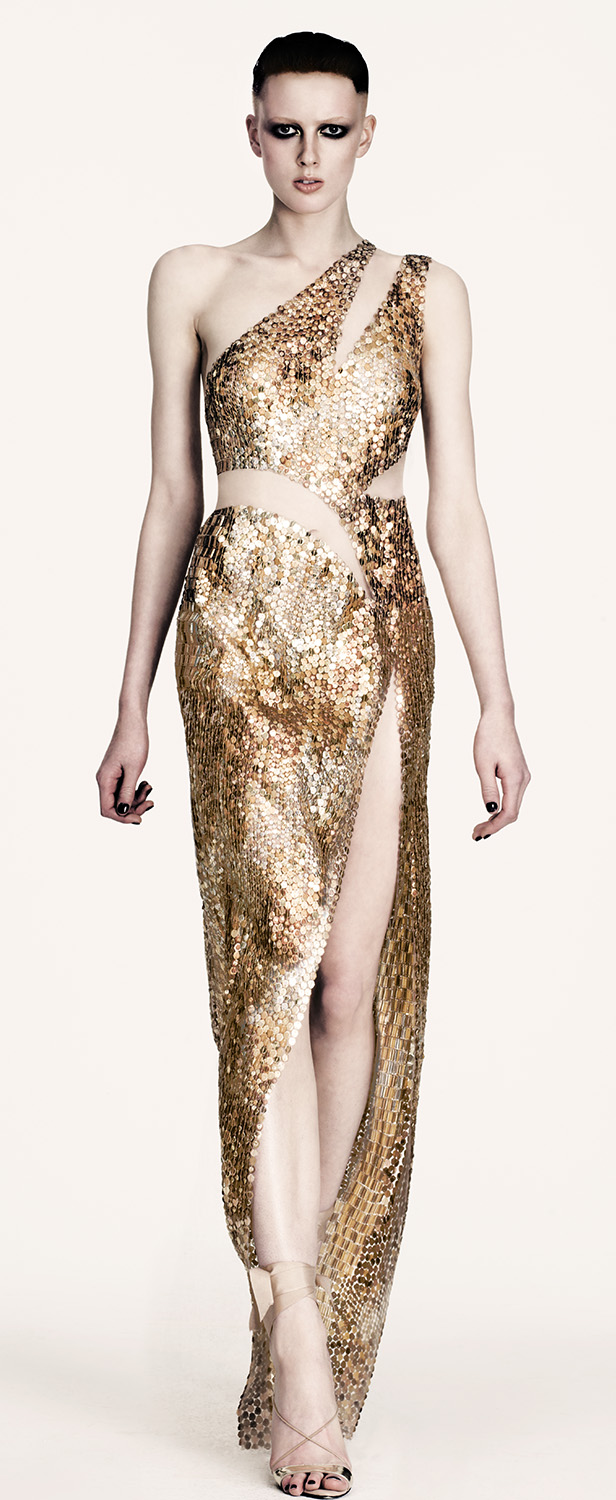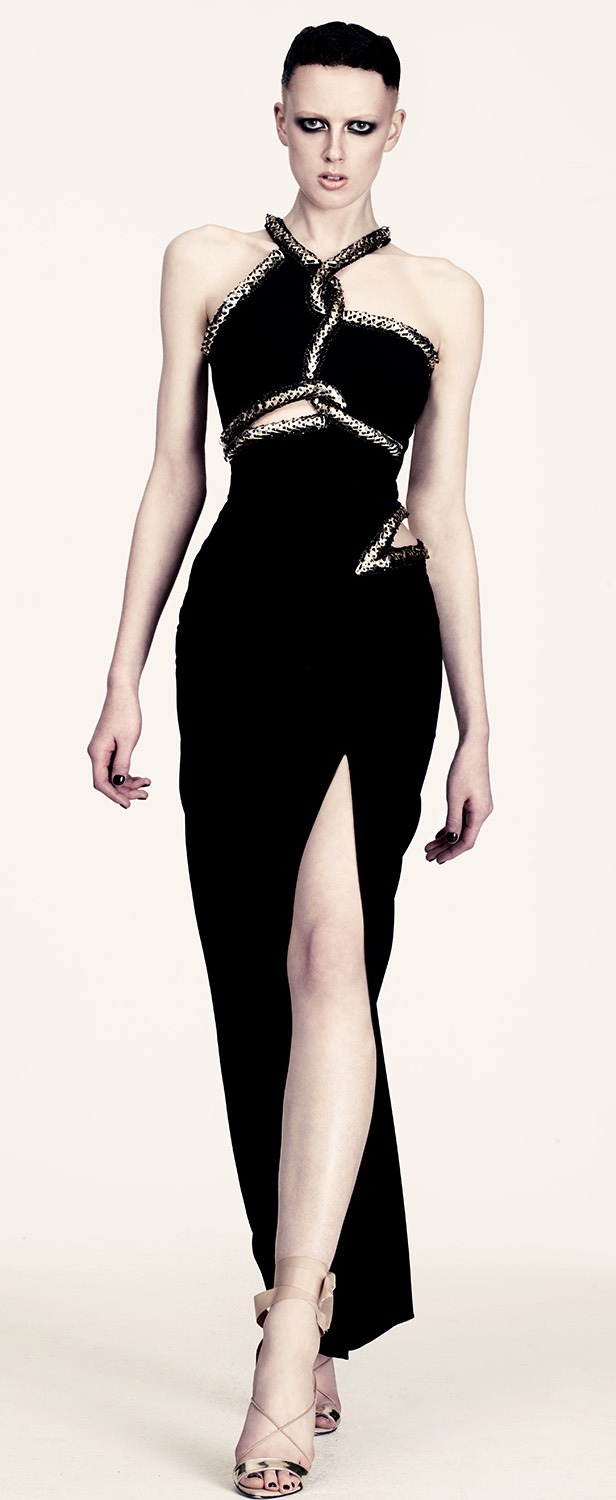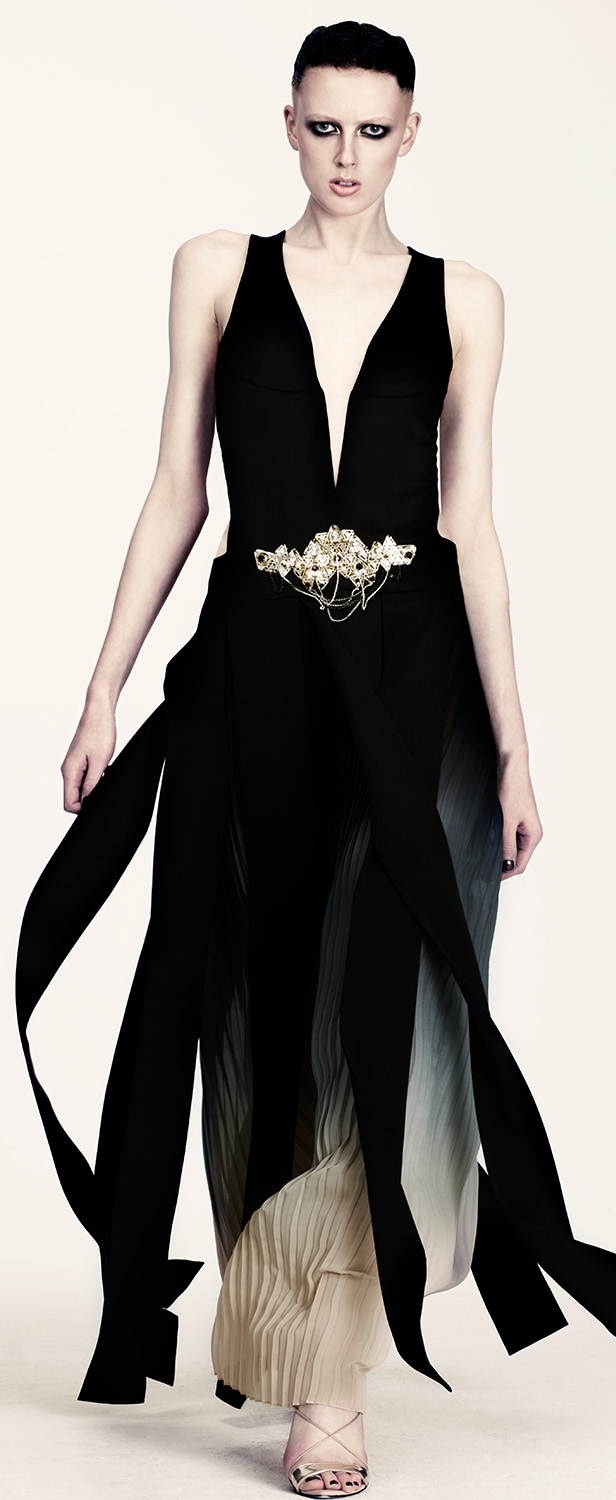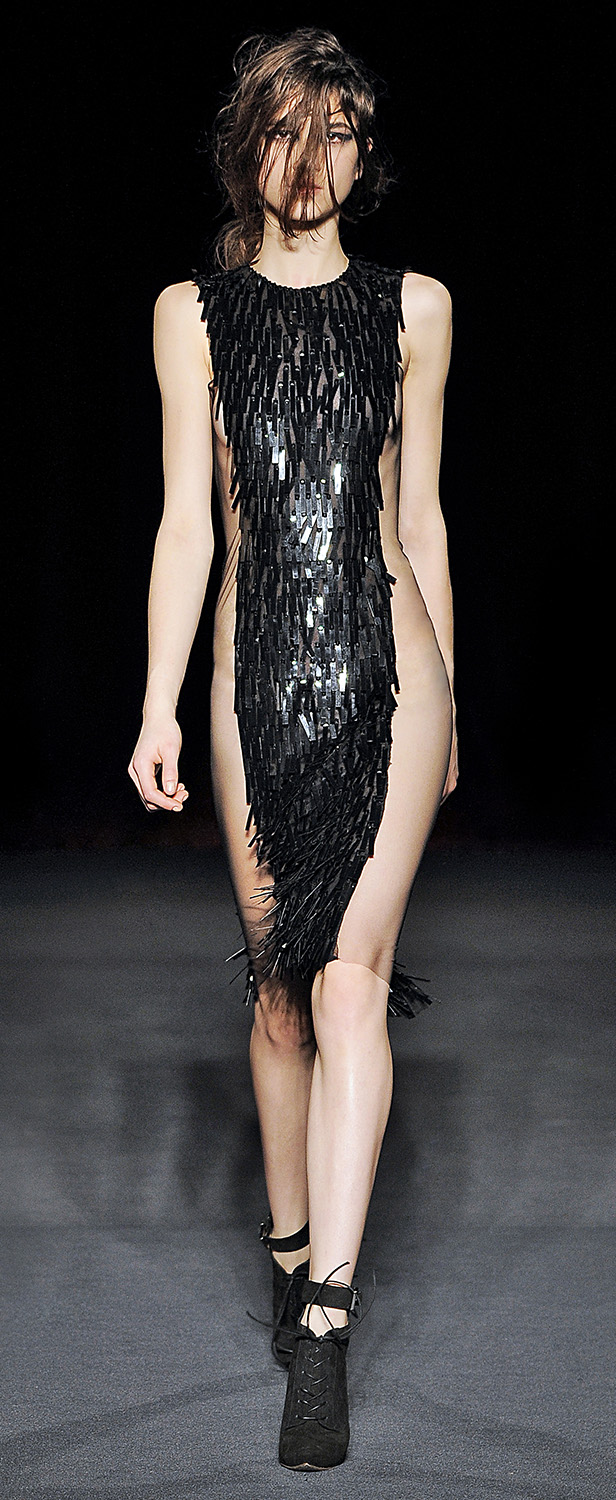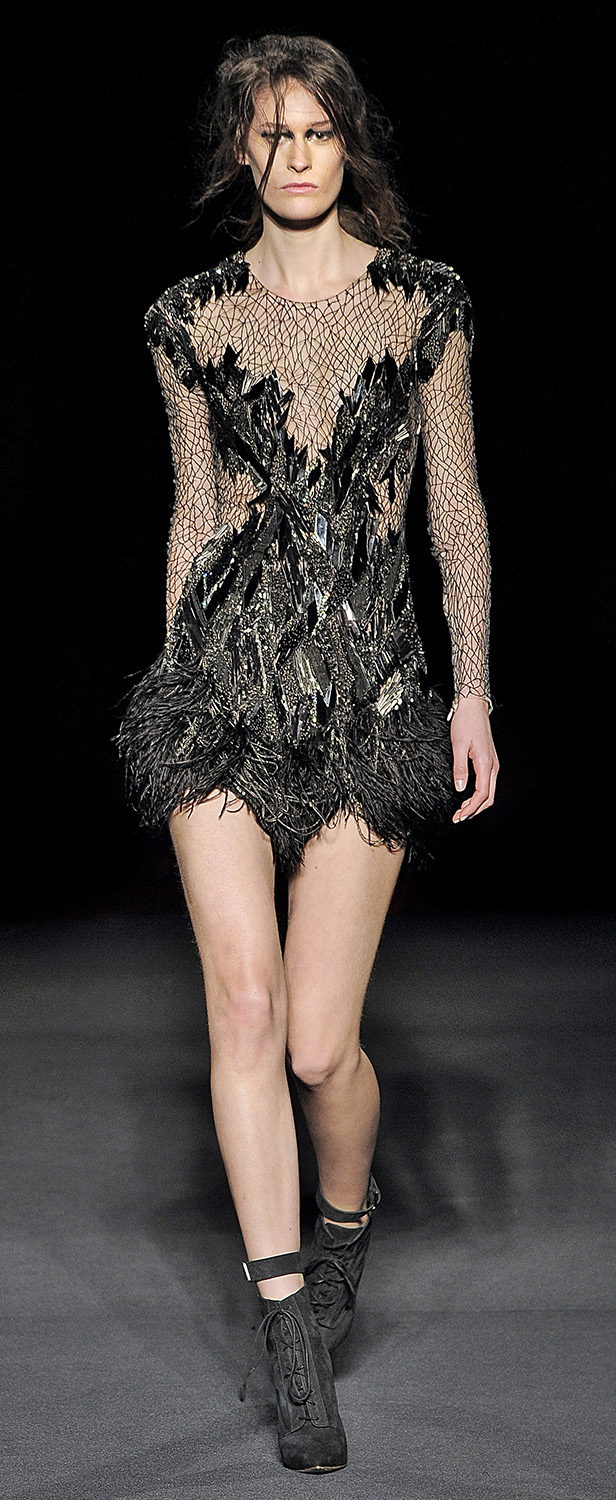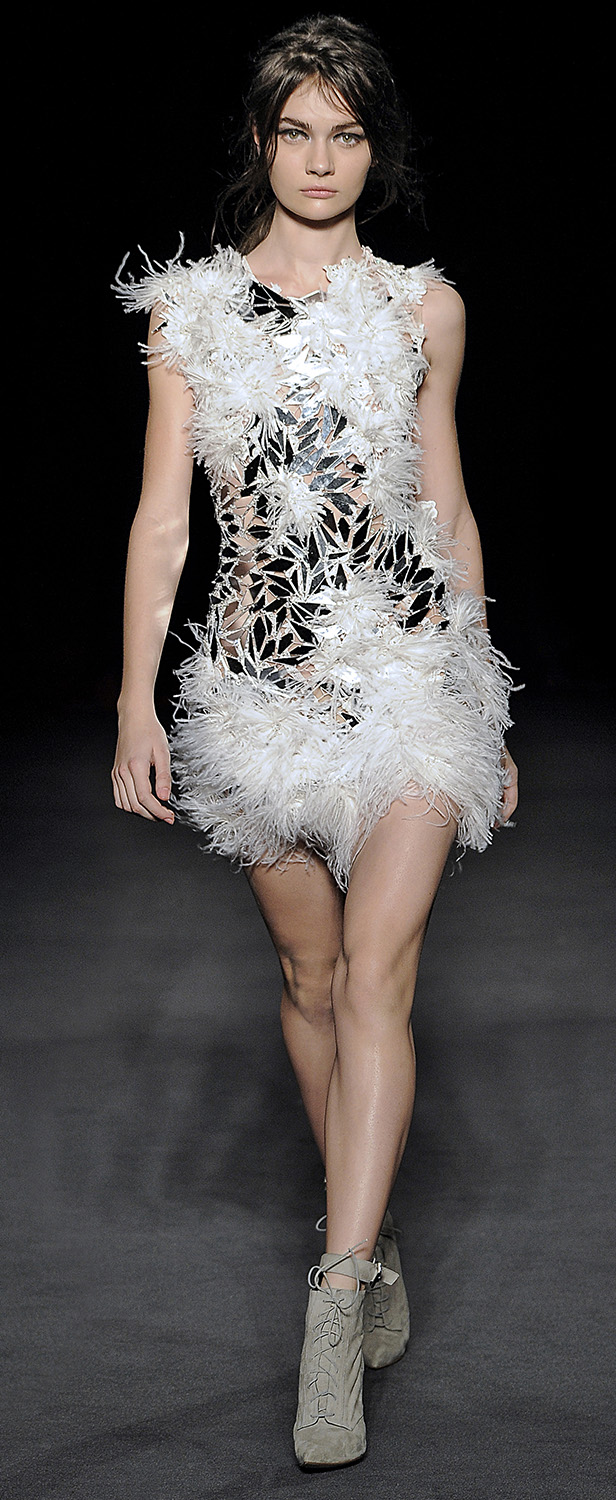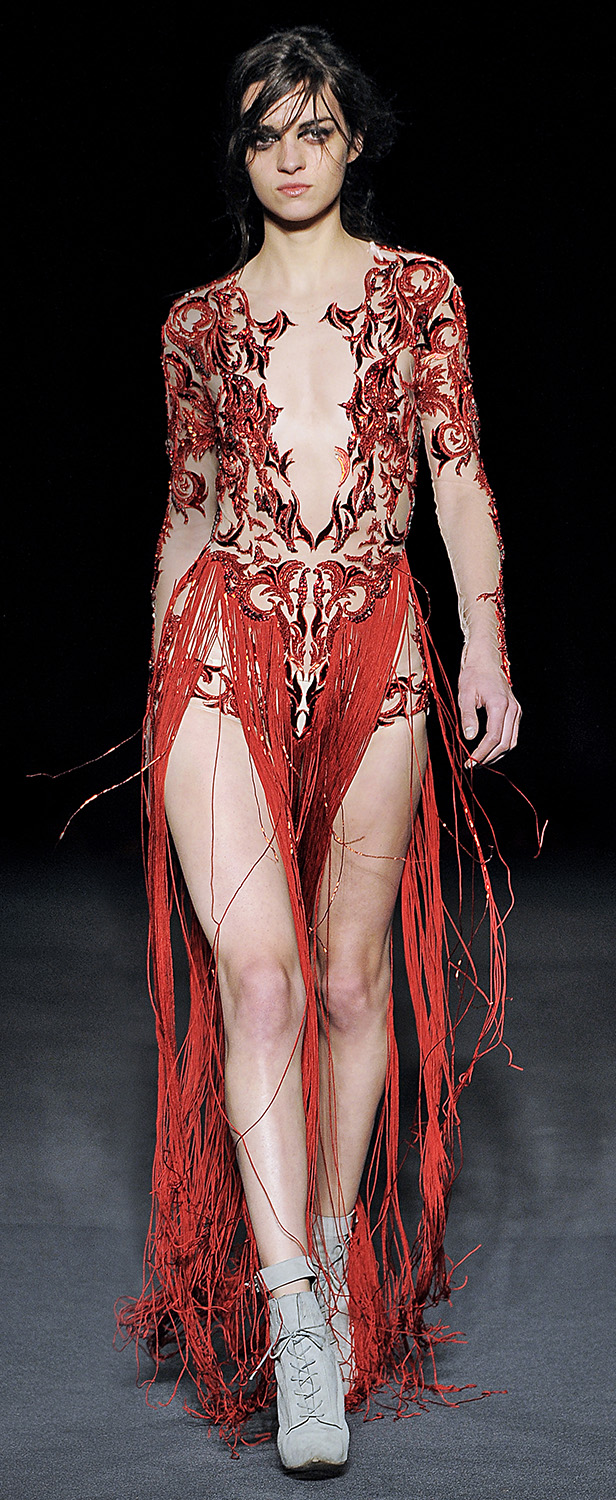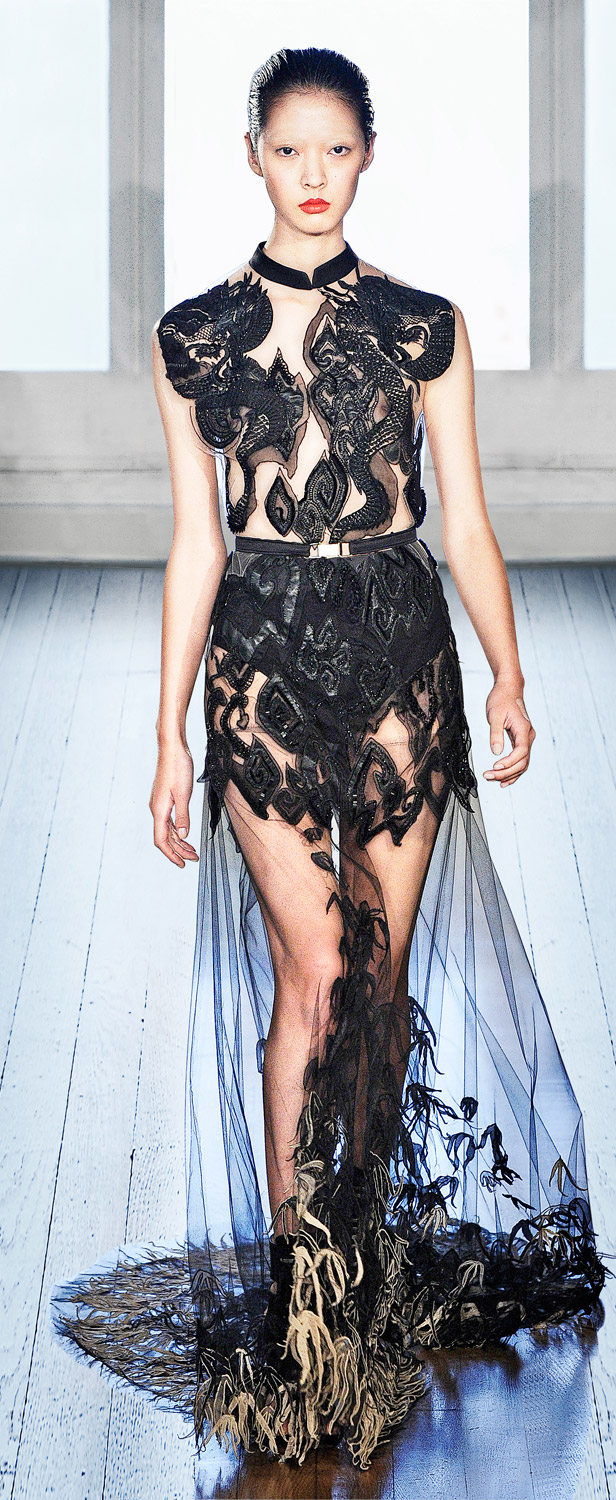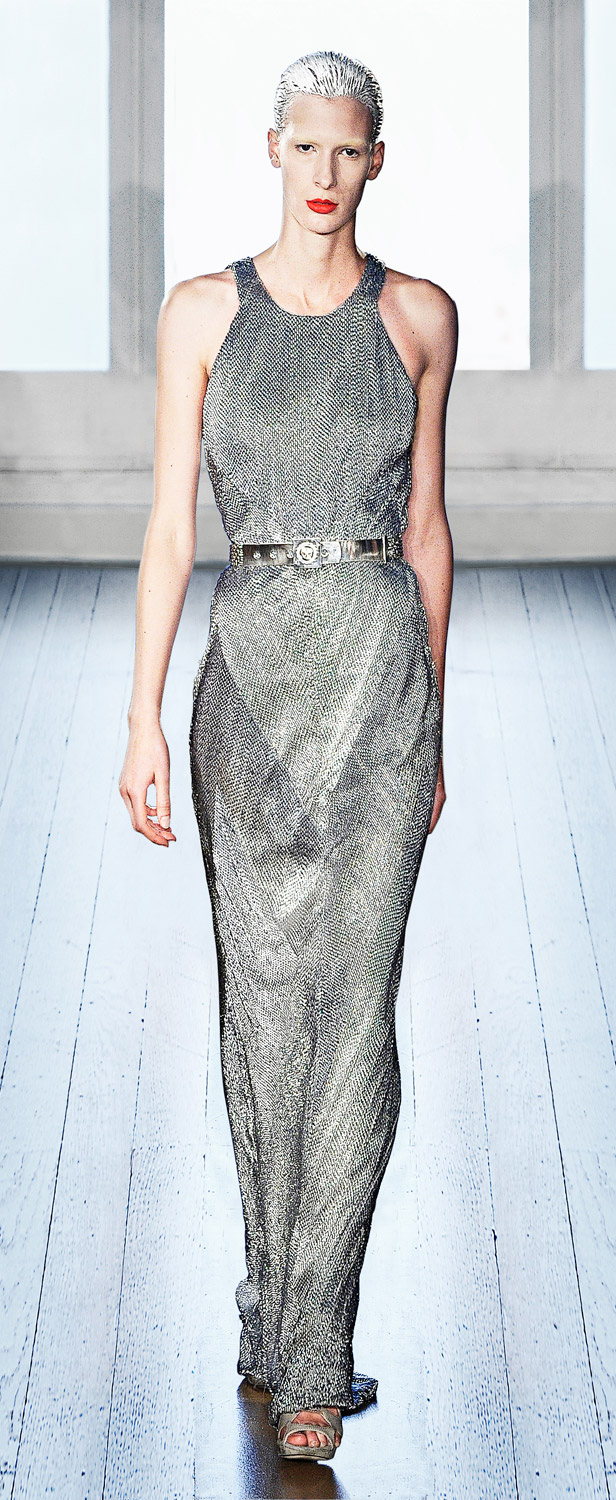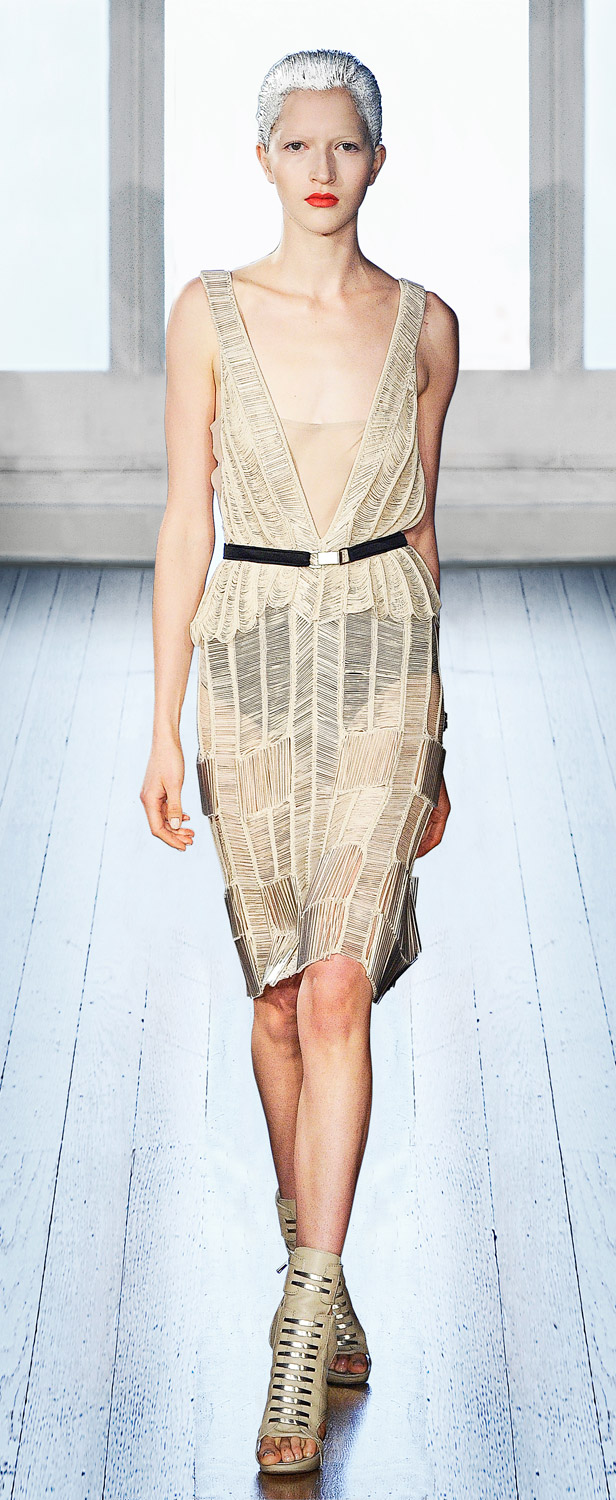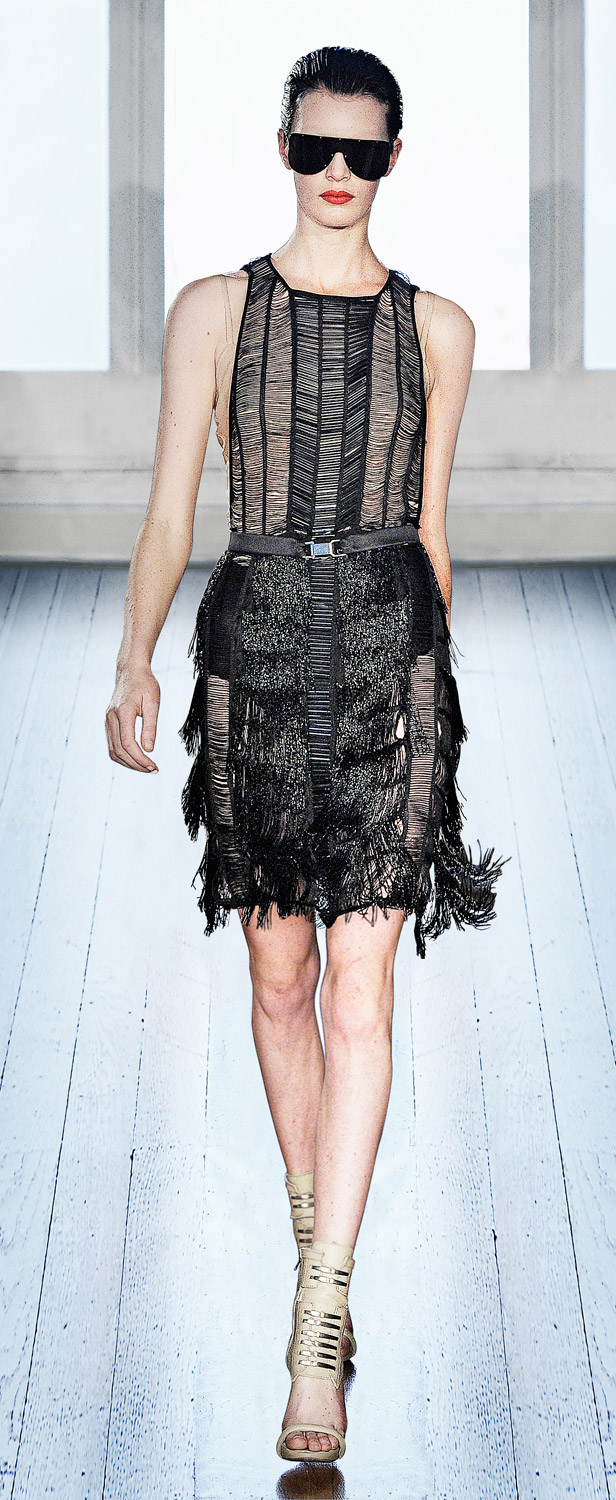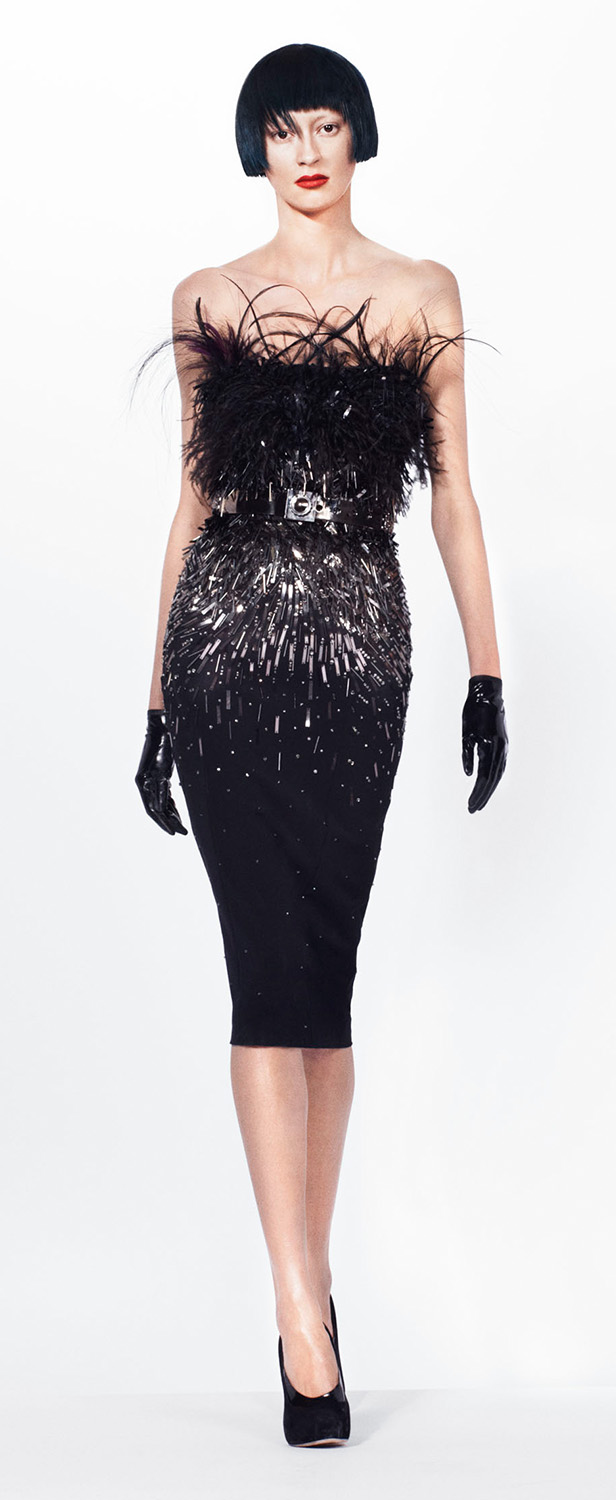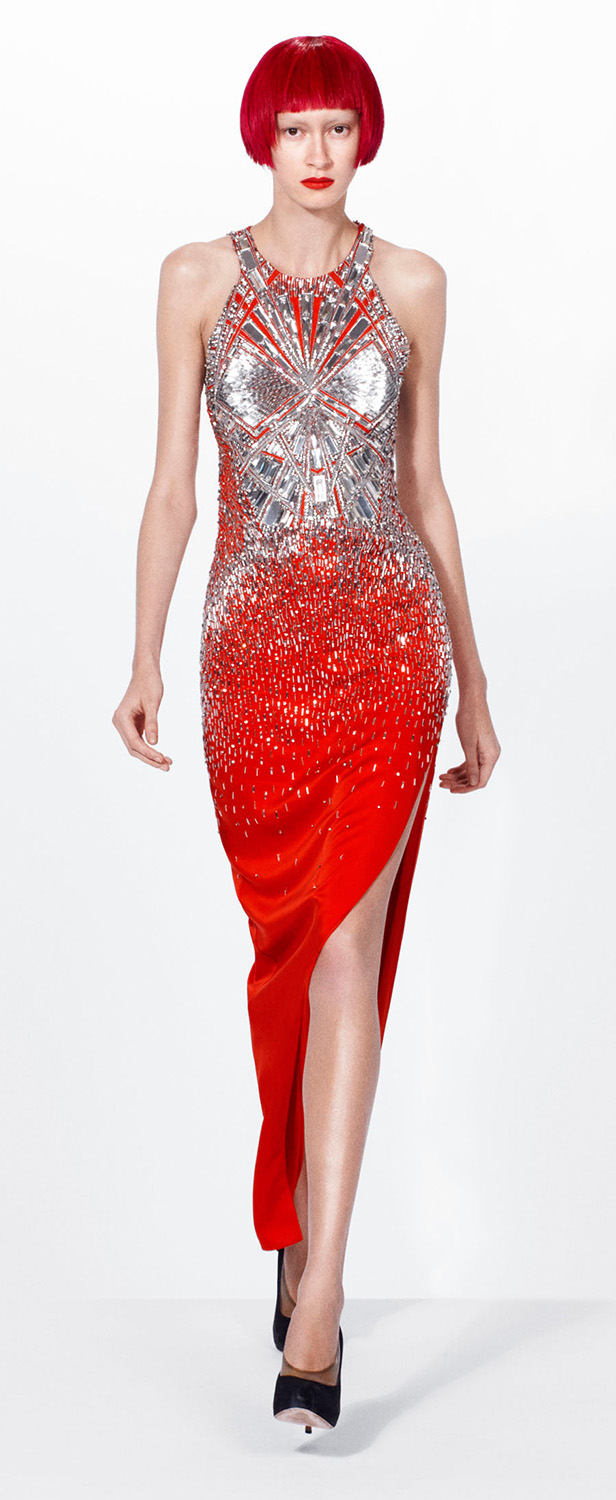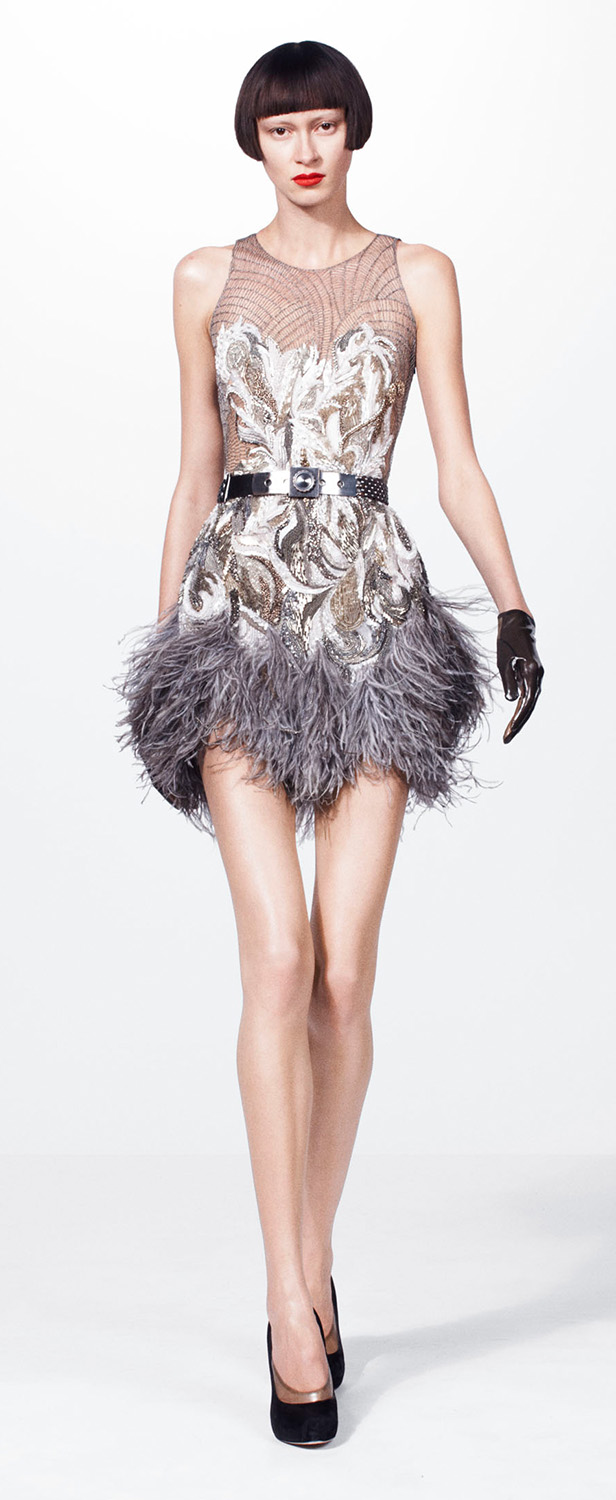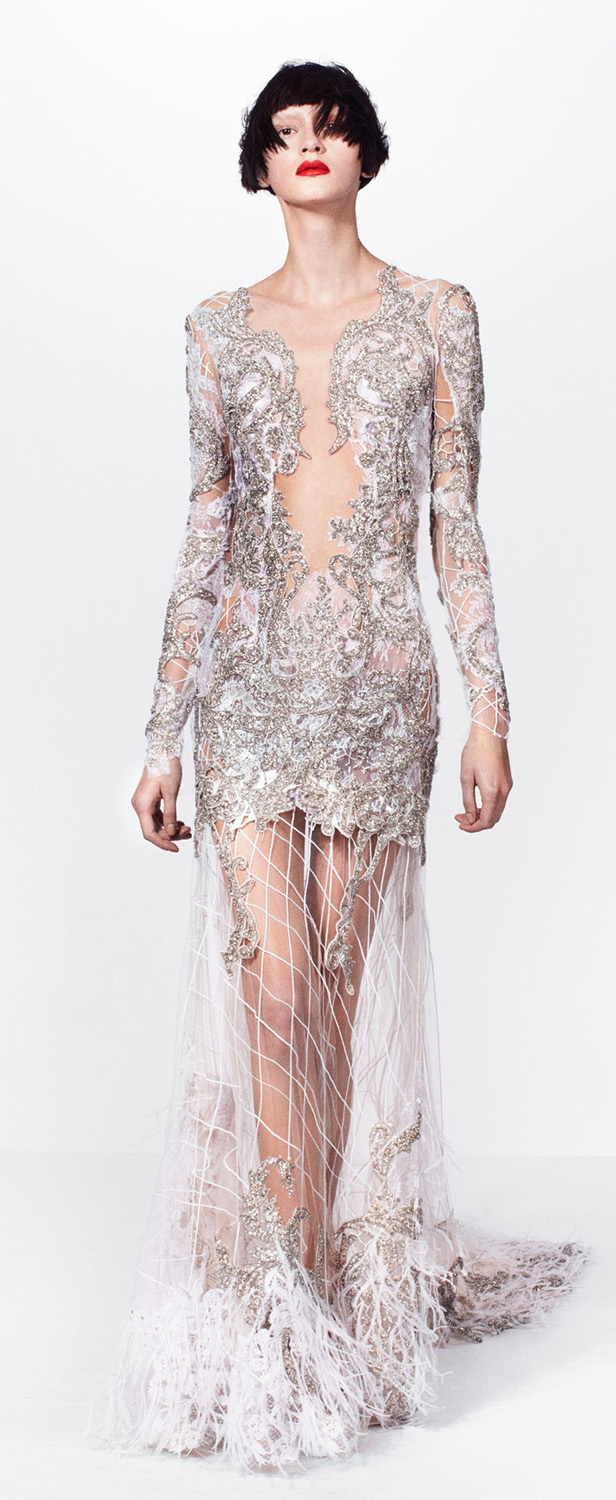 MacDonald appeared as a judge on the British version of Project Runway, known as Project Catwalk, that was broadcast on Sky One.
In February 2010, MacDonald was unveiled as a new judge on Britain's Next Top Model, alongside new host and former "supermodel", Elle Macpherson.
In June 2006, MacDonald was awarded an OBE in the Queen's Birthday Honours for services to fashion.
Macdonald has attracted much criticism for his extensive use of fur, including one incident in which he and Paris Hilton were flour-bombed. He has stated that fur provides the majority of his revenue and that his label would collapse were he not to use it. In February 2007, Macdonald was again criticised for the prominent use of fur in his autumn collection, causing further outrage when he claimed that "People who don't like fur can piss off. I love fur. It's a beautiful natural product from animals."
Source:
http://en.wikipedia.org/wiki/Julien_Macdonald
Further Readings:
50 Contemporary Fashion Designers by Doria Santlofer
Paperback: 160 pages
Publisher: Prestel (October 25, 2012)
Language: English
ISBN-10: 3791347136
ISBN-13: 978-3791347134
Amazon:
50 Contemporary Fashion Designers
Today's designers are savvier and more daring than ever before. Happy to exist within or outside the established houses of haute couture, their reputations are cemented by smart consumers who are willing to navigate the thin line between setting and following trends. This book of the most creative and iconoclastic members of today's fashion scene includes Fashion Week regulars and cutting-edge up-andcomers. Each designer is profiled in double-page spreads that include runway-ready products as well as notes, sketches, and biographical information. These 50 men and women have embraced the global, economic, and environmental.
More Fashion Designers at my website:
http://www.elisarolle.com/
, My Ramblings/Art
This journal is friends only. This entry was originally posted at http://reviews-and-ramblings.dreamwidth.org/3508959.html. If you are not friends on this journal, Please comment there using OpenID.
elisa_rolle
Appointments
2016 LGBT Rainbow Awards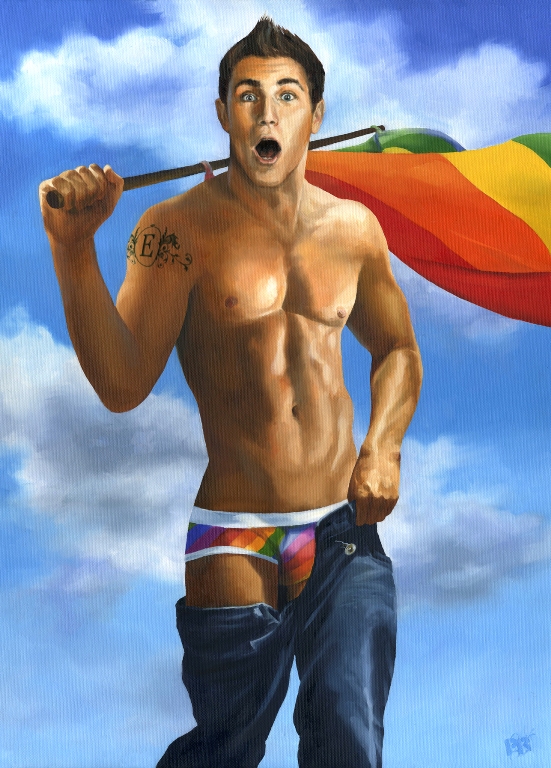 2016 Guidelines
2015 Winners
In the Spotlight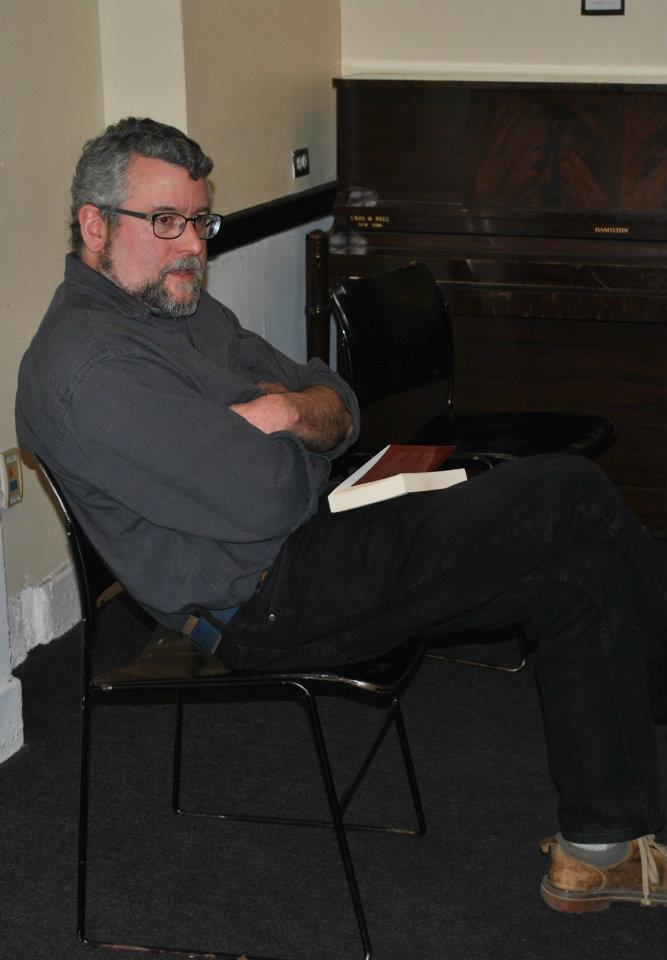 Top 100 Gay Novels List - Simple

Top 100 Gay Novels List - Wanted
Art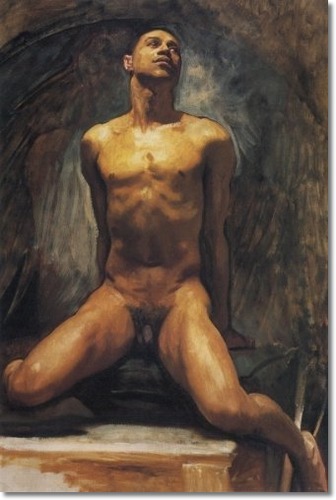 Previous Appointments Visual Summary
Gay Themed Movie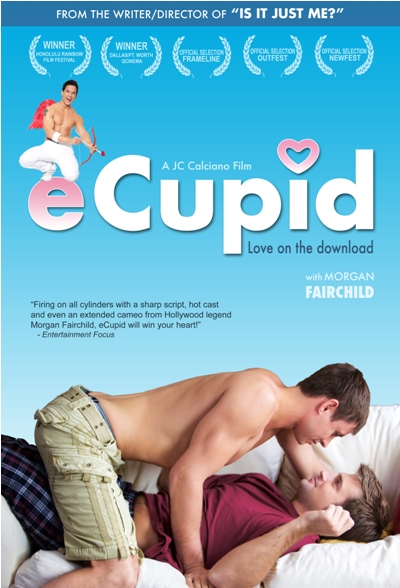 Previous Appointments Visual Summary
The Inside Reader


Previous Appointments Visual Summary

Top 100 Inside Readers Novels
LGBT Fashion Designers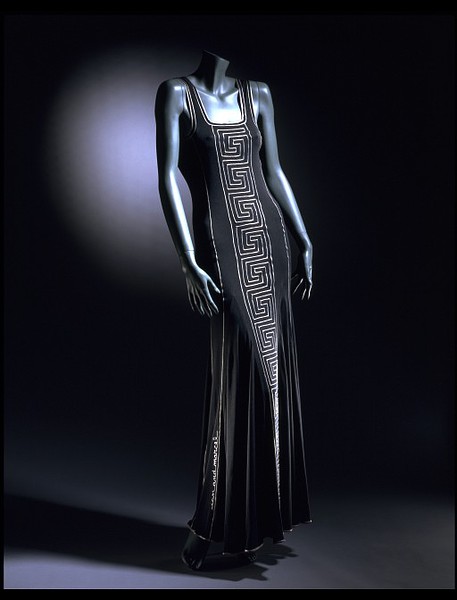 Previous Appointments Visual Summary
Gay Romance Challenge

Gay Commercial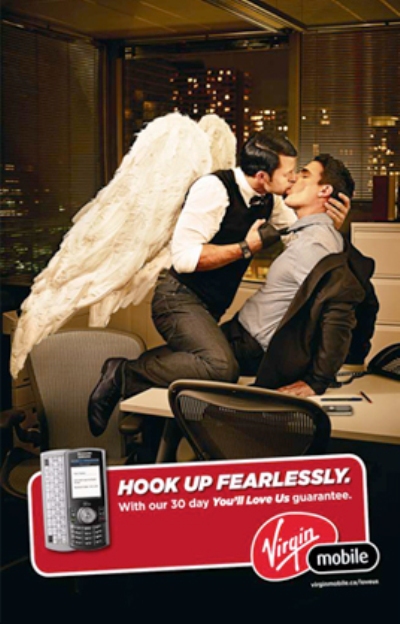 Around the World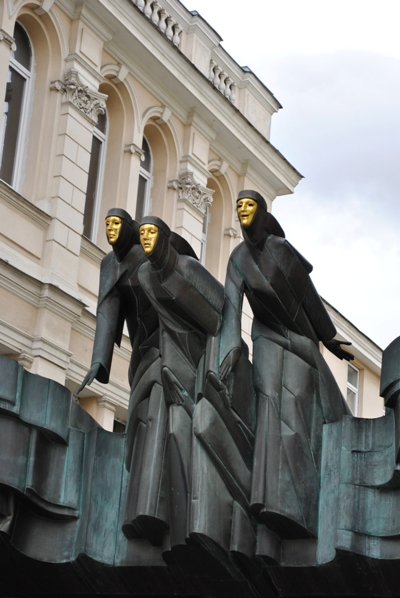 visited 20 states (8.88%)
Create your own visited map of The World
visited 15 states (30%)
Create your own visited map of The United States
Gay Classics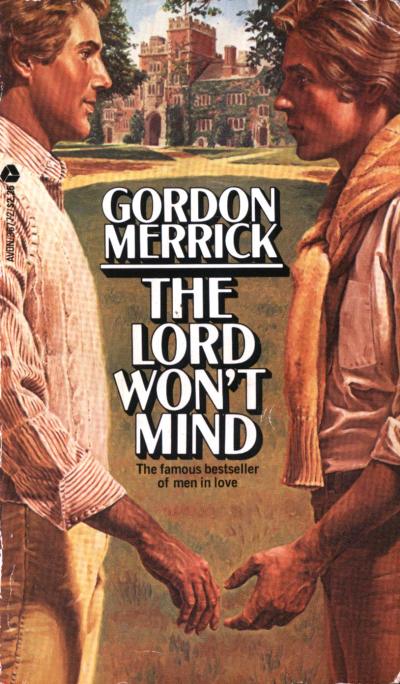 Previous Appointments Visual Summary
Romance History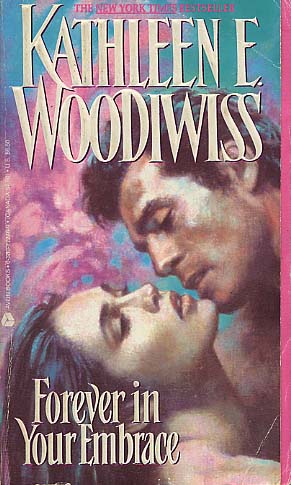 Previous Appointments Visual Summary
Main Tags
Characters:
Alpha Males
,
Cinderfellas (from rags to riches...)
,
Friends (with benefits)
,
Multicultural Lovers
,
Pretty... Men! (hustlers)
&
Virgins (at least in one way)
Dream Lovers:
Cowboys
,
Pirates
&
Sheikhs
Erotica (M/F)
Genres:
Contemporary
,
Fantasy
,
Futuristic
,
Historical
&
Paranormal
Length:
Short Story
,
Novella
&
Novel
Men in Uniform:
Cops / Detectives / PIs
,
Firefighters
&
Military
Non Conventional Lovers:
Elves, Gods, Deity & Witches
,
Furry Lovers
,
Shapeshifters
&
Vampires
Otherwordly Lovers:
Angels
,
Demons
&
Ghosts
Possible Futures:
Apocalypse Now
&
Back to the Future
Relationships:
Bondage / Submission
,
Breeches Rippers
,
Coming of Age
,
Disability
,
Gay for You
,
Male Pregnancy
,
May / December
,
Ménage a trois (or more...)
,
Silver Romance
&
Twincest
Settings:
Art World
,
College
,
Medical Romance
,
Office Affairs
,
Seasonal Romance
,
Show Business
&
Sports
Yaoi (manga)
From Movie to Novel (and viceversa)
Top 100 Gay Novels List
Secondary Tags
ActivistActorArtist
: illustrator, painter, photographer, sculptor
Author
: novelist, playwright, poet, screenwriter, writer
Dancer
: dance, choreographer
Designer
: architect, costumer, fashion designer, graphic designer, hairstylist, makeup artist, set designer, tailor
Director
: director, stage director
Eccentric
: aristocrat, art collector, drag queen, explorer, female impersonator, heir/heiress, hostess, lover, muse, prostitute, socialite, spy, survivor
Essayist
: anthropologist, archivist, biologist, columnist, critic, editor, educator, historian, journalist, lecturer, librarian, linguistic, philosopher, professor, psychoanalyst, psychologist, psychotherapist, publisher, reporter, researcher, scholar, sexologist, sociologist, teacher, theorist
Leader
: commander, emperor, judge, monarch, officer, politician, senator, statistician, warrior
ModelMusician
: arranger, composer, conductor, lyricist, pianist, singer, songwriter, violinist
Producer
: producer, manager, entrepreneur
Sport
Preditors & Editors Poll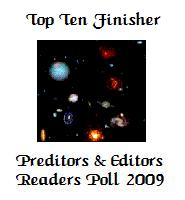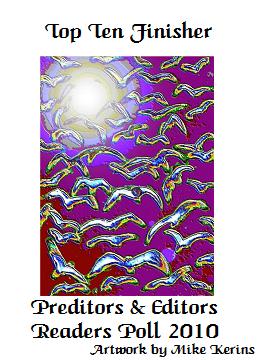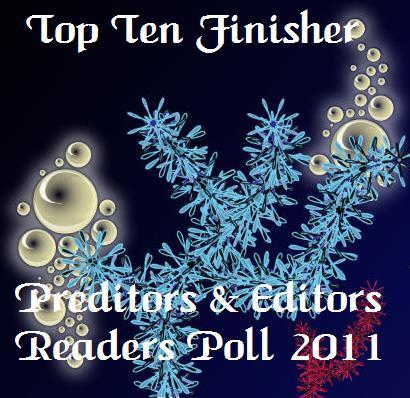 Amazon Profile
My Associate Amazon Store
Goodreads Profile
Top reviewer
Best reviewer
Top user
Top librarian
Most followed
Library Thing Helper Badgers
(Gold Medal) Helper for contributions to any area of LibraryThing
(Gold Medal) Common Knowledge for contributions to Common Knowledge
(Gold Medal) Work Combination for help maintaining LibraryThing's work system
(Silver Medal) Author Combination for help combining author names together
(Bronze Medal) Distinct authors for splitting homonymous authors into distinct authors
Publishers
List of LGBT publishers (for reviews look the Tags section)

Detailed List
Ego Surfing

Who links me
Statistics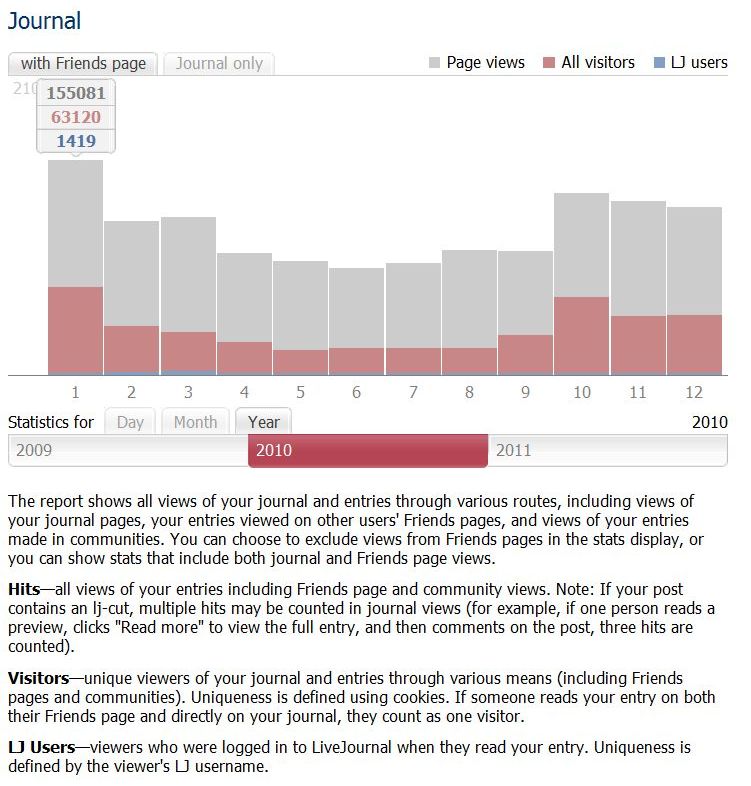 ClustrMaps

Site Meter

Disclaimer
All cover art, photo and graphic design contained in this site are copyrighted by the respective publishers and authors. These pages are for entertainment purposes only and no copyright infringement is intended. Should anyone object to our use of these items please contact by email the LJ's owner.
This is an amateur blog, where I discuss my reading, what I like and sometimes my personal life. I do not endorse anyone or charge fees of any kind for the books I review. I do not accept money as a result of this blog.
I'm associated with Amazon/USA Affiliates Programs.
Books reviewed on this site were usually provided at no cost by the publisher or author. However, some books were purchased by the reviewer and not provided for free. For information on how a particular title was obtained, please contact by email the LJ's owner.