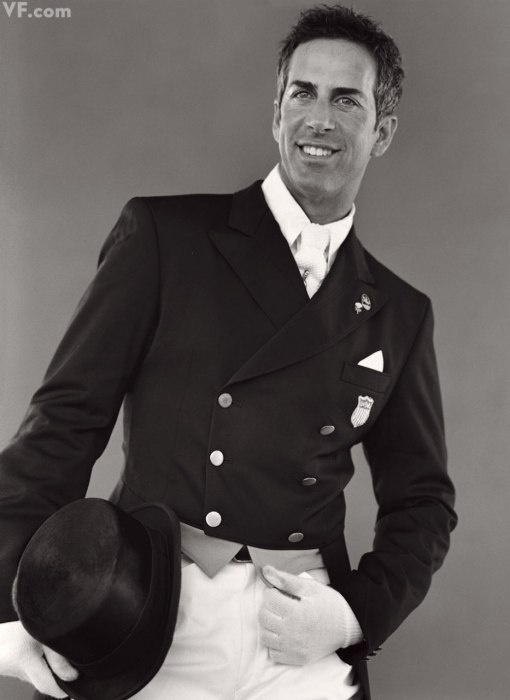 Robert Jeffrey Dover (born June 7, 1956) is an American equestrian who has had international success in the sport of dressage. He is openly gay, and his partner is fellow rider Robert Ross. In 2009, to the question "What do you consider your greatest achievement?" Dover simply replied: "My 21-year relationship with Robert Ross."
"I can think of no greater hero in my life than my life-partner of 20 years, Robert Ross. It's not just because I know exactly what he's had to deal with for the past two decades of being my beloved. Yes, the rumours that I am slightly high maintenance just might be true, but it is really everything else about Robert's life that puts him in a class of his own."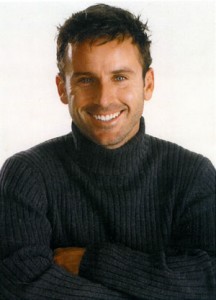 "Though he had left high school earlier in order to earn enough to get by, Robert passed his GED, and received his diploma at the age of 16. Many people would have gotten into trouble in his position, but Robert was in love with horses and, at the age of 22 had saved up enough money to fly out to New Jersey to train with the legendary George Morris. As fate would have it, I was also keeping my horses at George's Hunterdon Farm and for me it was love at first sight.
OK, so maybe a little more lust than love at first sight, but I definitely knew Robert was very special and, after he left back for LA, I couldn't get him out of my mind.
We stayed in touch and went on our first official date in the winter of 1989, and have been together ever since. And the last 20 years of being with Robert has truly been the most incredible I could ever have conceived."
Riding from the age of 13, Dover began specializing in dressage at age 19 and competed in his first Olympics in 1984. He competed in every summer Games between 1984 and 2004, winning four team bronze medals. He also took a team bronze at the 1994 World Equestrian Games. Dover is the most honored dressage rider in the United States, and has been inducted to the United States Dressage Federation Hall of Fame. Outside of competition, Dover founded the Equestrian Aid Foundation in 1996 to assist others in the equestrian world, and hosted a TV show that searched for the next dressage star. From late 2009 to early 2011, Dover served as the Technical/Coach Advisor for the Canadian national dressage team.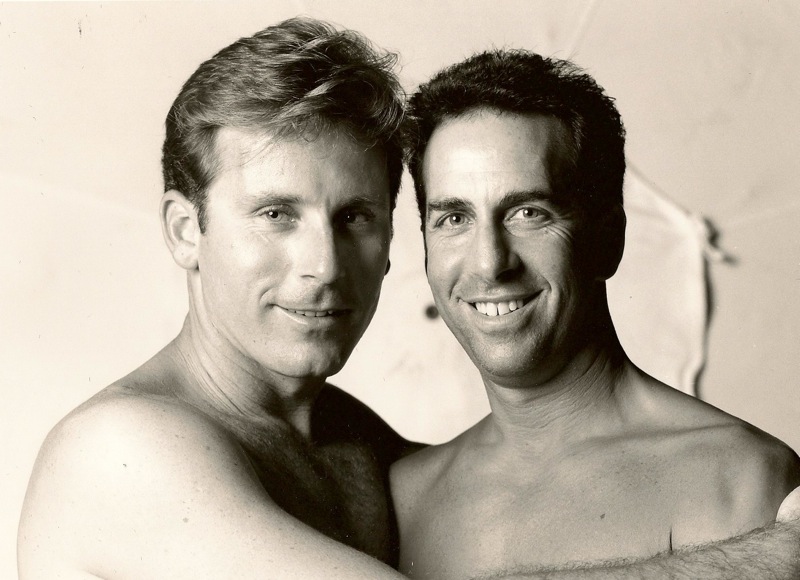 Robert Ross and Robert Dover
Dover, who is Jewish, was born in Chicago, Illinois to parents Herb and Jean Dover. He was given a horse for his Bar Mitzvah at 13 and was active in Pony Club, graduating at "A" level, the highest level. He decided to specialize in dressage when he was 19. Dover attended the University of Georgia. Injuries, including a torn rotator cuff and pinched sciatic nerve, began to plague him in the late 1990s, causing major back pain and reducing his ability to ride.
In 1984, Dover competed in his first Olympic Games at the age of 28. At the Los Angeles Games, he finished 17th individually, and the US team finished 6th. At the 1988 Seoul Olympics, he finished 13th, and the team tied for 6th place. In 1992, at the Barcelona Games, Dover tied for 22nd place, while the American team took the bronze medal. At the 1996 Atlanta Games, the 2000 Sydney Olympics and the 2004 Athina Games the United States dressage team took the bronze medal each time, while Dover finished 25th, 23rd and 6th respectively. He was elected team captain in all six Olympics in which he competed. Of his Olympic experience, Dover says, "The medals themselves aren't the important thing. My memories of the Games and of the entire Olympic experience are, to me, everything."
In 1987, Dover defeated Reiner Klimke, a six-time Olympic gold medalist, at the German Aachen Grand Prix freestyle competition. In doing so, he became the first American in 27 years to win that event. In 1994 he was named the US Olympic Male Equestrian Athlete of the Year, and in 1995 awarded the Whitney Stone Cup, given by the United States Equestrian Federation (USEF) for excellence in international competition. Dover has been named the USEF Dressage Champion five times, and ridden seven times in the FEI World Cup Final. In 1994, Dover rode with the United States dressage team at the World Equestrian Games, winning a team bronze. He was also amassed more than 100 Grand Prix victories. Overall, Dover has won more honors in dressage than any other rider from the United States. In 2009, Dover announced his retirement from competitive riding, instead choosing to focus on teaching and philanthropy.
Dover founded the Equestrian Aid Foundation in 1996. The Foundation's mission is to financially assist members of the equestrian community who have suffered a catastrophic accident, injury or illness. In 2002, Dover was listed as one of the 50 most influential horsemen by Chronicle of the Horse magazine. In 2007, "The Search for America's Next Equestrian Star: Dressage", a reality TV show created and promoted by Dover, aired on the Fox Reality Channel with five one-hour episodes. The show followed a search for young, talented dressage riders, with the final five being allowed to train with Dover for one month before a winner was selected; the winner became Dover's assistant. In 2008, Dover was inducted into the United States Dressage Federation Hall of Fame. Dover served on the USEF Dressage Committee for many years, and spent eight years on the US Olympic Committee Athlete Advisory Council.
In late 2009, Dover was selected as a Technical/Coach Advisor for the Canadian dressage team, with a contract that extended through the 2010 World Equestrian Games in Lexington, Kentucky. After the Games, it was announced that Dover and the Canadian team had not been able to agree on contract renewal terms, but in late 2010 it was announced that Dover would remain as the interim trainer for the first quarter of 2011. In March 2011, German equestrian Markus Gribbe was hired, and Dover's term as a Canadian coach came to an end. Dover is known for his coaching abilities, with some of the best dressage riders with top international titles to their credit coming from his stables. During his time as a trainer for Canada, he was no longer be eligible to train top riders with the USEF. Dover is currently a rider and trainer at Stillpoint Farm in Florida.
Source:
http://en.wikipedia.org/wiki/Robert_Dover_(equestrian)
Further Readings:
That Winning Feeling!: Program Your Mind for Peak Performance by Jane Savoie
Paperback: 160 pages
Publisher: Trafalgar Square Books (August 1, 1997)
Language: English
ISBN-10: 1570760497
ISBN-13: 978-1570760495
Amazon:
That Winning Feeling!: Program Your Mind for Peak Performance
Jane Savoie's acclaimed approach to mentally positive riding will train your mind and shape your attitudes for peak performance.
More Real Life Romances at my website:
http://www.elisarolle.com/
, My Ramblings/Real Life Romance
This journal is friends only. This entry was originally posted at http://reviews-and-ramblings.dreamwidth.org/3644354.html. If you are not friends on this journal, Please comment there using OpenID.
elisa_rolle
Appointments
2014 LGBT Rainbow Awards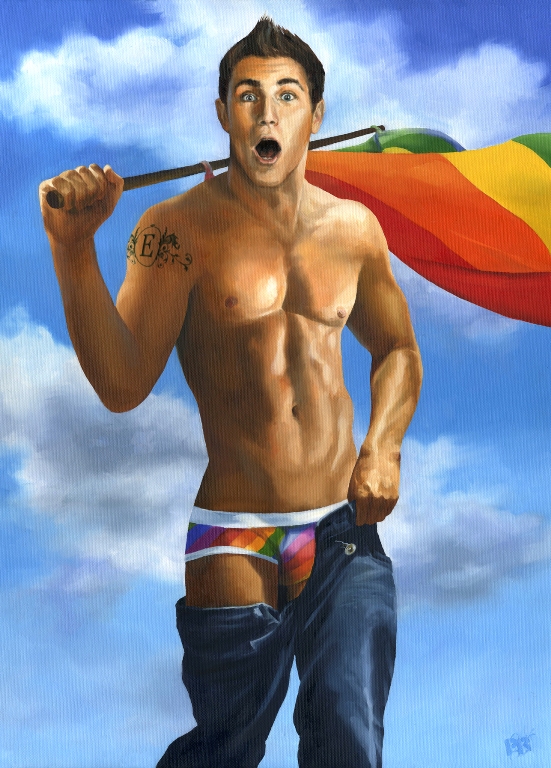 2014 Guidelines
2013 Winners
In the Spotlight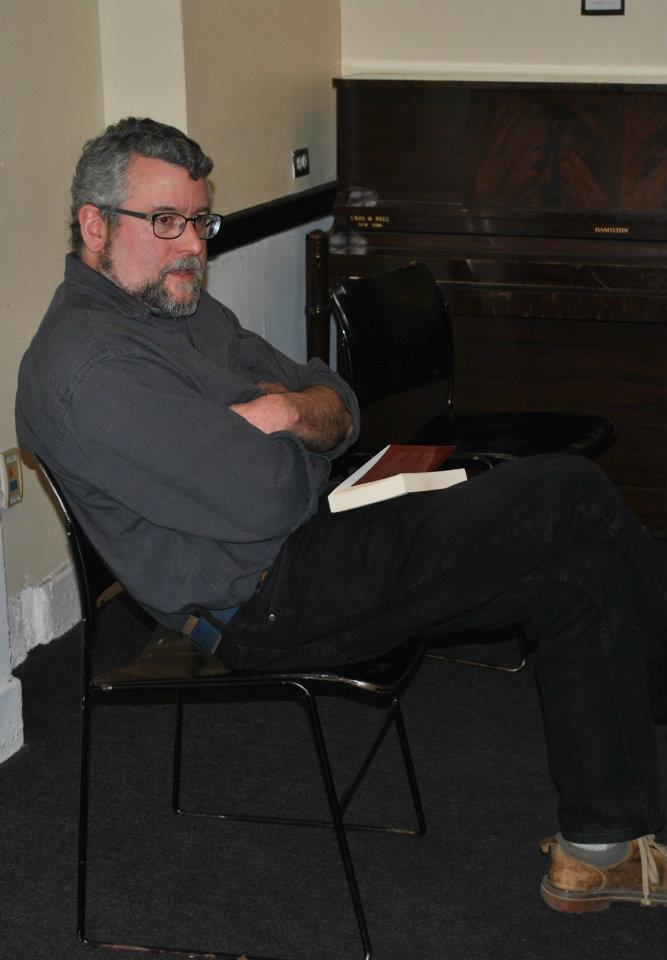 Top 100 Gay Novels List - Simple

Top 100 Gay Novels List - Wanted
Art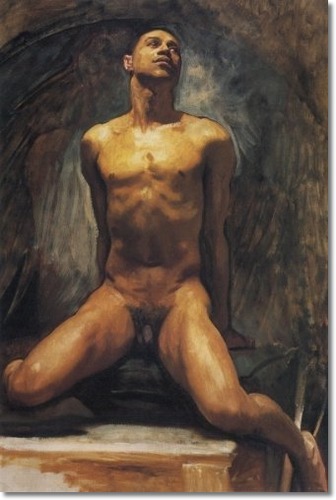 Previous Appointments Visual Summary
Gay Themed Movie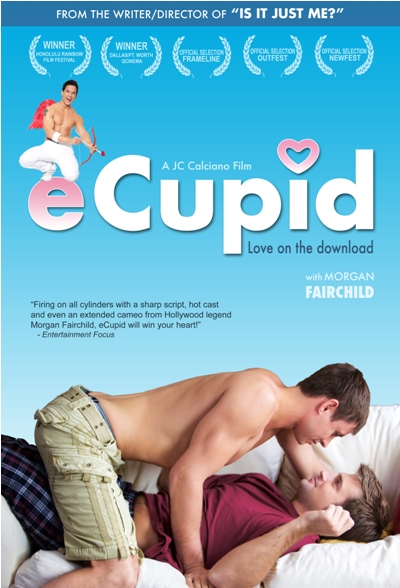 Previous Appointments Visual Summary
The Inside Reader


Previous Appointments Visual Summary

Top 100 Inside Readers Novels
LGBT Fashion Designers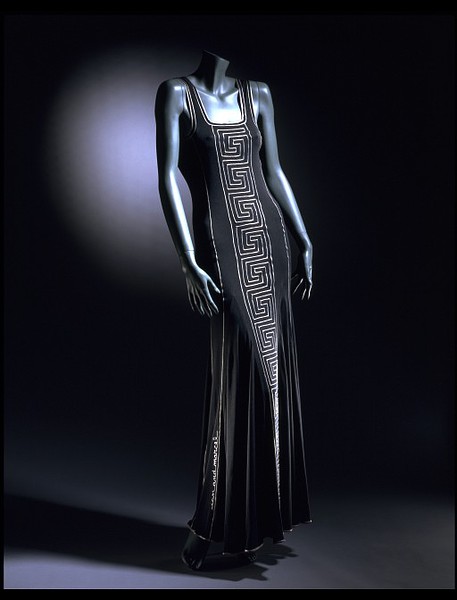 Previous Appointments Visual Summary
Gay Romance Challenge

Gay Commercial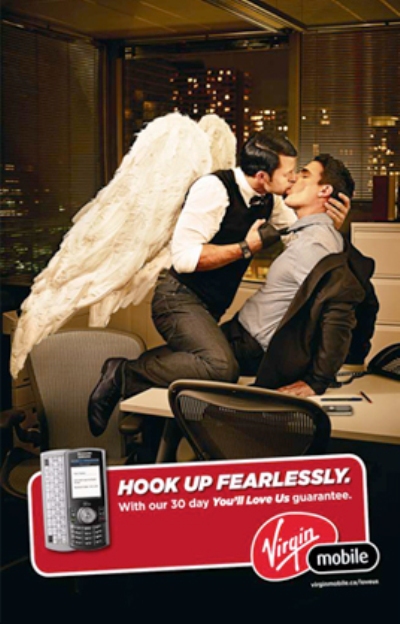 Around the World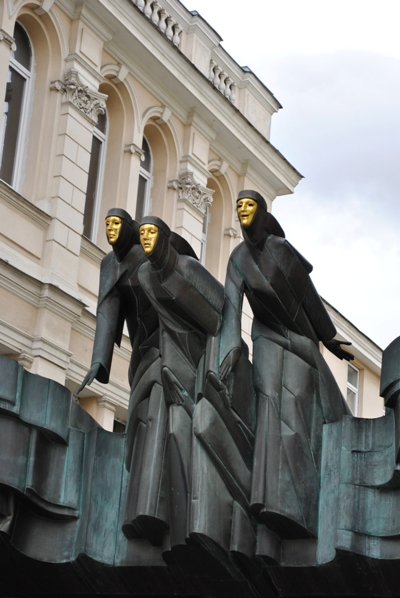 visited 20 states (8.88%)
Create your own visited map of The World
visited 15 states (30%)
Create your own visited map of The United States
Gay Classics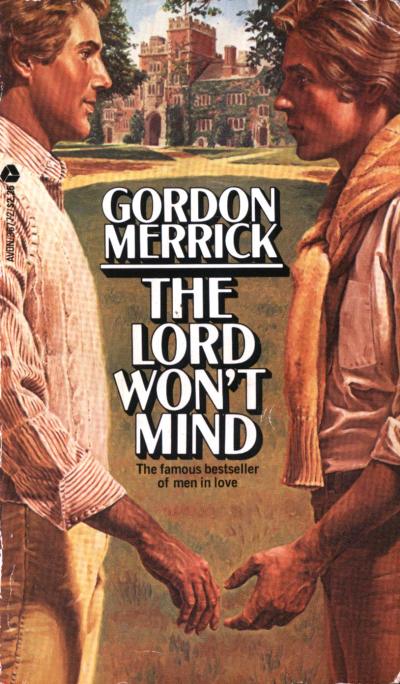 Previous Appointments Visual Summary
Romance History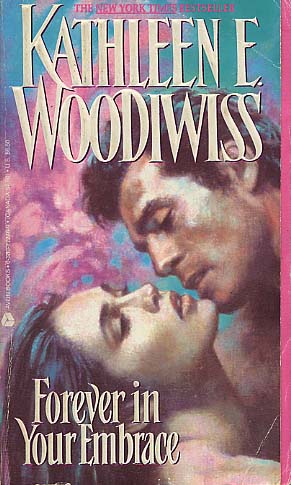 Previous Appointments Visual Summary
Main Tags
Characters:
Alpha Males
,
Cinderfellas (from rags to riches...)
,
Friends (with benefits)
,
Multicultural Lovers
,
Pretty... Men! (hustlers)
&
Virgins (at least in one way)
Dream Lovers:
Cowboys
,
Pirates
&
Sheikhs
Erotica (M/F)
Genres:
Contemporary
,
Fantasy
,
Futuristic
,
Historical
&
Paranormal
Length:
Short Story
,
Novella
&
Novel
Men in Uniform:
Cops / Detectives / PIs
,
Firefighters
&
Military
Non Conventional Lovers:
Elves, Gods, Deity & Witches
,
Furry Lovers
,
Shapeshifters
&
Vampires
Otherwordly Lovers:
Angels
,
Demons
&
Ghosts
Possible Futures:
Apocalypse Now
&
Back to the Future
Relationships:
Bondage / Submission
,
Breeches Rippers
,
Coming of Age
,
Disability
,
Gay for You
,
Male Pregnancy
,
May / December
,
Ménage a trois (or more...)
,
Silver Romance
&
Twincest
Settings:
Art World
,
College
,
Medical Romance
,
Office Affairs
,
Seasonal Romance
,
Show Business
&
Sports
Yaoi (manga)
From Movie to Novel (and viceversa)
Top 100 Gay Novels List
Secondary Tags
ActivistActorArtist
: illustrator, painter, photographer, sculptor
Author
: novelist, playwright, poet, screenwriter, writer
Dancer
: dance, choreographer
Designer
: architect, costumer, fashion designer, graphic designer, hairstylist, makeup artist, set designer, tailor
Director
: director, stage director
Eccentric
: aristocrat, art collector, drag queen, explorer, female impersonator, heir/heiress, hostess, lover, muse, prostitute, socialite, spy, survivor
Essayist
: anthropologist, archivist, biologist, columnist, critic, editor, educator, historian, journalist, lecturer, librarian, linguistic, philosopher, professor, psychoanalyst, psychologist, psychotherapist, publisher, reporter, researcher, scholar, sexologist, sociologist, teacher, theorist
Leader
: commander, emperor, judge, monarch, officer, politician, senator, statistician, warrior
ModelMusician
: arranger, composer, conductor, lyricist, pianist, singer, songwriter, violinist
Producer
: producer, manager, entrepreneur
Sport
Preditors & Editors Poll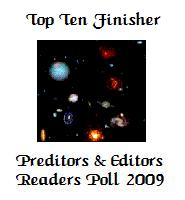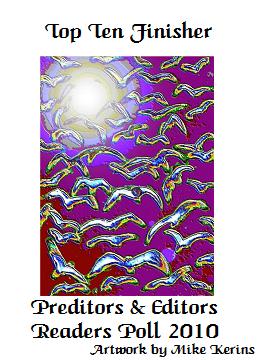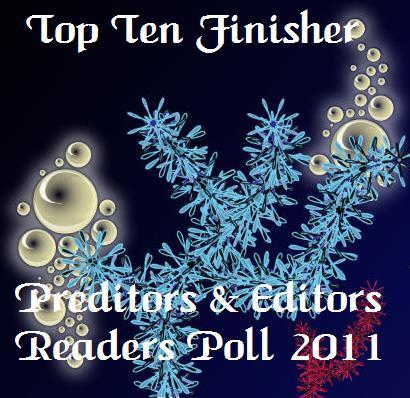 Amazon Profile
My Associate Amazon Store
Goodreads Profile
Top reviewer
Best reviewer
Top user
Top librarian
Most followed
Library Thing Helper Badgers
(Gold Medal) Helper for contributions to any area of LibraryThing
(Gold Medal) Common Knowledge for contributions to Common Knowledge
(Gold Medal) Work Combination for help maintaining LibraryThing's work system
(Silver Medal) Author Combination for help combining author names together
(Bronze Medal) Distinct authors for splitting homonymous authors into distinct authors
Publishers
List of LGBT publishers (for reviews look the Tags section)

Detailed List
Ego Surfing

Who links me
Statistics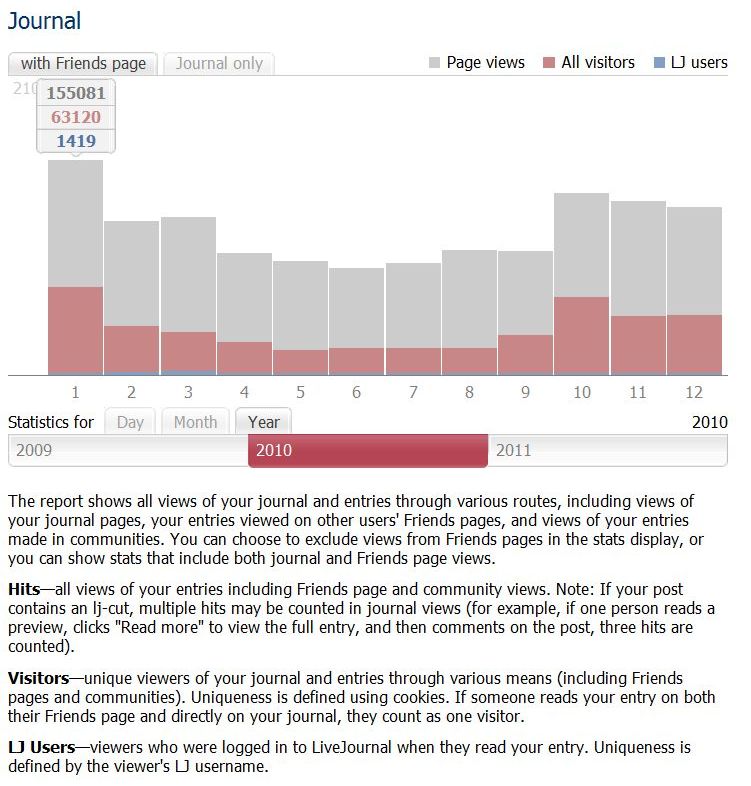 ClustrMaps

Site Meter

Disclaimer
All cover art, photo and graphic design contained in this site are copyrighted by the respective publishers and authors. These pages are for entertainment purposes only and no copyright infringement is intended. Should anyone object to our use of these items please contact by email the LJ's owner.
This is an amateur blog, where I discuss my reading, what I like and sometimes my personal life. I do not endorse anyone or charge fees of any kind for the books I review. I do not accept money as a result of this blog.
I'm associated with Amazon/USA Affiliates Programs.
Books reviewed on this site were usually provided at no cost by the publisher or author. However, some books were purchased by the reviewer and not provided for free. For information on how a particular title was obtained, please contact by email the LJ's owner.
Latest Month
June 2015
S
M
T
W
T
F
S
1
2
3
4
5
6
7
8
9
10
11
12
13
14
15
16
17
18
19
20
21
22
23
24
25
26
27
28
29
30