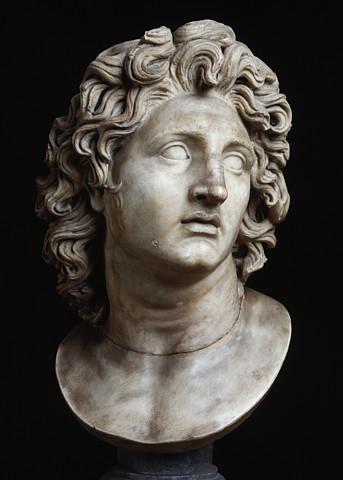 Alexander III of Macedon (20/21 July 356 – 10/11 June 323 BC), commonly known as Alexander the Great, was a king of Macedon, a state in northern ancient Greece. Born in Pella in 356 BC, Alexander was tutored by Aristotle until the age of 16. By the age of thirty, he had created one of the largest empires of the ancient world, stretching from the Ionian Sea to the Himalayas. He was undefeated in battle and is considered one of history's most successful commanders. Hephaestion (c. 356 BC – 324 BC), son of Amyntor, was a Macedonian nobleman and a general in the army of Alexander the Great. He was "... by far the dearest of all the king's friends; he had been brought up with Alexander and shared all his secrets."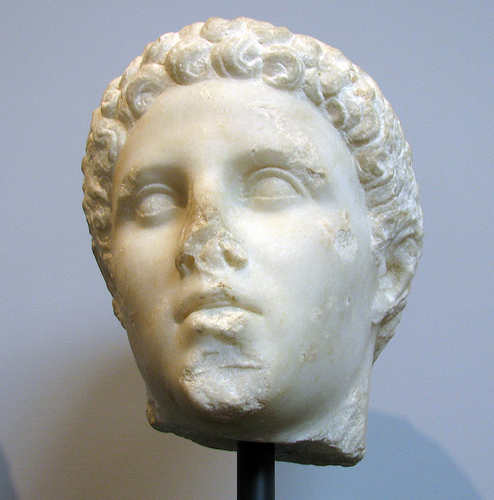 Alexander conquered most of the known world. He also conquered the young eunuchs Bagoas and Medius. Alexander's relationships with his youthful aides would not have seemed unusual in ancient Greece, particularly among soldiers. In his Lives, Plutarch recounts an episode (also mentioned by Athenaios and Dicaearchus) during festivities when Alexander's army was returning from India: "Bagoas sat down close by him, which so pleased the Macedonians, that they made loud acclarnations for him to kiss Bagoas, and never stopped clapping their hands and shouting till Alexander put his arms round him and kissed him." (
Picture: Hephaestion
)
Alexander's most intimate relationship was with his cavalry commander, Hephaestion. They made sacrifices together at shrines in Troy, identifying their own love with that of the mythical Achilles and Patroclus. Alexander was devastated by Hephaestion's death and soothed his grief with an elaborate and extremely expensive funeral.
Alexander succeeded his father, Philip II of Macedon, to the throne in 336 BC after Philip was assassinated. Upon Philip's death, Alexander inherited a strong kingdom and an experienced army. He was awarded the generalship of Greece and used this authority to launch his father's military expansion plans. In 334 BC, he invaded Achaemenid- ruled Asia Minor and began a series of campaigns that lasted ten years. Alexander broke the power of Persia in a series of decisive battles, most notably the battles of Issus and Gaugamela. He subsequently overthrew the Persian King Darius III and conquered the entirety of the Persian Empire. At that point, his empire stretched from the Adriatic Sea to the Indus River.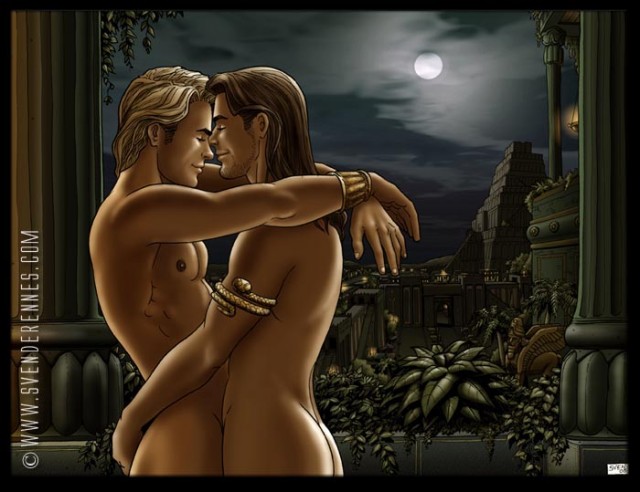 Alexander the Great and Hephaestion by Sven de Rennes
Seeking to reach the "ends of the world and the Great Outer Sea", he invaded India in 326 BC, but was eventually forced to turn back at the demand of his troops. Alexander died in Babylon in 323 BC, without executing a series of planned campaigns that would have begun with an invasion of Arabia. In the years following his death, a series of civil wars tore his empire apart, resulting in several states ruled by the Diadochi, Alexander's surviving generals and heirs.
Alexander's legacy includes the cultural diffusion his conquests engendered. He founded some twenty cities that bore his name, most notably Alexandria in Egypt. Alexander's settlement of Greek colonists and the resulting spread of Greek culture in the east resulted in a new Hellenistic civilization, aspects of which were still evident in the traditions of the Byzantine Empire in the mid-15th century. Alexander became legendary as a classical hero in the mold of Achilles, and he features prominently in the history and myth of Greek and non-Greek cultures. He became the measure against which military leaders compared themselves, and military academies throughout the world still teach his tactics.
Source:
http://en.wikipedia.org/wiki/Alexander_the_Great
Further Readings:
Before Eternity: An Historical Novel and Love Story About Alexander the Great and His Lover Hephaestion by Mr. Stefan Pride
Paperback: 226 pages
Publisher: Stefan Pride (January 6, 2012)
Language: English
ISBN-10: 0615554962
ISBN-13: 978-0615554969
Amazon:
Before Eternity: An Historical Novel and Love Story About Alexander the Great and His Lover Hephaestion
Amazon Kindle:
Before Eternity: An Historical Novel and Love Story About Alexander the Great and His Lover Hephaestion
Gay erotic male bonding at its best! Welcome to Hephaestions world. Twenty-three centuries ago the second most powerful man in the world chose life as a vampire to the uncertainty of death. His lover was none other than Alexander the Great. Legend has it that they were one soul inhabiting two bodies. Before Eternity, Volume One introduces the reader to the whimsical vampire, as he introduces the writer of his chronicles (the little known Stefan Pride), his friends in present day Boston, and recounts his life with Alexander and the beautiful youth Aristenes, their adopted son, before he was turned into an immortal by the mysterious Quermen. Afflicted with AADD, his narration is at times historically accurate, often funny, sporadically sad, and peppered with some of the most visual inspiring homo-erotic stories to ever disgrace a page.
This journal is friends only. This entry was originally posted at http://reviews-and-ramblings.dreamwidth.org/3649955.html. If you are not friends on this journal, Please comment there using OpenID.
elisa_rolle
Appointments
2013 LGBT Rainbow Awards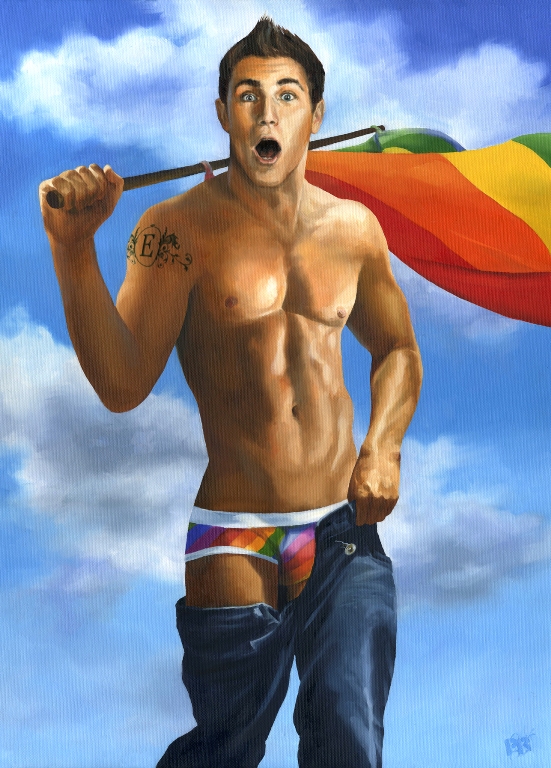 2013 Guidelines
In the Spotlight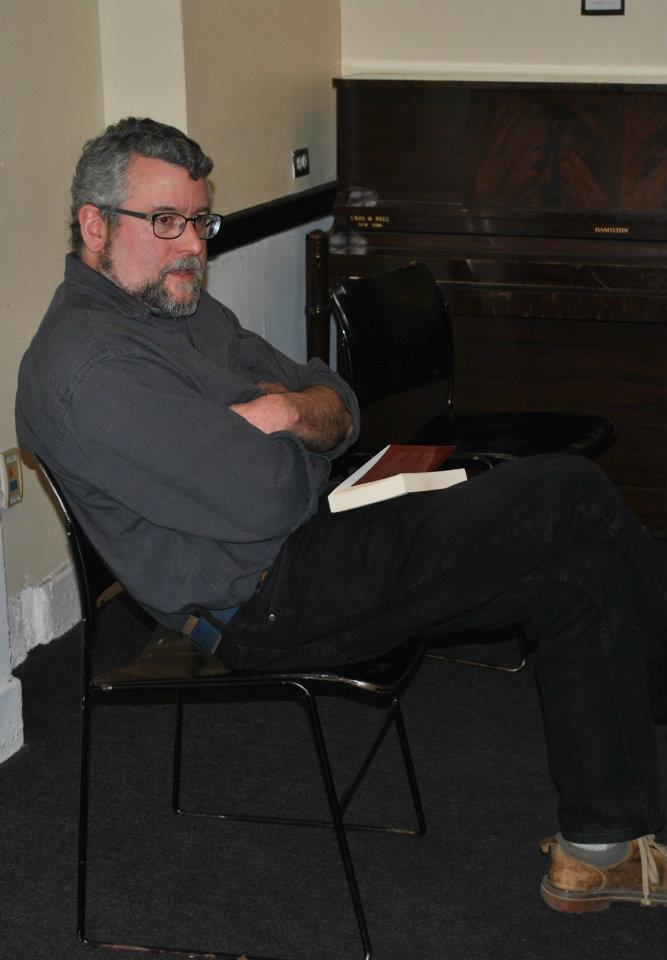 Top 100 Gay Novels List - Simple

Top 100 Gay Novels List - Wanted
Art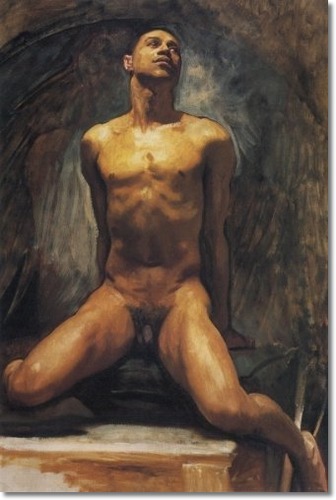 Previous Appointments Visual Summary
Gay Themed Movie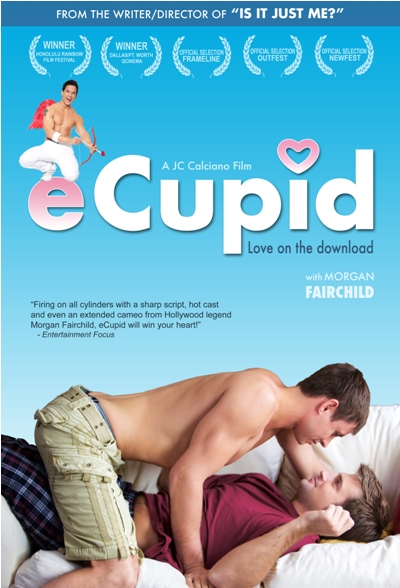 Previous Appointments Visual Summary
The Inside Reader


Previous Appointments Visual Summary

Top 100 Inside Readers Novels
LGBT Fashion Designers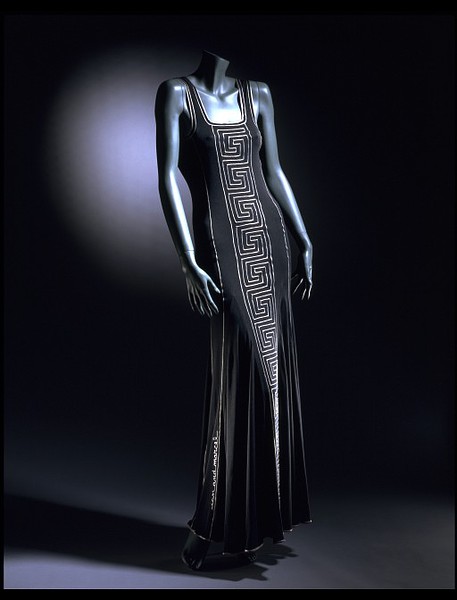 Previous Appointments Visual Summary
Gay Romance Challenge

Gay Commercial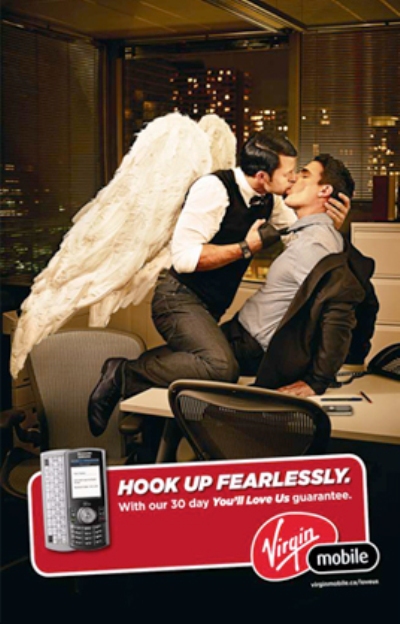 Around the World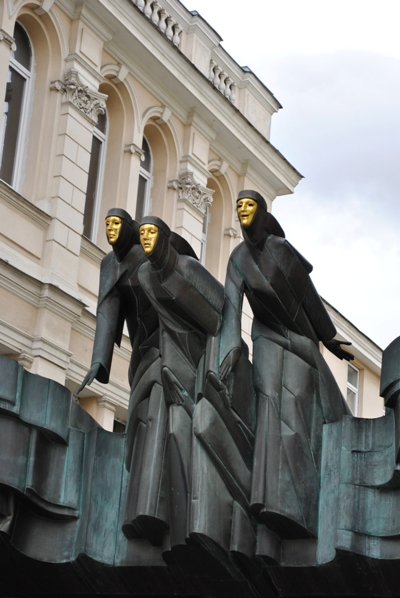 visited 20 states (8.88%)
Create your own visited map of The World
visited 15 states (30%)
Create your own visited map of The United States
Gay Classics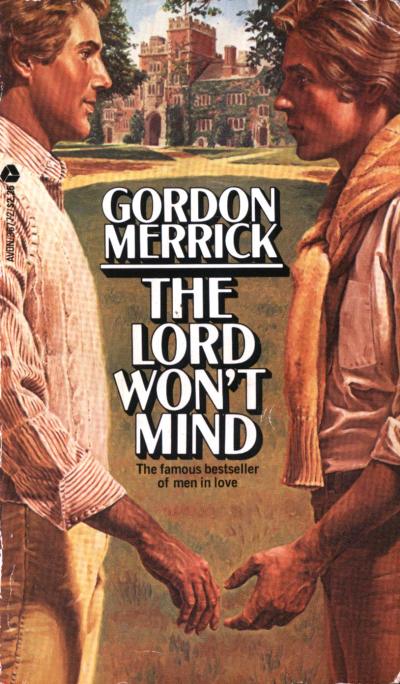 Previous Appointments Visual Summary
Romance History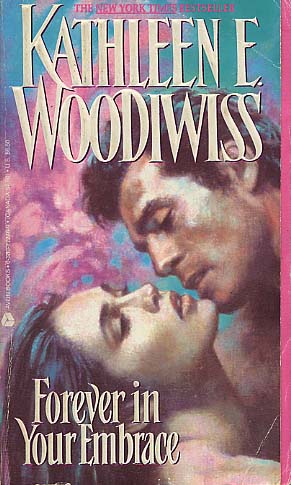 Previous Appointments Visual Summary
Main Tags
Characters:
Alpha Males
,
Cinderfellas (from rags to riches...)
,
Friends (with benefits)
,
Multicultural Lovers
,
Pretty... Men! (hustlers)
&
Virgins (at least in one way)
Dream Lovers:
Cowboys
,
Pirates
&
Sheikhs
Erotica (M/F)
Genres:
Contemporary
,
Fantasy
,
Futuristic
,
Historical
&
Paranormal
Length:
Short Story
,
Novella
&
Novel
Men in Uniform:
Cops / Detectives / PIs
,
Firefighters
&
Military
Non Conventional Lovers:
Elves, Gods, Deity & Witches
,
Furry Lovers
,
Shapeshifters
&
Vampires
Otherwordly Lovers:
Angels
,
Demons
&
Ghosts
Possible Futures:
Apocalypse Now
&
Back to the Future
Relationships:
Bondage / Submission
,
Breeches Rippers
,
Coming of Age
,
Disability
,
Gay for You
,
Male Pregnancy
,
May / December
,
Ménage a trois (or more...)
,
Silver Romance
&
Twincest
Settings:
Art World
,
College
,
Medical Romance
,
Office Affairs
,
Seasonal Romance
,
Show Business
&
Sports
Yaoi (manga)
From Movie to Novel (and viceversa)
Top 100 Gay Novels List
Secondary Tags
ActivistActorArtist
: illustrator, painter, photographer, sculptor
Author
: novelist, playwright, poet, screenwriter, writer
Dancer
: dance, choreographer
Designer
: architect, costumer, fashion designer, graphic designer, hairstylist, makeup artist, set designer, tailor
Director
: director, stage director
Eccentric
: aristocrat, art collector, drag queen, explorer, female impersonator, heir/heiress, hostess, lover, muse, prostitute, socialite, spy, survivor
Essayist
: anthropologist, archivist, biologist, columnist, critic, editor, educator, historian, journalist, lecturer, librarian, linguistic, philosopher, professor, psychoanalyst, psychologist, psychotherapist, publisher, reporter, researcher, scholar, sexologist, sociologist, teacher, theorist
Leader
: commander, emperor, judge, monarch, officer, politician, senator, statistician, warrior
ModelMusician
: arranger, composer, conductor, lyricist, pianist, singer, songwriter, violinist
Producer
: producer, manager, entrepreneur
Sport
Preditors & Editors Poll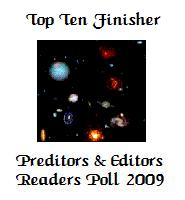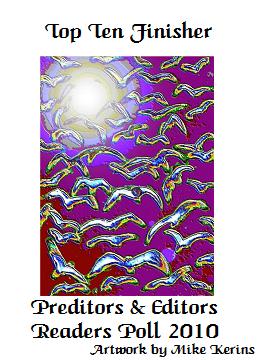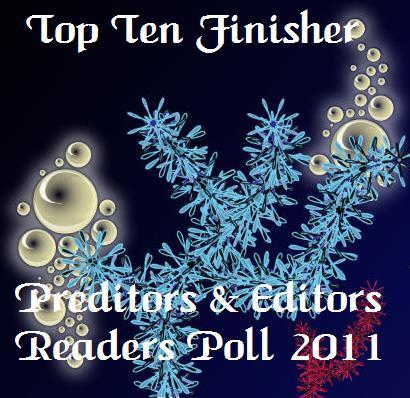 Amazon Profile
My Associate Amazon Store
Goodreads Profile
Top reviewer
Best reviewer
Top user
Top librarian
Most followed
Library Thing Helper Badgers
(Gold Medal) Helper for contributions to any area of LibraryThing
(Gold Medal) Common Knowledge for contributions to Common Knowledge
(Gold Medal) Work Combination for help maintaining LibraryThing's work system
(Silver Medal) Author Combination for help combining author names together
(Bronze Medal) Distinct authors for splitting homonymous authors into distinct authors
Publishers
List of LGBT publishers (for reviews look the Tags section)

Detailed List
Ego Surfing

Who links me
Statistics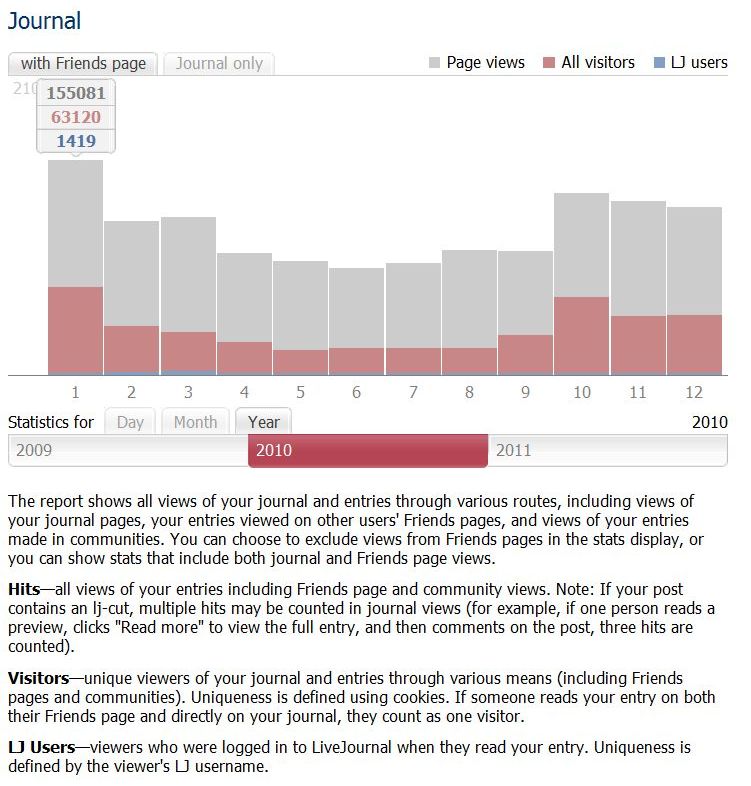 ClustrMaps

Site Meter

Disclaimer
All cover art, photo and graphic design contained in this site are copyrighted by the respective publishers and authors. These pages are for entertainment purposes only and no copyright infringement is intended. Should anyone object to our use of these items please contact by email the LJ's owner.
This is an amateur blog, where I discuss my reading, what I like and sometimes my personal life. I do not endorse anyone or charge fees of any kind for the books I review. I do not accept money as a result of this blog.
I'm associated with Amazon/USA Affiliates Programs.
Books reviewed on this site were usually provided at no cost by the publisher or author. However, some books were purchased by the reviewer and not provided for free. For information on how a particular title was obtained, please contact by email the LJ's owner.