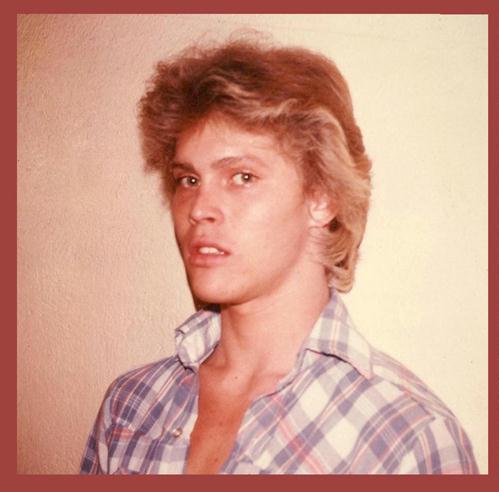 Robert "Bobby" Logan Carter (born May 11, 1954, in Daytona Beach, Florida, died June 23, 1988 in Los Angeles, California) was an American entertainer and photo model.
He appeared alternately as a man or a woman and used the professional alias Roxanne Russell.
Carter was a featured female impersonator at the La Cage nightclub on La Cienega Boulevard in Los Angeles in the early 1980s. There he often performed for celebrities living in the area, sometimes creating a sensation by "doing" one of the famous ladies in the audience.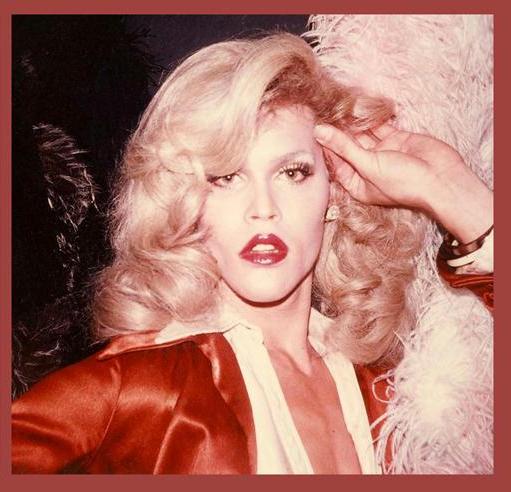 "Starting as Florida Teen, He Danced Across International Stages" by Jack Nichols
"He's the south's number one gay performer," said Jerry Fitzpatrick, a New York City live entertainment columnist of the Seventies, "but I like him because he's a sharing kind of guy, and he's down to earth. He's as beautiful a man as he is exquisite when dressed as the strong feminine stage personae he's created. That's very rare. Most impersonators are more attractive in drag. But offstage Logan doesn't relate as a woman. He's an actor with a powerful masculine identity. When he impersonates Marilyn Monroe, however, he's the best in the business."
Though many gathered to see this impersonation of Monroe, they often sat awestruck while Logan performed to his watchword theme, What Makes a Man a Man? changing with perfect timing, his gender; stripping female garb, becoming momentarily naked, then turning finally into a stunning man. The song's haunting melody, written by Charles Aznavour, raises unsettling questions that macho males seldom ask, and poignantly describes the daily life of an impersonator.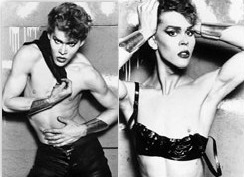 "Starting as Florida Teen, He Danced Across International Stages" Robert "Bobby" Logan Carter (born May 11, 1954, in Daytona Beach, Florida, died June 23, 1988 in Los Angeles) was an American entertainer and photo model. Logan Carter's two foremost male lovers--Jack Nichols was one-- had, of necessity, to be free from the making of gender-role judgments, able to see him as a person, not as a "star" nor as a cosmetic "woman." Logan died in Hollywood Community Hospital in June, 1988, AIDS.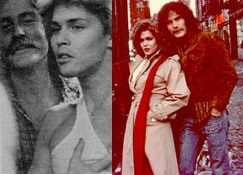 Logan Carter & Jack Nichols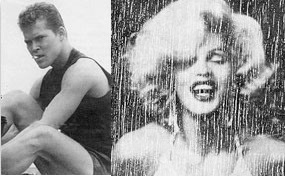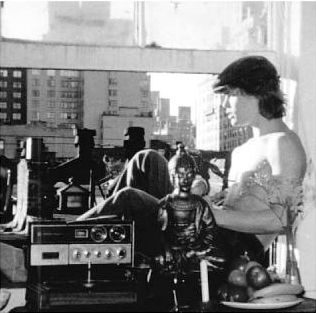 Logan Carter in New York City, 1975 (Source: The Jack Nichols Collection, The Pennsylvania State University)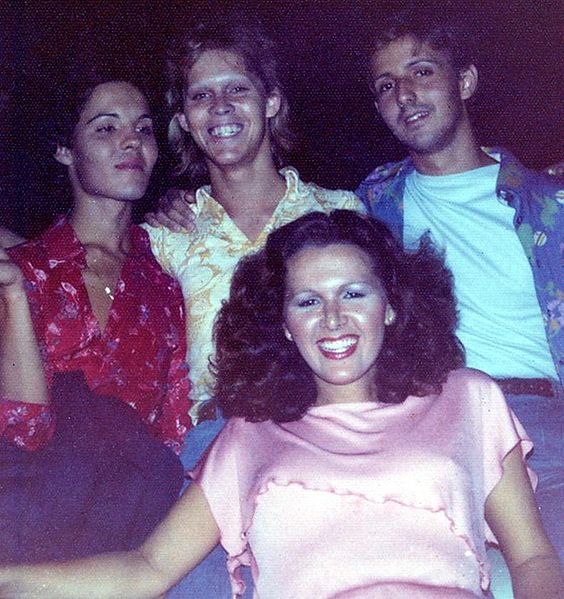 Late night snapshot of Del Rio, Carter, Del Monte with Tony Del Valle, Tampa, April 27, 1974. Wild Side Story is a stage show that originated as an underground happening in Miami Beach, Florida in 1973. From that year until the end of production in 2004, it was performed hundreds of times in Florida, Sweden, California and Spain.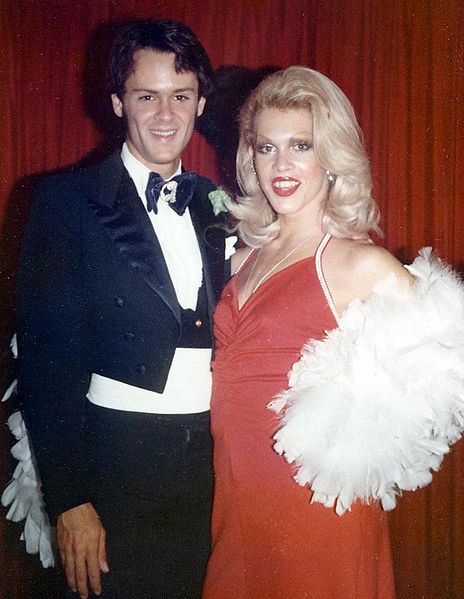 Lars Jacob & "Roxanne Russell" a.k.a. Logan Carter, Miami Beach, Florida, March 1973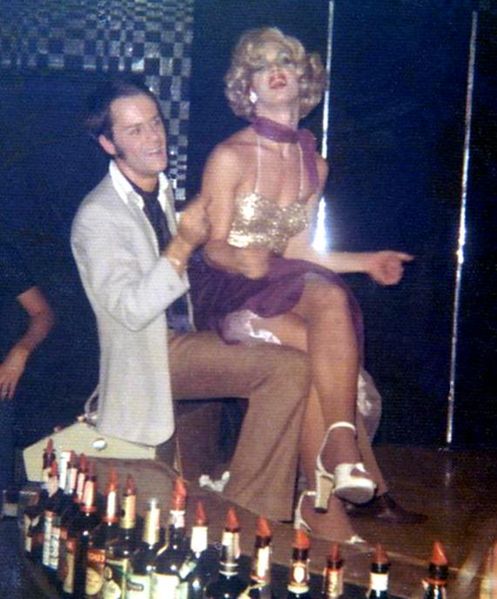 Lars Jacob and "Roxanne Russell" a.k.a. Logan Carter on stage in West Side Tuna, Ambassadors III, 401 22nd Street, Miami Beach, Florida, Autumn 1972

In 1974 Robert Logan Carter walked, aged 19, onto center stage in Florida's major nightclubs. Billed as "Roxanne Russell, The Last Goddess," he easily won that year's Miss Florida (Female Impersonator's) title, and carved thereafter an unforgettable legend, not only in the annals of his stated profession--female impersonation--but in the adoring hearts of thousands.
Filmmaker Derek Calderwood, at New York University, created Gender which captured Logan's artful rendering of What Makes a Man a Man? showing his mastery of presence, how, with mind-bogling ease, he used expert male and female mannerisms. The film became a tool sparking classroom debates about sex-role conditioning.
Evolving from the carnival night life of the south's gay subculture, Logan was born in Daytona, but grew up in Tampa. When he was only three months old, his mother committed suicide and he lived at first with his great grandmother, an elderly widow who was loving, eccentric, and permissive. Upon her death, his hardworking grandmother adopted him as her own, easily earning his confidence so that he called her "mother." At age 11, he jokingly told an interviewer, he saw "a Goddess" (Monroe) on TV. "I was electrified," he explained, "and it showed in my schoolwork. The nasty school teacher, I mean the nasty school-marm, sent unforgivable notes home to my parents saying, 'This child won't study his history. This child won't study his arithmetic. This child is in love with Marilyn Monroe.' " But the sexually-precocious Logan had an unsettling answer to these charges. I wasn't meant to study arithmetic, and I wasn't meant to study history. I was meant to be a blonde!"
At age 13 he ran away from home, driving across the nation with another teen and settling in Hollywood where he attended, for a month, the same high school where Marilyn Monroe had gone. Then, he laughed, "one night she (Monroe) came to me in a dream. She said, 'Little boy, would you like to be a star like me?' And I answered, 'Yes, Monroe, desperately.' The goddess from his dream told him to bleach his hair platinum, to wear the highest pair of springalators he could find, and to 'tip' around Hollywood Boulevard three times each night. "I bleached my hair, wore springalators, and tipped around Hollywood Boulevard. Men were looking, cars were stopping, and I knew I was a goddess at last!"
As a result, this thirteen year-old discovered prostitution. His johns, mostly straight, asked him into their cars. "I'm a man," he'd tell them, but these slaves to illusion would insist it didn't matter. They swooned over feminine artifacts and mannerisms that looked, walked, and smiled like Marilyn Monroe. Knowing the secrets of movement caused by gender prescriptions, Logan became the master-mistress of illusion.
He met a Burbank man who asked him to role-play as his "wife." Too young to go to the bars, he accepted this man's proposal. "It was so sick," he related laughing, "I fixed TV dinners for him every night and put them on a card table in front of him under two large posters of Diana Ross. Fridays we went to a Hollywood after-hours eatery, me in full drag. Gay kids sat all around us. But soon I got tired of this weird 'married' life. I couldn't go anywhere or do anything by myself. He wanted to be THE HUSBAND and I was to be THE WIFE. I was supposed to cook and obey. That awful man wanted to own my soul."
Leaving Hollywood but planning a return in triumph, Logan came back to Florida where--in gay bars--drag was always much encouraged. A Tampa nightclub owner, Rene Rodriguez, discovered him performing at The Horny Bull, where teens sought stardom. "If I get you a new hat and some new clothes," he told Logan, "you may dance upon the stage in my nightclub. Perhaps I can make you a star."
"It was just what I'd always wanted," Logan said, "to dance upon the stage and be among the stars. I thought that if I could only get my picture into Florida's gay guide, I'd have reached the heights. But there's never the heights. There's always tomorrow. Remember that."
Logan Carter's two foremost male lovers--I was one-- had, of necessity, to be free from the making of gender-role judgments, able to see him as a person, not as a "star" nor as a cosmetic "woman." Drag was his job, not his reality. When he took off his feminine costumes he appeared to them as one of the most beautiful of men. Not fooled by machomania, as when men doggedly project images their culture demands, he saw easily into the anxieties caused by these demands and had little patience with people, straight or gay, who worried loudly about effeminacy. He was from the future, some thought, a time when such concerns will have long before evaporated.
The southern drag stars in Logan's circle were masters in their field, shock troops, perhaps, of a much-needed male-role revolution. Logan, androgynous, energetic, determined, talented, handsome and beautiful, was clearly one of their best loved models, a gentle leader respected and listened to at every turn. "A man in a dress," says an old drag epigram, "learns more in a day than a man in a business suit learns in a lifetime." Logan, ever eager to see others succeed, shared with them all he knew about theater.
His dressing room was continuously packed with fawning admirers. Logan treated most with kindly regard, greeting fans he knew with a hug, or putting up with the intense curiosity of strangers while he applied his make-up. As Roxanne Russell, whom he'd carried in his make-up bag since his early teens, he became beauty's unpredictable essence, moving hypnotically like a feminine tornado, dancing across tables, ever Dietrich-like because of his cabaret presence, immobilizing onlookers, grabbing the hands of shy bystanders and dancing them across the floor into unexpected notoriety. One observer came to understand his matter-of-fact tone as he discussed audiences with his co-workers. "Do it," he'd say, suggesting a song, "They'll worship!" It was, undoubtedly, personal experience that spoke. Roaring with thunderous applause, Logan's fans beat the walls, whistling and shouting loud choruses of bravos.
At age twenty-one Robert Logan Carter decided he'd no longer be called "Bobby." Planning his future on stage and screen, he shied from using "Bob" because, as he worried, "it sounded too crewcut-businessman." His middle name, Logan, I advised, had potential. On southern stages he continued to be billed as Roxanne Russell, but from Hollywood to Manhattan he became known as Logan Carter.
In Manhattan, photographers regularly stopped him on sight, asking that he pose. Such invitations led to a host of modeling and theatrical gigs. He was discovered by Lynn Davis, a foremost photographer who took arty androgynous pictures of him, publishing one in a book that included President Reagan. A shot from that series appeared in The New York Times, whose editors mistakenly labeled Logan a hermaphrodite. Major European fashion magazines, including Harper's Bazaar in Rome and Mode International in Paris, ran avant garde spreads of him in both male and female garb. In male clothing he posed for Ian's, New York's (Greenwich Village's) first punk-rock clothing store.
Logan spoke modestly of his later accomplishments, but there were many who watched with genuine satisfaction as a young Florida boy matured into a star. He appeared regularly at La Cage, a Hollywood theater. His face graced the full cover of The Advocate, illustrating the concept of a gay muse. He appeared briefly in a cult film, Repo Man, but enjoyed larger parts that included dialogue in movies starring Venessa Redgrave (Second Serve) and Carrie Fisher (Hollywood Vice Squad.) Of this second film, he boasted happily, "I made Norman Bates in 'Psycho' look like kiddie stuff!" He also invaded TV sit-coms, entering during an episode of E.R., as a beautiful impersonator, chased and flirted with by a fooled physician, played by Eliot Gould. An MTV video, Sex as a Weapon, featured him as a bombshell femme fatale, tantalizingly sprawled across a leopard skin.
The world of drag as Logan Carter knew it was a world in which flowing gowns, jewels and beads, sequins, spot lights and glamour were daily concerns. To some it may have seemed a topsy-turvy scene. But Logan moved in and out of it with ease, knowing that the drag world, like the world at large, is filled with laughter and sadness, pathos and triumph. In his last Florida appearance Logan used the occasion to denounce the Reagan administration's handling of the AIDS crisis. Logan died in Hollywood Community Hospital in June, 1988. AIDS. He was thirty-three. His most passionate lovers were at hand and the thousands who loved him from afar smiled through their tears in appreciation for having seen him or known him.
As he was lowered into a Tampa grave, I returned in imagination to Jewel Box '76, a nightly show at the Fountainbleau's Superstar Theater in Miami Beach, where Logan, dressed as Marilyn, and his beloved co-workers--including several Miss Florida (Impersonation) yearly winners--made graceful entrances. A voice emanating from the Broadway musical, Follies, seemed once more to sing of him and of those lovelies at his side: "Children, in their glory, diamonds and pearls." This article is based (but not excerpted from) on Jack Nichols' memoirs-in-progress. Nichols, Badpuppy's GayToday editor, is the author of The Gay Agenda: Talking Back to The Fundamentalists, recently published by Prometheus Books.
Source:
http://www.webcitation.org/5ccMUseX7
I saw "Bobby" perform twice in 1973, at the Horny Bull in Tampa and a club I can't remember the name of in Orlando. He was by far the youngest female impressionist I'd ever seen and friends told me later that he was a teenager. He performed Bette Midler's "You Got to Have Friends" and was amazing. --Connie Bailey
Days of Love: Celebrating LGBT History One Story at a Time by Elisa Rolle
Paperback: 760 pages
Publisher: CreateSpace Independent Publishing Platform; 1 edition (July 1, 2014)
Language: English
ISBN-10: 1500563323
ISBN-13: 978-1500563325
Amazon:
Days of Love: Celebrating LGBT History One Story at a Time
Days of Love chronicles more than 700 LGBT couples throughout history, spanning 2000 years from Alexander the Great to the most recent winner of a Lambda Literary Award. Many of the contemporary couples share their stories on how they met and fell in love, as well as photos from when they married or of their families. Included are professional portraits by Robert Giard and Stathis Orphanos, paintings by John Singer Sargent and Giovanni Boldini, and photographs by Frances Benjamin Johnson, Arnold Genthe, and Carl Van Vechten among others. "It's wonderful. Laying it out chronologically is inspired, offering a solid GLBT history. I kept learning things. I love the decision to include couples broken by death. It makes clear how important love is, as well as showing what people have been through. The layout and photos look terrific." Christopher Bram "I couldn't resist clicking through every page. I never realized the scope of the book would cover centuries! I know that it will be hugely validating to young, newly-emerging LGBT kids and be reassured that they really can have a secure, respected place in the world as their futures unfold." Howard Cruse "This international history-and-photo book, featuring 100s of detailed bios of some of the most forward-moving gay persons in history, is sure to be one of those bestsellers that gay folk will enjoy for years to come as reference and research that is filled with facts and fun." Jack Fritscher
This journal is friends only. This entry was originally posted at http://reviews-and-ramblings.dreamwidth.org/3681407.html. If you are not friends on this journal, Please comment there using OpenID.