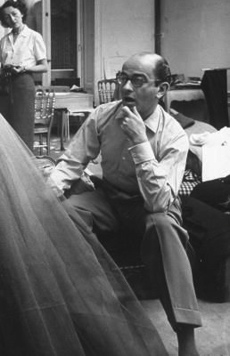 Jean Dessès (6 August 1904 – 2 August 1970), was a world leading fashion designer in the 1940s, 1950s and 1960s. His designs reflected the influences of his travels, specializing in creating draped evening gowns in chiffon and mousseline, based on early Greek and Egyptian robes.
Born Jean Dimitre Verginie in Alexandria, Egypt, to Greek parents, he originally set out to study law, but, in 1925, he abandoned his legal studies and began working for Maison Jane, a Parisian couture house where, in 1937, he opened his own couture salon. After World War II, he traveled extensively throughout the world. His work was influenced by his travels, creating draped evening gowns in chiffon, embroidered dresses, sheath dresses with tight jackets and flowing skirts. His fashion was very popular with European royalty and movie stars. Among his clientele were the Queen and royal princesses of Greece, the Duchess of Windsor, Madame Jean (Lilia) Ralli, the first Mrs. Aristotle Onassis and society hostess Elsa Maxwell. In 1962, he designed the wedding gown worn by Princess Sophia of Greece (later Queen Sofia of Spain) for her marriage to the future King Juan Carlos of Spain. Valentino worked with Desses for several years in the 1950s and gained much hands-on experience, as did Guy Laroche who in the 1950s was Desses' assistant.
In 1963, at age 60, he retired to Greece because of poor health, where he ran a small boutique which he had opened eight years earlier. He died in Athens in 1970. In the 1990s, his fashion designs saw a revival with the interest in vintage dresses. Naomi Campbell wore a vintage boned bodice and ruched silk Desses gown in May 1999 at a Christie's party. Later, in 2001, Renée Zellweger wore a lemon yellow strapless 1950s Desses gown to the Academy Awards. Similarly, Jennifer Lopez wore a vintage moss green Desses gown, made with 50 yards of chiffon, to the 2006 Academy Awards.
The fashion designer Jean Desses brought also out a perfume called Kalispera.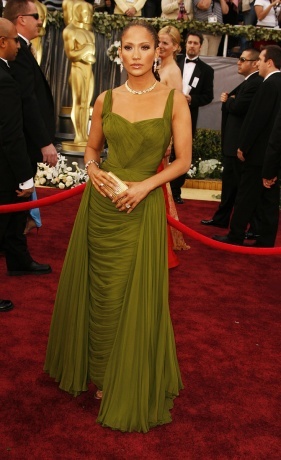 Jennifer Lopez wore a vintage moss green Desses gown, made with 50 yards of chiffon, to the 2006 Academy Awards.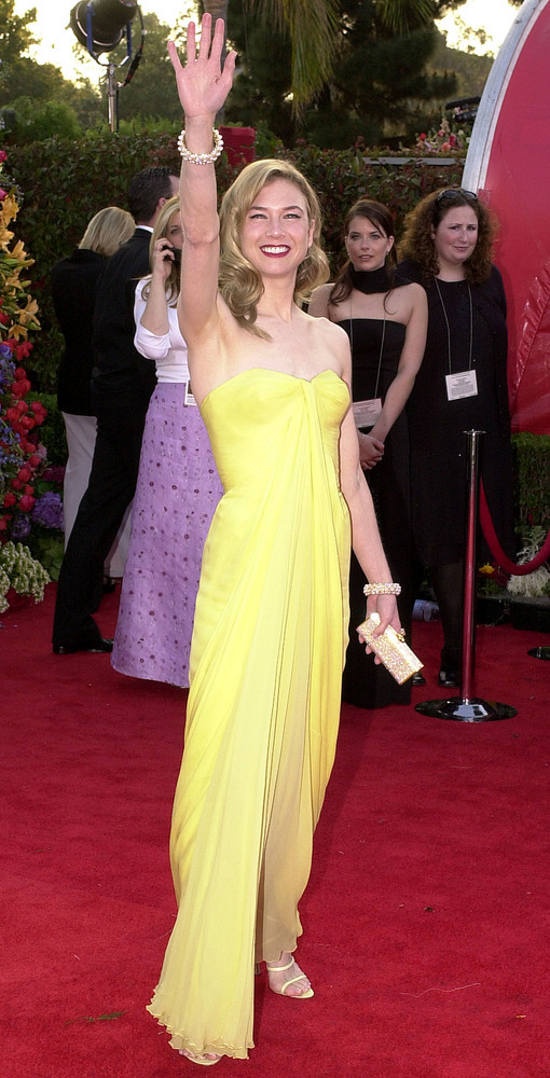 In 2001, Renée Zellweger wore a lemon yellow strapless 1950s Desses gown to the Academy Awards.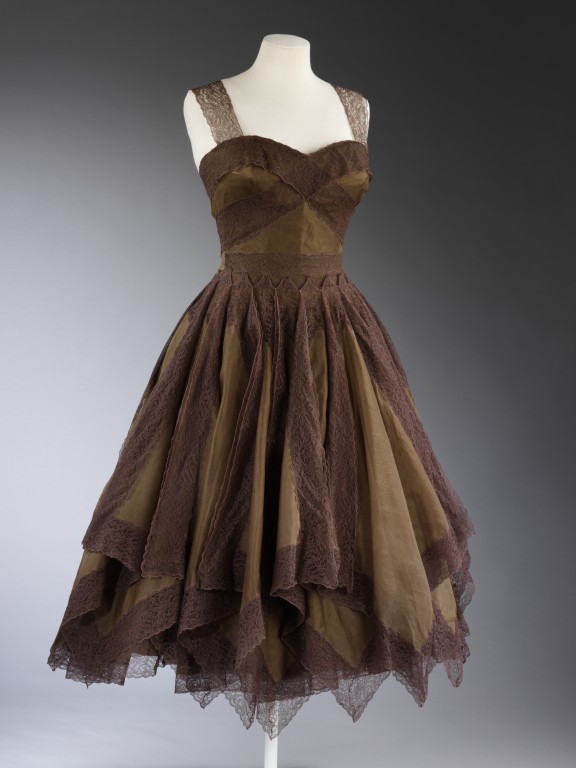 Evening dress, 1954-1955
Jean Dessès opened his couture salon in 1937, two years before France went to war. In the post-war period, when restrictions on materials and shifting client fortunes might have threatened his business, Dessès found great success. He designed the wedding outfits of Princess Sophia of Greece to Prince Juan Carlos and his many other clients included wealthy Americans and the European aristocracy.
This dress illustrates Dessès's career-long preoccupation with draping and form. The skirt is made from twenty-one lace-trimmed squares, each suspended from a point at the waist and falling to a handkerchief hem. By stitching each square to the next, Dessès created a design of graceful volume and movement.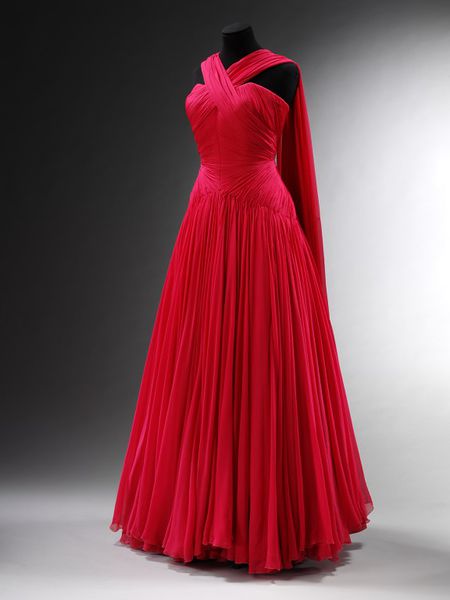 Evening dress, ca. 1953
Jean Dessès's fascination with draping and classical form resulted in gowns of great technical complexity. The intricate pleating across the bodice here is an example of a construction technique that Dessès favoured both for early evening and formal occasions. Although the bodice appears to be soft and unstructured, it is supported by the sewn-in boning common at the time. Dessès's early evening wear used a subtle palette of creams, beiges and pale pinks, but he later introduced vibrant reds as in this example.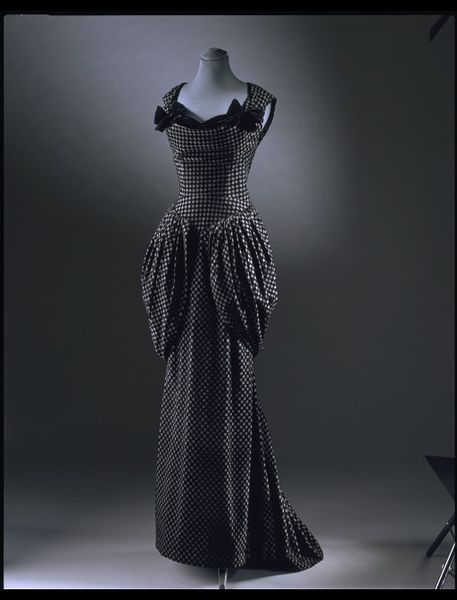 Evening dress, 1948
Jean Dessès experimented with puffed out or bouffant shapes. The velvet used for this dress had the stiffness needed to keep its bouffant shape. The gown is intricately cut. It has a tightly fitted bodice with a low, stand-away neckline that encloses a bow-trimmed brassiere in plain silk velvet. The long skirt has a fishtail train. Its side panels are gathered to form the panniers you can see here, which are supported by net frills. The panniers exaggerate the hips and then curve behind where they cross and slot through each other in an ingenious design. The dress fastens at the centre back with a zip.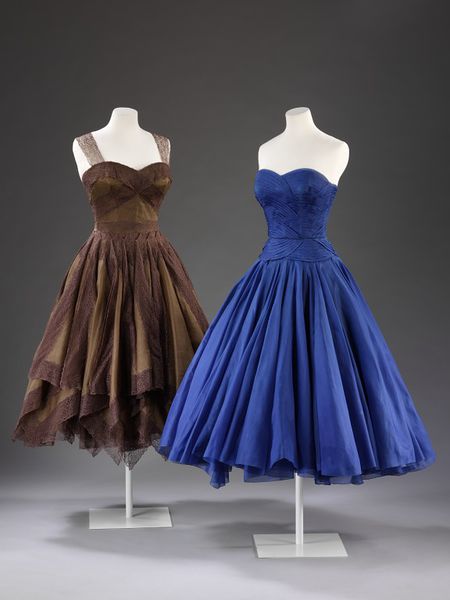 Cocktail dress, 1951
The overlapping, curved pleats formed into scalloped panels on this bodice front suggest a stylised rendition of receding waves, an impression further enhanced by the deep sea-blue of the fine, slightly stiff, silk fabric. The controlled movement on the curved, fitted bodice is achieved by the dextrous pleating of fabric cut on the bias, fronted with no visible seams.
The scalloped pleating encloses the front torso up to the low, strapless décolletage, and continues across the back in straight, horizontal lines. The bodice fits the figure tightly to the hips and from there the skirt falls in long, soft pleats.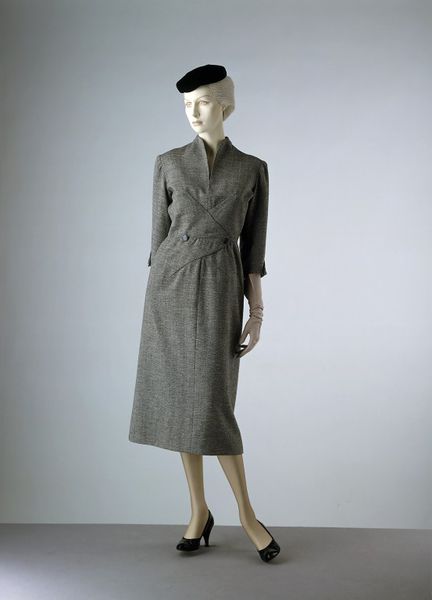 Day dress, ca. 1953
This is a good example of a sheath dress, popular throughout the 1950s. Its construction appears simple, but the clean lines are achieved by skilled cutting and intricate diagonal seaming. The grosgrain waist stay (grosgrain is a heavily ribbed silk) bears the label 'Jean Desses 17 Avenue Matignon PARIS'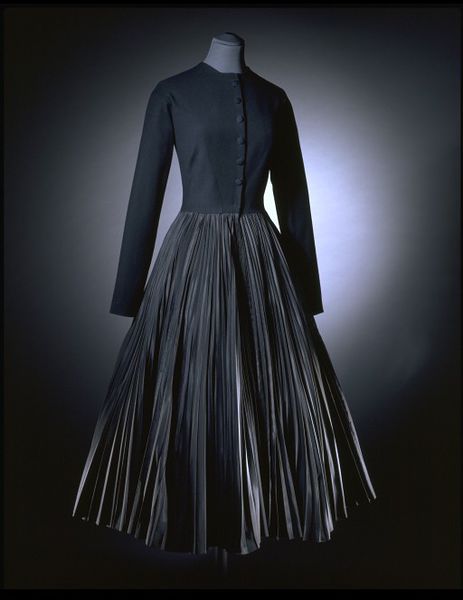 Dress, ca. 1955
The little black dress was a classic design. Women could wear them for work during the day and then, with a change of accessories, wear them out in the evening. This version was designed by Jean Dessès in about 1955. It has a modest bodice with a high neck and long sleeves. The bodice is made in matte wool and fastens in the front with self-covered buttons. It has been cut and fitted to fit closely. The skirt is made of pleated lustrous silk taffeta.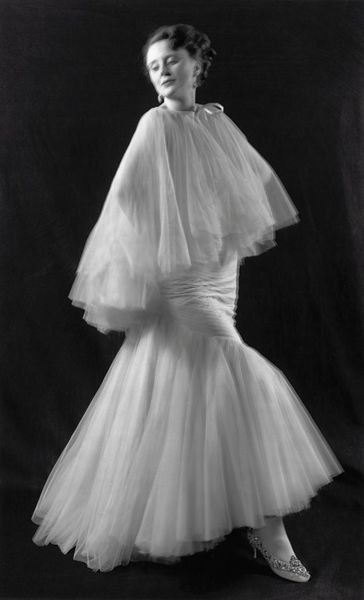 Evening dress and cape, 1950
Full length strapless sheath evening dress of pink silk net with a fish-tail flounce and matching silk net cape.
Cape of net gathered at the neck. To elbow level. Tied at the neck with a band of net.
Tightly fitted strapless dress arranged in horizontal pleats at the front and shaped to a 'V' at the centre. The pleats diagonal and graduated in size at the back forming an inverted 'V', to meet at centre back zip. It is waisted and boned. A wide flounce from knee to hem of many layers of net.
Source:
http://en.wikipedia.org/wiki/Jean_Dess%C3%A8s
Further Readings:
Fashion: The Definitive History of Costume and Style by DK Publishing
Hardcover: 480 pages
Publisher: DK ADULT (October 1, 2012)
Language: English
ISBN-10: 0756698359
ISBN-13: 978-0756698355
Amazon:
Fashion: The Definitive History of Costume and Style
Tracing the evolution of fashion — from the early draped fabrics of ancient times to the catwalk couture of today — Fashion: The Definitive History of Costume and Style is a stunningly illustrated guide to more than three thousand years of shifting trends and innovative developments in the world of clothing.
Containing everything you need to know about changing fashion and style — from ancient Egyptian dress to Space Age Fashion and Grunge — and information on icons like Marie Antoinette, Clara Bow, Jacqueline Kennedy, and Alexander McQueen, Fashion catalogs the history of what people wear, revealing how Western fashion has been influenced by design from around the world and celebrating costume and haute couture.
Fashion will captivate anyone interested in style — whether it's the fashion-mad teen in Tokyo, the wannabe designer in college, or the fashionista intrigued by the violent origins of the stiletto and the birth of bling.
More Fashion Designers at my website:
http://www.elisarolle.com/
, My Ramblings/Art
This journal is friends only. This entry was originally posted at http://reviews-and-ramblings.dreamwidth.org/3771557.html. If you are not friends on this journal, Please comment there using OpenID.
Tags:
elisa_rolle
Appointments
2016 LGBT Rainbow Awards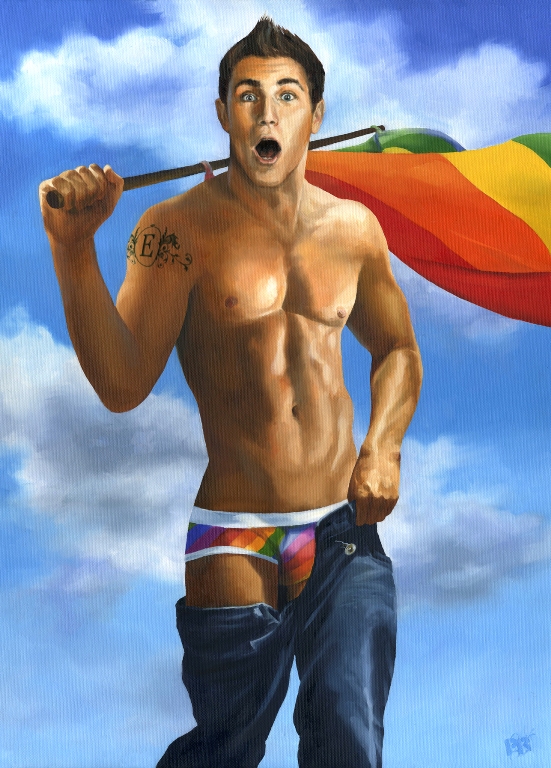 2016 Guidelines
2015 Winners
In the Spotlight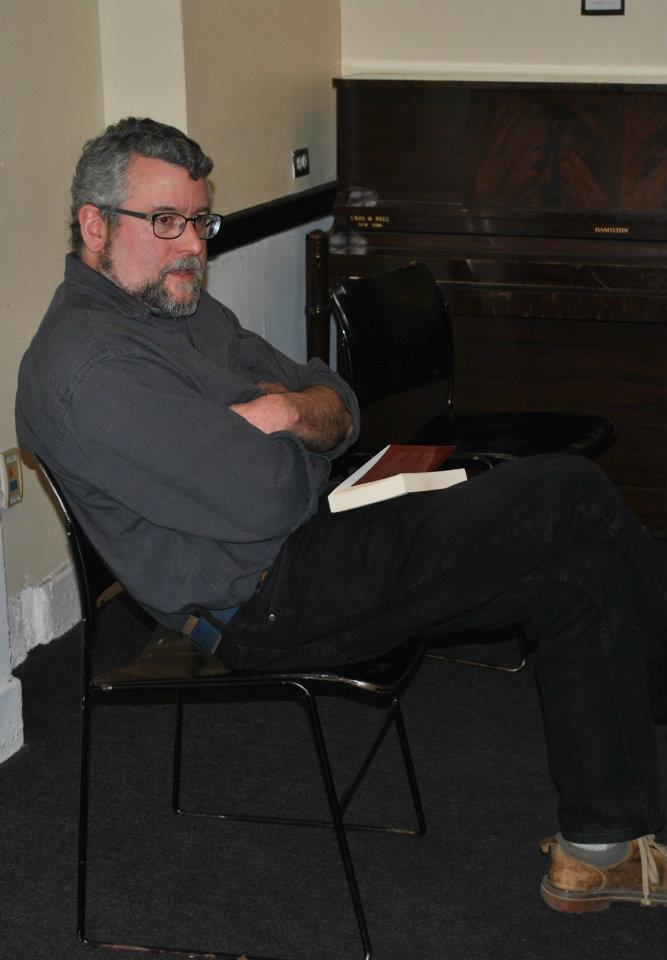 Top 100 Gay Novels List - Simple

Top 100 Gay Novels List - Wanted
Art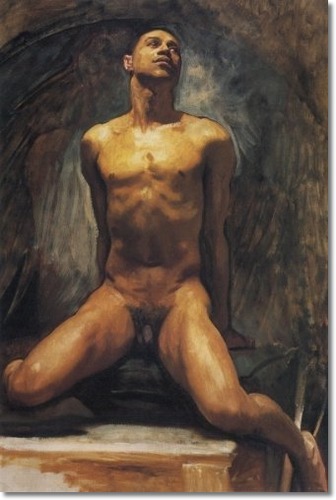 Previous Appointments Visual Summary
Gay Themed Movie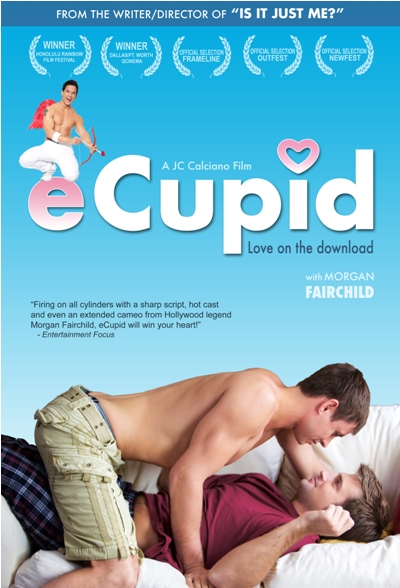 Previous Appointments Visual Summary
The Inside Reader


Previous Appointments Visual Summary

Top 100 Inside Readers Novels
LGBT Fashion Designers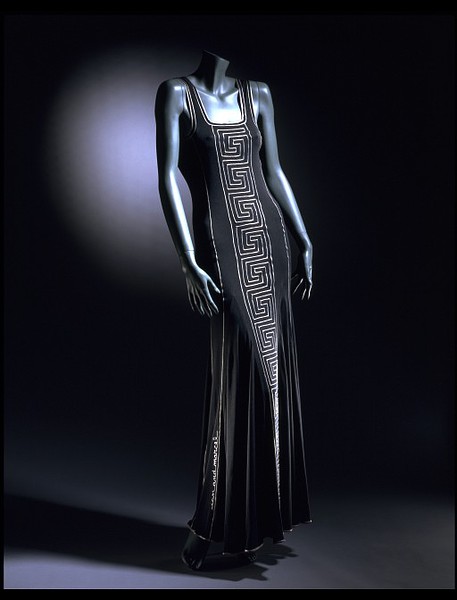 Previous Appointments Visual Summary
Gay Romance Challenge

Gay Commercial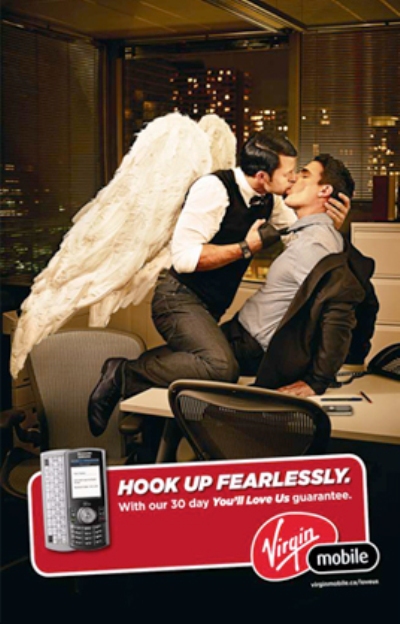 Around the World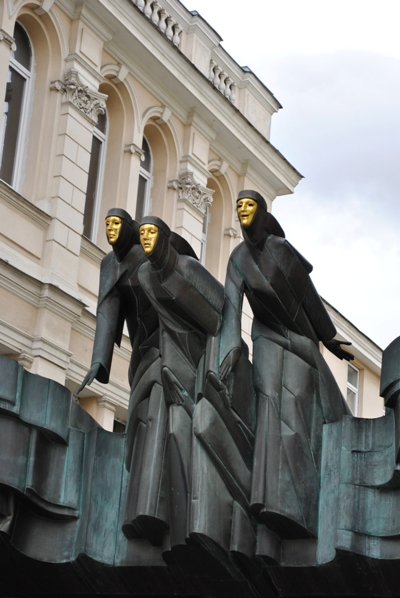 visited 20 states (8.88%)
Create your own visited map of The World
visited 15 states (30%)
Create your own visited map of The United States
Gay Classics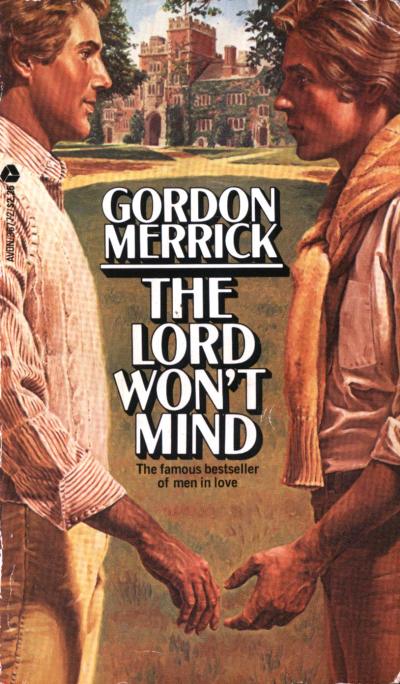 Previous Appointments Visual Summary
Romance History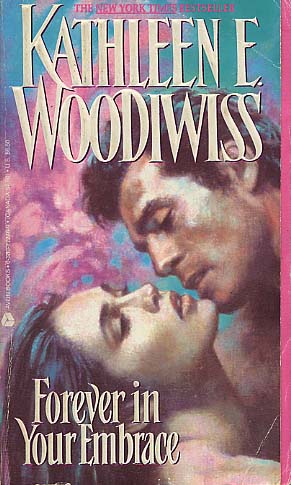 Previous Appointments Visual Summary
Main Tags
Characters:
Alpha Males
,
Cinderfellas (from rags to riches...)
,
Friends (with benefits)
,
Multicultural Lovers
,
Pretty... Men! (hustlers)
&
Virgins (at least in one way)
Dream Lovers:
Cowboys
,
Pirates
&
Sheikhs
Erotica (M/F)
Genres:
Contemporary
,
Fantasy
,
Futuristic
,
Historical
&
Paranormal
Length:
Short Story
,
Novella
&
Novel
Men in Uniform:
Cops / Detectives / PIs
,
Firefighters
&
Military
Non Conventional Lovers:
Elves, Gods, Deity & Witches
,
Furry Lovers
,
Shapeshifters
&
Vampires
Otherwordly Lovers:
Angels
,
Demons
&
Ghosts
Possible Futures:
Apocalypse Now
&
Back to the Future
Relationships:
Bondage / Submission
,
Breeches Rippers
,
Coming of Age
,
Disability
,
Gay for You
,
Male Pregnancy
,
May / December
,
Ménage a trois (or more...)
,
Silver Romance
&
Twincest
Settings:
Art World
,
College
,
Medical Romance
,
Office Affairs
,
Seasonal Romance
,
Show Business
&
Sports
Yaoi (manga)
From Movie to Novel (and viceversa)
Top 100 Gay Novels List
Secondary Tags
ActivistActorArtist
: illustrator, painter, photographer, sculptor
Author
: novelist, playwright, poet, screenwriter, writer
Dancer
: dance, choreographer
Designer
: architect, costumer, fashion designer, graphic designer, hairstylist, makeup artist, set designer, tailor
Director
: director, stage director
Eccentric
: aristocrat, art collector, drag queen, explorer, female impersonator, heir/heiress, hostess, lover, muse, prostitute, socialite, spy, survivor
Essayist
: anthropologist, archivist, biologist, columnist, critic, editor, educator, historian, journalist, lecturer, librarian, linguistic, philosopher, professor, psychoanalyst, psychologist, psychotherapist, publisher, reporter, researcher, scholar, sexologist, sociologist, teacher, theorist
Leader
: commander, emperor, judge, monarch, officer, politician, senator, statistician, warrior
ModelMusician
: arranger, composer, conductor, lyricist, pianist, singer, songwriter, violinist
Producer
: producer, manager, entrepreneur
Sport
Preditors & Editors Poll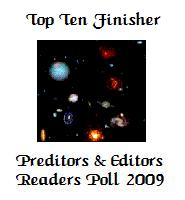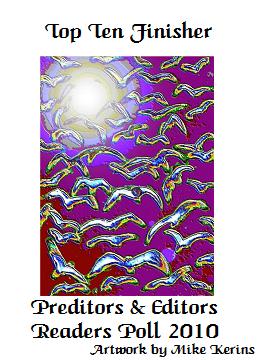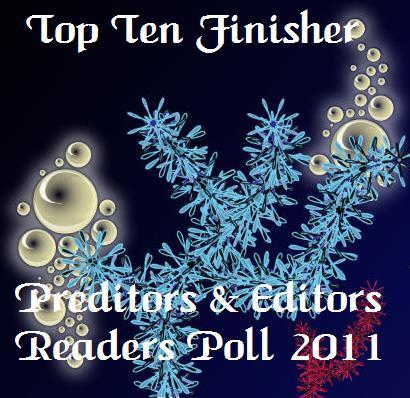 Amazon Profile
My Associate Amazon Store
Goodreads Profile
Top reviewer
Best reviewer
Top user
Top librarian
Most followed
Library Thing Helper Badgers
(Gold Medal) Helper for contributions to any area of LibraryThing
(Gold Medal) Common Knowledge for contributions to Common Knowledge
(Gold Medal) Work Combination for help maintaining LibraryThing's work system
(Silver Medal) Author Combination for help combining author names together
(Bronze Medal) Distinct authors for splitting homonymous authors into distinct authors
Publishers
List of LGBT publishers (for reviews look the Tags section)

Detailed List
Ego Surfing

Who links me
Statistics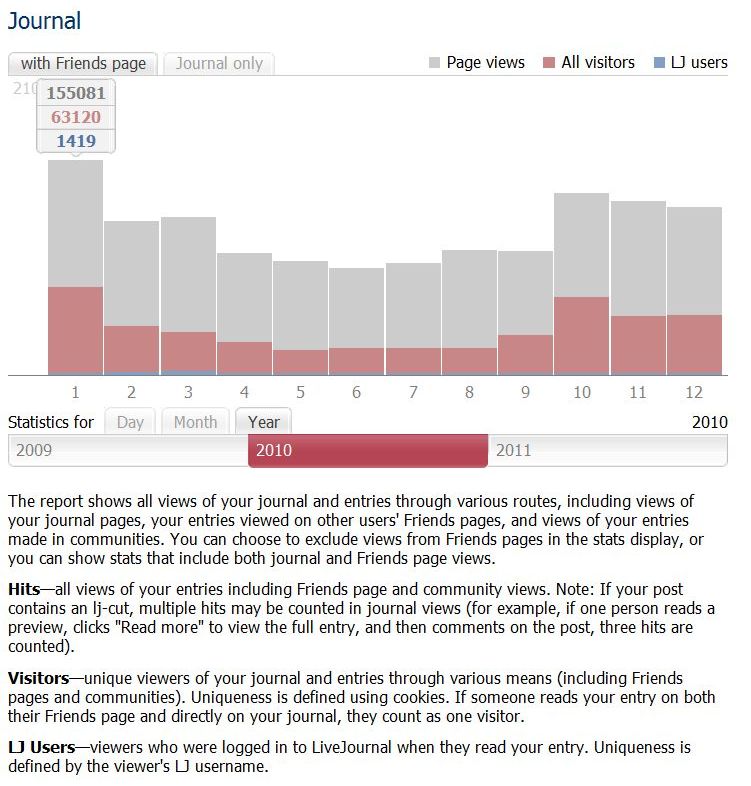 ClustrMaps

Site Meter

Disclaimer
All cover art, photo and graphic design contained in this site are copyrighted by the respective publishers and authors. These pages are for entertainment purposes only and no copyright infringement is intended. Should anyone object to our use of these items please contact by email the LJ's owner.
This is an amateur blog, where I discuss my reading, what I like and sometimes my personal life. I do not endorse anyone or charge fees of any kind for the books I review. I do not accept money as a result of this blog.
I'm associated with Amazon/USA Affiliates Programs.
Books reviewed on this site were usually provided at no cost by the publisher or author. However, some books were purchased by the reviewer and not provided for free. For information on how a particular title was obtained, please contact by email the LJ's owner.