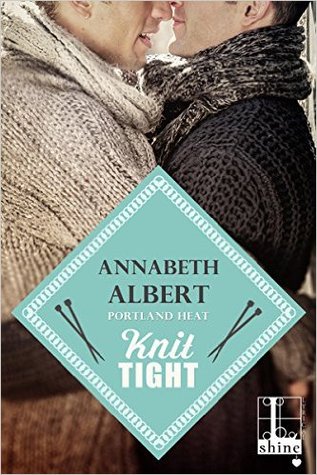 Knit Tight (Portland Heat #4) by Annabeth Albert
Publisher: Kensington
Amazon Kindle:
Knit Tight (#PortlandHeat #4)
Blurb: It's no secret that Portland, Oregon, has some of best restaurants, shops, and cafés in the country. But it's the hard-working men who serve it all up that keep us coming back for more...
One of Portland's hottest young baristas, Brady is famous for his java-topping flair, turning a regular cup of joe into a work of art. Every Wednesday—aka "Knit Night"—hordes of women and their needles descend on the coffeehouse, and Brady's feeling the heat. Into the fray walks a tall, dark, and distractingly handsome stranger from New York. His name is Evren, and he's the sexy nephew of Brady's sweetest customer, the owner of the yarn shop down the street. He's also got a killer smile, confident air, and masculine charm that's tying Brady's stomach in knots. The smitten barista can't wait to see him at the next week's gathering. But when he tries to ask Evren out, his plans unravel faster than an unfinished edge. If Brady hopes to warm up more than Evren's coffee, he'll have to find a way to untangle their feelings, get out of the friend zone, and form a close-knit bond that's bound to last a lifetime…
(
Collapse
)
The Portland Heat Series:

Meet the author:
Annabeth Albert grew up sneaking romance novels under the bed covers. Now, she devours all subgenres of romance out in the open—no flashlights required! When she's not adding to her keeper shelf, she's a multi-published Pacific Northwest romance writer.
Emotionally complex, sexy, and funny stories are her favorites both to read and to write. Annabeth loves finding happy endings for a variety of pairings and is a passionate gay rights supporter. In between searching out dark heroes to redeem, she works a rewarding day job and wrangles two children.
Represented by Saritza Hernandez of the Corvisiero Literary Agency
Where to find the author:
https://www.facebook.com/annabethalbert
Facebook Author Page: https://www.facebook.com/annabethalbertauthor
Twitter: www.twitter.com/AnnabethAlbert
Tumblr: www.annabethalbert.tumblr.com
Fan group: https://www.facebook.com/groups/annabethsangels/
NEWSLETTER: http://eepurl.com/Nb9yv
Goodreads Link: https://www.goodreads.com/book/show/25937705-knit-tight
Giveaway:
Rafflecopter Code:
a Rafflecopter giveaway
This journal is friends only. This entry was originally posted at http://reviews-and-ramblings.dreamwidth.org/4816310.html. If you are not friends on this journal, Please comment there using OpenID.