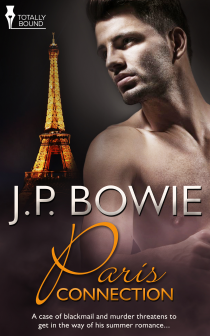 Gay Contemporary Romance
Paris Connection by J.P. Bowie
Publisher: Totally Bound
ISBN: 9780857156716

A young American falls in love with Paris, and a stunning Frenchman, but murder and mayhem, let alone distance, might ruin his chance of lasting happiness.

After seeing the movie Midnight in Paris, Jay Harrison becomes obsessed with the idea of a vacation in the City of Light. Jay has always been a bit of a dreamer and while he doesn't think he will actually have the same bizarre experiences the main character in the movie had, he is certain that Paris holds something very special for him.

Jay is a shy man and a bit of a lightweight in the sexual experience arena, so he's nervously surprised when Anton Delcour, a handsome Frenchman, introduces himself at the Café Les Deux Magots on his first day in Paris. He's even more surprised by his own eagerness to know more about Anton—a lot more. When Anton offers to give him a personal tour of Notre Dame Cathedral, he jumps at the chance to perhaps get better acquainted with Anton.

The two men bond quickly through their mutual attraction, and Jay's visit to Paris takes on a new dimension when he's in Anton's company. But when a case of blackmail and murder threatens to get in the way of his budding summer romance, Jay begins to think that the movie he loved might just pale in comparison to what is actually going on around him.

Charities Donation program progress:
25$ YouthCare: www.youthcare.org/
25$ Point Foundation: www.pointfoundation.org/
25$ PFLAG: community.pflag.org/
25$ CARE: careprogram.org/
25$ Lost-n-Found Youth: www.lost-n-found.org/
50$ Wes for Youth: wesforyouth.privacemail.com/
50$ Lambda Legal: www.lambdalegal.org/
108$ COLORS: www.colorsyouth.org/
132$ Galop: www.galop.org.uk/
150$ Cancer Research Institute: www.cancerresearch.org/
160$ UCAN: www.ucanchicago.org/
190$ SAGE: giveto.sageusa.org/
400$ Ali Forney Center: www.aliforneycenter.org/
TOTAL: 1365$*

* more than 150$ is a direct donation from a supporter of the Rainbow Awards who isn't submitting; while some authors were more than generous, arriving to donate 5 times the suggested amount, being the submission fee a non mandatory and voluntary direct donation, we were struggling to raise the same amount as last year and there is who decided to cover part of it. I thank you for all you are doing, and if you wish to donate to the above links, please drop me a note with your donation and I will update the total.

2014 Rainbow Awards Guidelines: reviews-and-ramblings.dreamwidth.org/4162490.html

This journal is friends only. This entry was originally posted at http://reviews-and-ramblings.dreamwidth.org/4286301.html. If you are not friends on this journal, Please comment there using OpenID.