Waiting for the list of finalists to be announced beginning of October, I will post daily the 2014 Rainbow Awards Honorable Mentions: an honorable mention means a judge gave a rate of 36 or above out of 40 to the book; an honorable mention doesn't mean the book is automatically among the finalists, could be could be not, but it's important to understand there are more than 500 books in the literary contests, all books are in the process of being read by the jury, but only half of them will go to finals. So please, congratulate with me this year honorable mentions:


Gay Erotic Romance
Desires' Guardian (Desires Entwined Book 2) by Tempeste O'Riley
Paperback: 200 pages
Publisher: Dreamspinner Press (June 6, 2014)
Language: English
ISBN-10: 1627989994
ISBN-13: 978-1627989992
Amazon: Desires' Guardian (Desires Entwined Book 2)
Amazon Kindle: Desires' Guardian (Desires Entwined Book 2)

"Wonderfully written, I will definitely look for the beginning book in this series. "


Transgender Contemporary Romance
His Fair Lady by Kimberly Gardner
Publisher: Loose Id LLC (April 1, 2014)
Amazon Kindle: His Fair Lady

"Kimberly Gardner never ceases to amaze with her mastery of the fine craft of writing, her immediately captivating characters, and her brilliant grasp of realistic, exciting dialogue. It's always an extreme pleasure to read a work of her, and His Fair Lady continues in all these traditions. Thank you, Ms. Gardner for putting another beautiful piece of art into the world, this time one which speaks in a clear, believable voice about the real trials and tribulations transgender people live through every single day."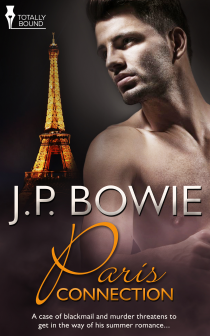 Gay Contemporary Romance
Paris Connection by J.P. Bowie
Publisher: Totally Bound
ISBN: 9780857156716

"JP Bowie has done it all with this book. The plot is a nicely rounded romance with a bit of suspense thrown in to spice it up. He does it perfectly with the mystery in no way overshadowing the romance. The setting is wonderfully done, giving the reader the sense and feel of Paris without an overdose of details to derail the romance. The characters are well- balanced with both points of view presented well and motivations for their behaviors clearly defined. And the writing style is clear, concise and definitely geared toward the romance reader. The sex was well done and perfectly presented. An all-star read!"


Gay Erotic Romance
Lab Rat's Love by Ana J. Phoenix
Publisher: Loose Id LLC (July 1, 2014)
Amazon Kindle: Lab Rat's Love

"What an amazing story! I was pulled in right from the first page by the complex characters. Ana J. Phoenix is an amazing new voice in the m/m genre. I hope she continues to write more of her excellent tales for a long, long time. "


Gay Contemporary Romance
Jurassic Heart by Anna Martin
Paperback: 200 pages
Publisher: Dreamspinner Press (December 27, 2013)
Language: English
ISBN-10: 1627982280
ISBN-13: 978-1627982283
Amazon: Jurassic Heart
Amazon Kindle: Jurassic Heart

"This was such a sweet romance. The mystery mixed in with the romance kept me reading. "


Lesbian Mystery / Thriller
Rapture, Sins of the Sinners by Fran Heckrotte & A.C. Henley
Paperback: 230 pages
Publisher: Affinity Ebook Press NZ LTD; First edition (November 11, 2013)
Language: English
ISBN-10: 1927282063
ISBN-13: 978-1927282069
Amazon: Rapture, Sins of the Sinners
Amazon Kindle: Rapture, Sins of the Sinners

"I was tearing through this one so fast. Very well written. It could probably be on the shelf next to any mainstream, best selling thriller. The characters are initially not quite likable, but in a way that paints them as flawed human beings, so you don't mind following them through the story. The ending felt a little forced and rushed, but considering the book was finished after the initial author passed away, it's easy to see how that happened. The best book I've read for the Rainbow Awards this year, easily. "


Gay Erotica
The Thief Taker by William Holden
Series: Thomas Newton Erotic Adventure
Paperback: 264 pages
Publisher: Bold Strokes Books (April 15, 2014)
Language: English
ISBN-10: 1626390541
ISBN-13: 978-1626390546
Amazon: The Thief Taker
Amazon Kindle: The Thief Taker

"Nicely written. I don't normally read books set in the past like this, but it kept me interested."


Gay Erotica
Incubus Tales by Hushicho
Publisher: Circlet Press, Inc. (June 16, 2014)
Amazon Kindle: Incubus Tales

"I would love to read the author's manga of the same title. A very unusual, but quite interesting book (with the aforementioned erotic cautions.) Written rather like a picaresque anthology. The author's roots in manga are obvious. The story flowed fairly smoothly from adventure to adventure, but the unwary reader should be warned that this is erotica-lite, and is not written in a traditional novel format. However, for the most part, I found the novel quite interesting. I did find myself wanting more pictures (essentially trying to turn the stories into manga.) Very well-developed settings taking place in both a sort of AU as well as time travel into the "regular" world of the 1920s. The author is extremely gifted at providing detailed and very interesting settings. "


Bisexual Contemporary General Fiction
The River Within by Baxter Clare Trautman
Paperback: 260 pages
Publisher: Bedazzled Ink Publishing Company; 2 edition (March 13, 2014)
Language: English
ISBN-10: 1939562252
ISBN-13: 978-1939562258
Amazon : The River Within
Amazon Kindle: The River Within

"This book is so full of vivid emotion. It made me sob, my heart hurt so much for the characters. It made me want better things. More things. It was beautiful. "


Gay Erotic Romance
Better Than Friends by Lane Hayes
Paperback: 216 pages
Publisher: Dreamspinner Press (June 16, 2014)
Language: English
ISBN-10: 1627988084
ISBN-13: 978-1627988087
Amazon : Better Than Friends
Amazon Kindle: Better Than Friends

"Very sweet bedtime story. No unexpected twists and turns. Life is going to bring you where you want to be if you just let her. Get out of your house and open up to the world of ne possibilities."



This journal is friends only. This entry was originally posted at http://reviews-and-ramblings.dreamwidth.org/4450610.html. If you are not friends on this journal, Please comment there using OpenID.