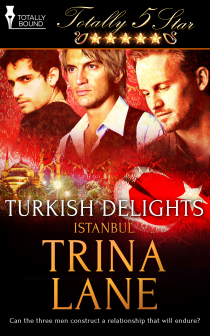 Turkish Delights by Trina Lane
Gay Erotic Romance
Publisher: Totally Bound

Three very different men from three different countries look to build a love greater than any Wonder of the World.

Project manager Garrett Sloan builds majestic hotels for the rich and famous around the world, but when it comes to love, all his relationships seem to crumble. His latest project lands him in Istanbul, where the desire he's held for a certain French architect heats up under the Middle Eastern sun, and his resolve never to mix business with pleasure melts beneath the added hot stare and skilled hands of a Turkish mason.

The three men discover they want to build a relationship to stand the test of time—much like Kyle LaFleure's buildings and Emir Şahin's stonework. As the bonds between Garrett and his partners grow stronger and more complex, they work to lay the perfect foundation on which to build a lasting relationship. Can the three men construct a relationship that will endure? Or will their love reach its zenith when their shared task of finishing the ultimate Ottoman luxury hotel reaches its completion?


An interracial ménage à trois relationship. That was different and interesting to see how that played out. The blending was good but it was a bit difficult when one of the characters would speak in their native tongue without full explanation of what they were saying. A minor thing for some, but I love the idea of different languages and cultures, but at times it threw me off. Still, this was an interesting story. It was nice that they had a happily ever after, for now.
This journal is friends only. This entry was originally posted at http://reviews-and-ramblings.dreamwidth.org/4520053.html. If you are not friends on this journal, Please comment there using OpenID.