Address: Edgeworthstown House, Edgeworthstown, Co. Longford, Ireland

Edgeworthstown House, Co. Longford, is an historic house originally built in 1672 by Richard Edgeworth. It had small windows, low wainscoted rooms and heavy cornices. The house was much enlarged and modernised after 1770 by Richard Lovell Edgeworth, the inventor and father of Maria Edgeworth, husband of Honora Sneyd.
The outside of the house originally had two storeys over the basement with two adjoining fronts with a prominent roof and detailed cornices. The entrance had a front of three bays between the triple windows in the upper storey and a doorway in a pillared recess between two shallow single-curved bows below.




In the Victorian period the right hand triple window was replaced by two windows and the right hand bow by a rectangular single storey projection. An adjoining front with three bay breakfront rises above the roofline as a pedimented attic. Richard Lovell Edgeworth inherited a 'tolerably good old-fashioned mansion' in 1782 and began to remodel it piecemeal almost as soon as he came into his estate. According to his daughter, the old house had been built on an inconvenient plan 'for the sake of preserving one old chimney that had remained from the former edifice'. Its rooms were laid out in a row as a suite of apartments, which she disliked as they lacked the advantage of any passages; and all were small and gloomy, with heavy cornices, little windows and corner fireplaces.
The remodeling was ingenious if externally a little incoherent. Most of the new building was completed by 1787, when the Rev. Dr D.A. Beaufort visited the house and noted its unusual plan. On the ground floor Richard Lovell Edgeworth enlarged the rooms by throwing them into single storey, three bay rectangular projections linked in the middle by an arcaded loggia. There is a very nice curved tip lib staircase in the centre of the house. Certain alterations, including a pair of flat-roofed extensions to the ground-floor rooms on the South, built to provide an extra space for the library, and a matching conservatory which opened off Mrs Edgeworth's dressing room, were not contrived until 1807, and it was only in 1812 that an oriel window was added to Maria's bedroom in the North West corner of the house. This gave a few feet in space with great additional light and cheerfulness', but was badly built and fell off well before the end of the century.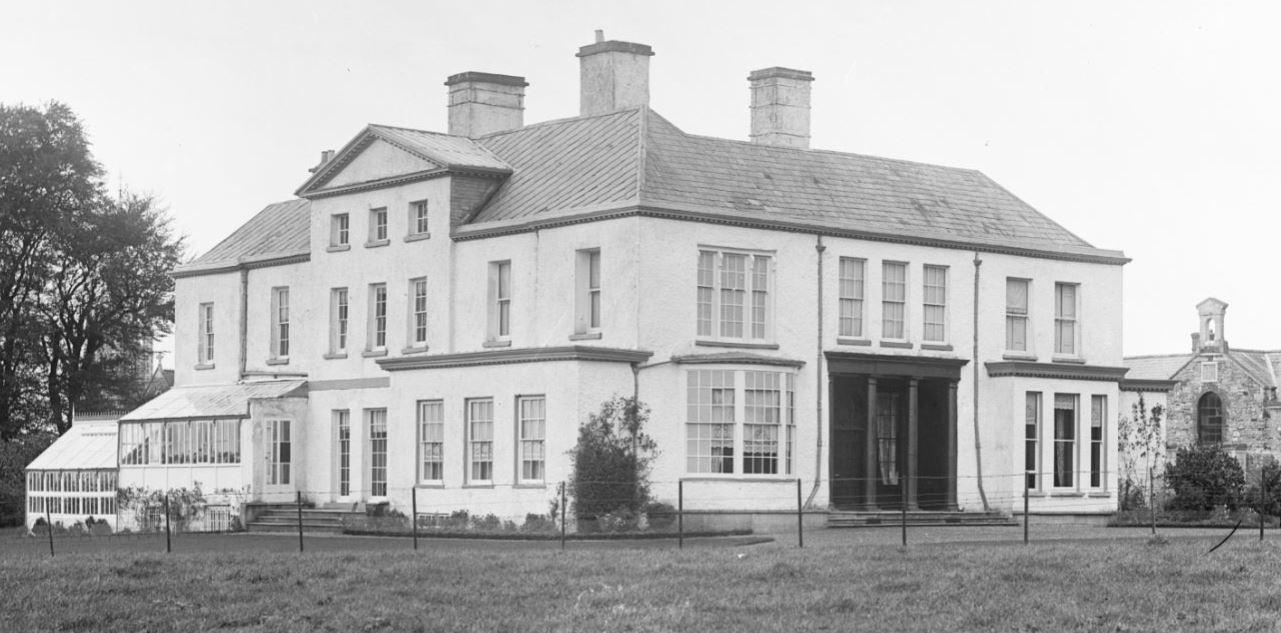 The Edgeworths' entrance faced East. A five-bay, two-storey front with a central recessed porch of Ionic columns in antis, and light single-storey canted bay windows on either side. A shallow dentil cornice with a low blocking course was set before a hipped roof, rather too high to be fashionable at its later eighteenth century date. On the south side, the house is longer, of seven bays, with widely spaced windows except at the centre, where three bays are set close together and rise by an extra storey to an caves pediment. On the West side the rectangular architectural idiom is changed, for here the centre of the front is broken by a slightly projecting and shallow-curved central bay, which adopts the classic mid-Georgian, Irish country-house pattern of superimposed tripartite openings, a Venetian window, a tripartite window and a Diocletian window, set one above the other.
The novelties of Richard Lovell Edgeworth's interior included some rooms with curved walls, particularly in the dining room in the centre of the South front, where a curved row of Scamozzian Ionic columns screened the N end of the room, and in the hall, which was originally oval. All of the new rooms had delicate understated cornices reminiscent of the taste of Thomas Cooley, though a room known as 'the Cabinet' and Mrs Edgeworth's dressing room kept their old-fashioned heavy cornices and high keyhole grates of the 1750s. The buoyant sense of the adventure in life and the delight in clever contrivance make Edgeworth comparable to another architectural amateur and inventor at the turn of the century, Romas Jefferson, whose home at Monticello, Virginia, was hardly less ingenious.
Rising from undulating parkland, with specimen trees, shrub roses and winding paths about the house, Edgeworthstown was once perhaps the perfect embodiment in Ireland of the taste of Humphry Repton. Dr Beaufort noted its 'unusual style of large windows with small piers', which made it 'very cheerful'.
Edgeworth's many inventions included leather straps to prevent the spring doors from slamming; a central heating system whereby warm air was admitted into the room from above the chimney pieces; and a pump in the farmyard which carried water to the cisterns in the house and at the same time dispensed coins to beggars in return for a given time at the handle.
The house was inherited in 1876 by Mrs. C.F. Mantogue, whose mother was Edgeworth. It was sold to a Mr. Bernard Noonan together with 50 acres of land, who gave it to an order of Nuns and it is now used as a Nursing Home.
The interior has been gutted and rebuilt and the exterior has also been greatly changed. It is now a building with beautiful lawns surrounding it and is a source of pride to all of Edgeworthstown.
Honora Edgeworth, née Sneyd, (1751 – 1 May 1780) was an eighteenth-century English writer, mainly known for her associations with literary figures of the day particularly Anna Seward and the Lunar Society, and for her work on children's education.
Honora Sneyd was born in Bath in 1751, and following the death of her mother in 1756 was raised by Canon Thomas Seward and his wife Elizabeth in Lichfield, Staffordshire until she returned to her father's house in 1771. There, she formed a close friendship with their daughter, Anna Seward. Having had a romantic engagement to John André and having declined the hand of Thomas Day, she married Richard Edgeworth as his second wife in 1773, living on the family estate in Ireland till 1776. There she helped raise his children from his first marriage, including Maria Edgeworth, and two children of her own. Returning to England she fell ill with tuberculosis, which was incurable, dying at Weston in Staffordshire in 1780. She is the subject of a number of Anna Seward's poems, and with her husband developed concepts of childhood education, resulting in a series of books, such as Practical Education, based on her observations of the Edgeworth children. She is known for her stand on women's rights through her vigorous rejection of the proposal by Day, in which she outlined her views on equality in marriage.

https://www.google.com/maps/d/u/0/embed?mid=zdRJwtySDT14.k4ln0xmbkVNk


This journal is friends only. This entry was originally posted at http://reviews-and-ramblings.dreamwidth.org/4780856.html. If you are not friends on this journal, Please comment there using OpenID.